SAM Performs: Trapsprung Dances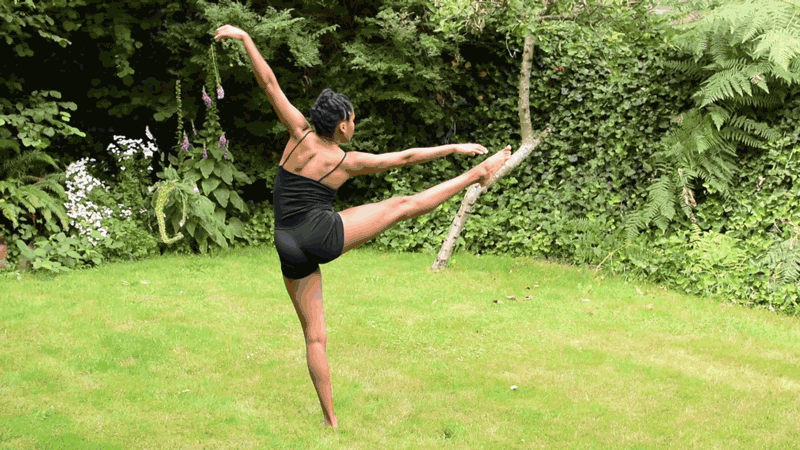 In Lynette Yiadom-Boakye's Trapsprung, a dancer reaches to the tip of their outstretched leg while balancing perfectly on the toes of their other leg. In Interview Magazine, the artist describes being drawn to "the very kind of visceral physical power and grace of dancers, and their occasional closeness to losing control."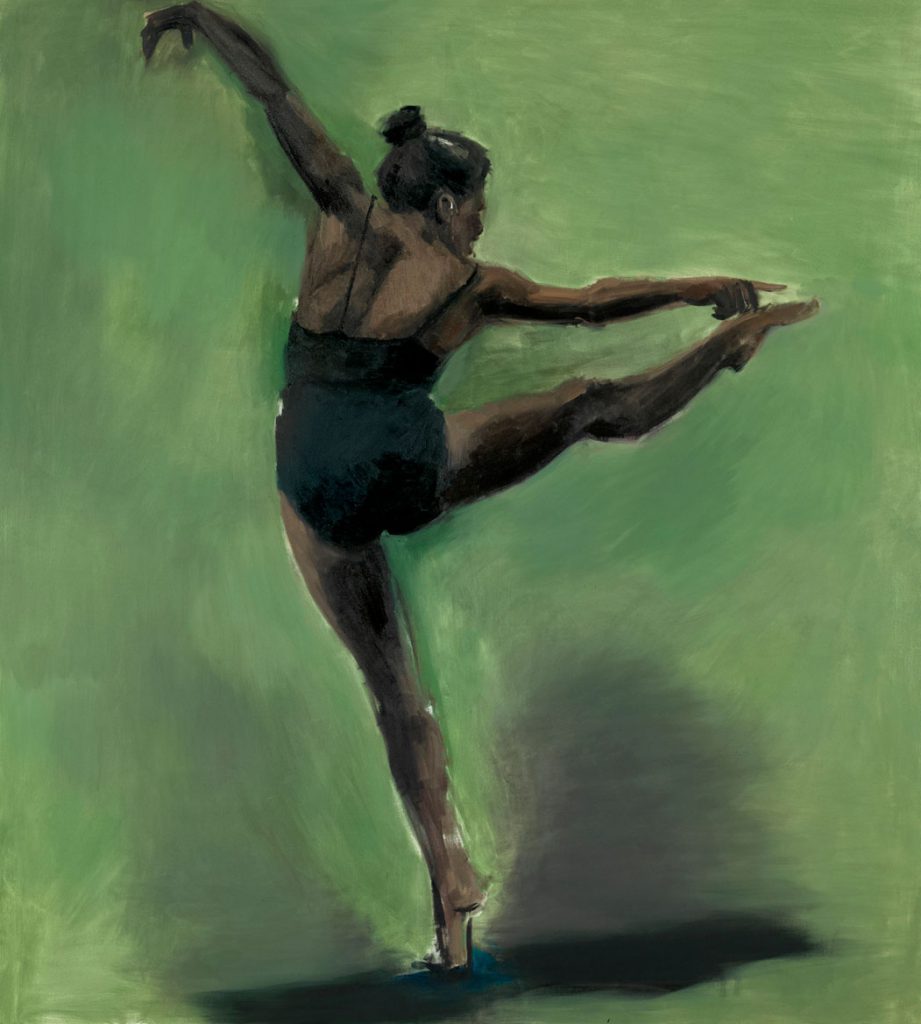 A split second before or after the moment in this painting, and the dancer's balance will shift into another movement. Here, though, the dancer's strength and poise are captured in an instant, while Yiadom-Boakye's brushwork evokes the energy of the movement. Painted from memory and imagination, Yiadom-Boakye features portraits of Black people exclusively, creating images that explore "the wider possibility of anything and everything." In the current socio-political climate, David Rue, Public Engagement Associate at SAM, initiated a project that celebrates and elevates incredible Black artists living and working in the city of Seattle through connecting them with this work by a prominent Black artist in SAM's collection. Local artists Amanda Morgan, Michele Dooley, and Nia-Amina Minor, responded to Trapsprung in brief, personal dance works, and offered reflections on the artwork and their lived experiences.
It's easy to assume that each and every work made by Black artists living right now will only be about police brutality, slavery, or protest. Plot twist! While these are important conversations to be had, it's also critical to remember that we're a very dynamic group of people capable of exploring a multitude of artistic experiences.

What I believe is on the other side of this socio-political monstrosity is the beauty, power, and grace that exists within Black artists. These are qualities that I see within Lynette Yiadom-Boakye's work as well as within the dancers commissioned to respond to Trapsprung. Now is the time to celebrate and elevate their artistic excellence.

David Rue
On my first visit to the Seattle Art Museum I immediately took notice of Trapsprung. A Black ballerina dancing in a piece of art is not a common subject that you find in much of the art that is created, so I instantly saw myself in the work, being a Black ballerina myself. The aspect about the piece that I probably enjoy the most though is the perspective and action taking place within it. We are placed behind her and given her perspective as she moves; she moves with intent and direction as opposed to being static and placed in the space only to be seen. I think this demonstrates what women, and particularly Black women are capable of. We are not there to just be viewed or seen, we are a statement in just our being and use this as our power to go forth in all we do rather than let this inhibit us. I like to think the woman in that portrait would take on the world as such.

Amanda Morgan
Amanda Morgan is originally from Tacoma, WA and is currently a corps member at Pacific Northwest Ballet. She joined the company in 2016 as an apprentice and was promoted to corps in 2017. In addition to dancing, Morgan is a choreographer and founder of her own project titled "The Seattle Project", which aims to collaborate with multiple artists in Seattle and create new work that is accessible to the community. She has choreographed for PNB's Next Step at McCaw Hall (2018, 2019), Seattle International Dance Festival (2019), and curated her own show at Northwest Film Forum this past February of 2020. She is currently continuing to still create and connect with artists during this time, and has a dance film coming out in collaboration with Nia-Amina Minor for Seattle Dance Collective this July.
Unstoppable.

Power and dynamic combined with softness and beauty.

Remembering all it is and what it feels like to be a Black woman.

Always acknowledging how much strength and resilience it requires to become the Black dancer in this artwork and the Black artist that painted it.

Michele Dooley
Michele Dooley is a native of Philadelphia and began her dance training at The Institute of the Arts under the direction of Cheryl Gaines Jenkins. She graduated from the High School for Creative and Performing Arts under the direction of LaDeva Davis and earned a BFA in dance at The University of the Arts, under the direction of Donna Faye Burchfield. While earning her degree, she spent three seasons with Eleone Dance Theatre. Michele trained at Bates Summer Intensive, BalletX summer program, and DCNS Summer Dance Intensive, worked with choreographers such as Gary Jeter, Tommie Waheed-Evans, Dara Meredith, Milton Myers, Nora Gibson, and Ronen Koresh, among others.
I see her and she's flying.

Purposefully turned away from a world that is often drawn to her image partly because she makes it look so easy. But I see the effort, the commitment, and I can stand to learn something from the subtlety. I remember reading that a bird's wings have evolved to provide lift and reduce drag. They use their strongest muscles to lift while their wing anatomy minimizes turbulence, friction, and all that would drag them down to the ground.

I see her and she's flying.

Nia-Amina Minor
Nia-Amina Minor is a movement based artist and dance educator from South Central Los Angeles. She holds a MFA from the University of California, Irvine and a BA from Stanford University. Nia-Amina is a co-founder of Los Angeles based collective, No)one Art House, as well as a Company Dancer and Community Engagement Artist Liaison with Spectrum Dance Theater.