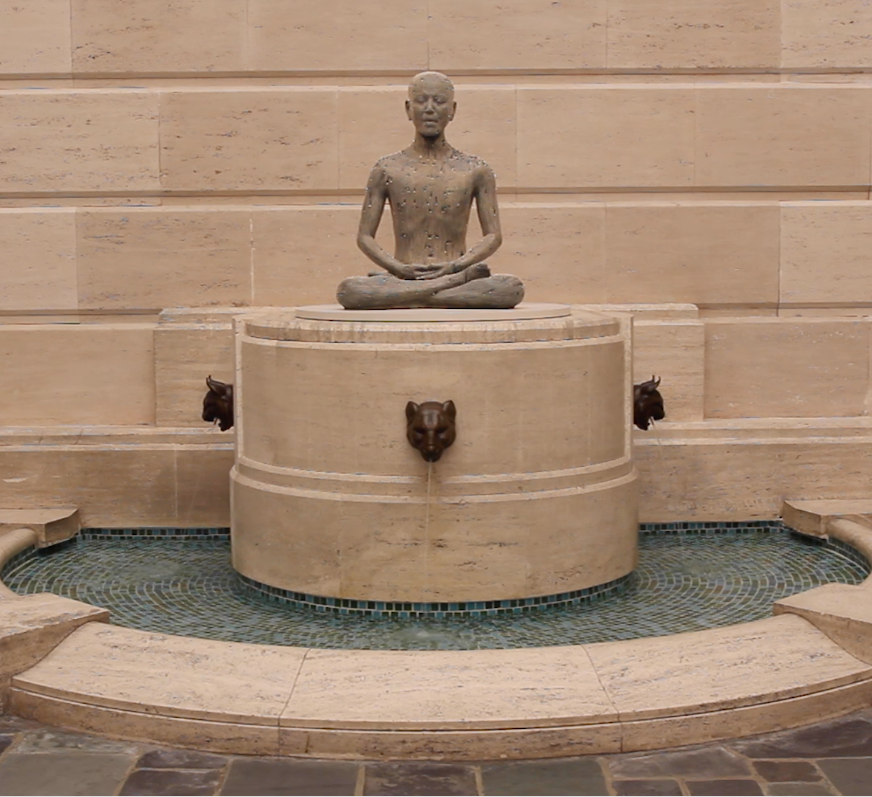 Suzanne Ragen has been a SAM docent since 1965 and remembers when the Asian Art Museum was SAM's only location. Since the museum has had to close for the health and safety of the public during the global pandemic, Ragen has been creating tours for her grandkids called, Nana's Art History 101 and now she is sharing them with us. Learn more about objects in the newly renovated and expanded Asian Art Museum while you stay home with SAM.
Haniwa warrior figure
Take a moment to look at this sculpture. Who do you think he is? Why do you think he's wearing armor? What is he standing on?

Members of the ruling royal class in Japan were buried in massive mounds in Japan 1500 years ago. These mounds were surrounded by brown terracotta figures (same clay material as our ordinary flower pots). Figures like this one were placed in these tombs to guard and honor the deceased.
Take a closer look at the figure of the warrior. What weapons does he carry? There's his sword and sheath, his bow upright in his left hand and the quiver for his arrows held in his right hand. How does he protect himself? There's his close-fitting helmet and his upper armor was originally made of laced and riveted metal strips. His sturdy leggings and his skirt may have been made of very thick leather.
How would you describe his expression? I think he's stoic and ready for battle. I have been asked on tours why his arms are so short. My only guess is that made him less liable for breakage as they can be kept close to his body. What do you think?
These warriors also had another purpose beside protecting the ruler who was buried in the mounds. The term haniwa literally means clay cylinder, which is what the warrior stands on. Do you notice the hole that's in the middle of the haniwa? This would have been sunk into the ground to permit drainage and inhibit erosion. Haniwa were made by a special guild of potters and come in all sorts of shapes. SAM has in its collection a Haniwa Woman and a Haniwa horse. Think of the drama these figures gave to the tombs of people of rank—a tribute to their power. Imagine the awesomeness of walking toward a huge mound sheathed in smooth river rocks, sometimes encircled by a moat, surrounded by these brown haniwa figures. Wondering about the life of the person buried there.
My favorite part of this sculpture are the little carefully tied bows at his neckline and belt and on his leggings. Who would have added such a delicate personal touch? Think back for a moment to Some/One in the first installment of Nana's Art History—the armored kimono made of steel dog tags by contemporary Korean artist Do Ho Suh. What do you notice when comparing these two warrior's armors? Which one would you rather wear?
Ankush (elephant goad)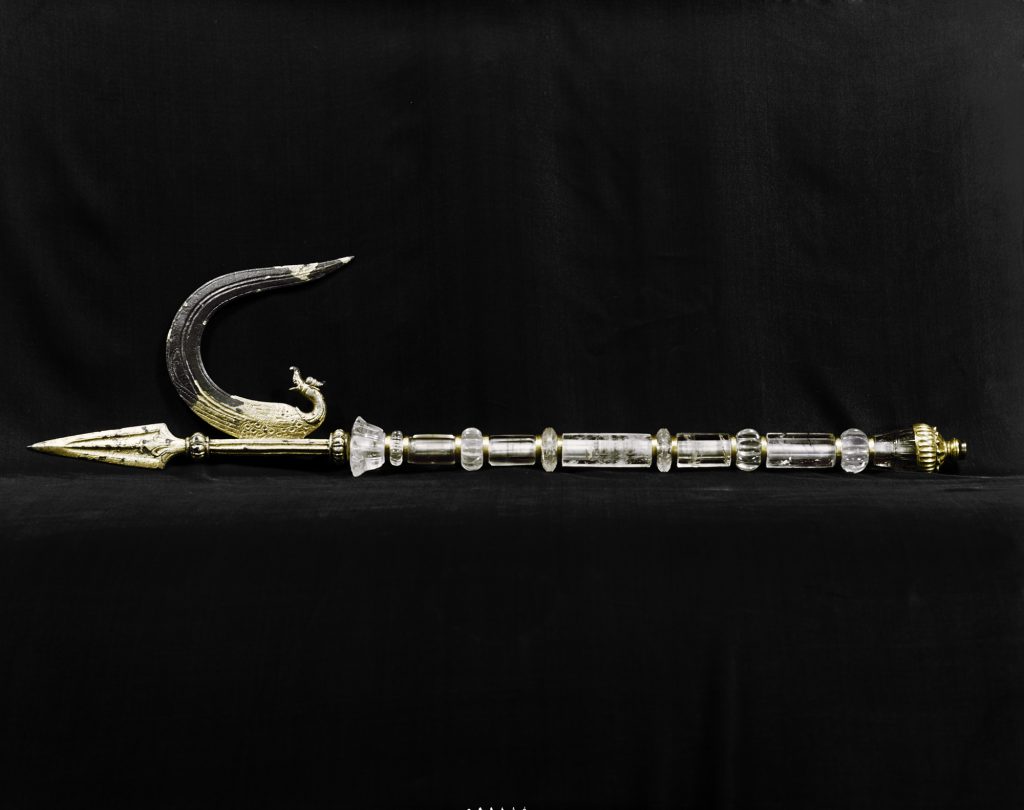 In India, only kings and high royals owned elephants. They were important for grand parades and festivals, for hunting and for battle. Imagine an elephant going into battle; it would be as effective as a tank. Elephants are very intelligent but can be volatile and dangerous; they need to be strictly controlled.
So who managed these enormous animals? They were controlled and cared for by a mahout, a man who descended from generations of elephant professionals. A boy of mahout lineage is assigned an elephant when both are young. The boy and the elephant grow up together; they bond and work together all their lives.
The mahout's primary tool is an ankush, or prod. It has a sharp point and a curving hook, which on this one is in the shape of a mythical dragon-like creature. This ankush is made of metals covered with gold and chunks of very precious rock crystal. It was surely ceremonial as it is quite impractical, too heavy and too valuable.
The mahout has taught the elephant a very complicated language of jabs and pokes which he administers either from sitting high up behind the enormous head with its huge flaps of ears or leading him from the ground. One source said that there are over 100 spots on an elephant, each when poked, being a particular command. Elephants have a very tough hide.
This ornate ankush was probably taken from a royal armory in India around 1850 by the director of the Victoria and Albert Museum in London. It was exhibited in 1948 to honor the establishment of independent nations such as India after centuries of British rule.
If you go to India today, you can still see elephants elaborately draped in gorgeous fabrics, bejeweled and bearing ornate chair or even sofa-like saddles in royal parades, weddings or important celebrations. Look for the mahout and his ankush. Have you ever read Babar? Quite a different story.
Reduction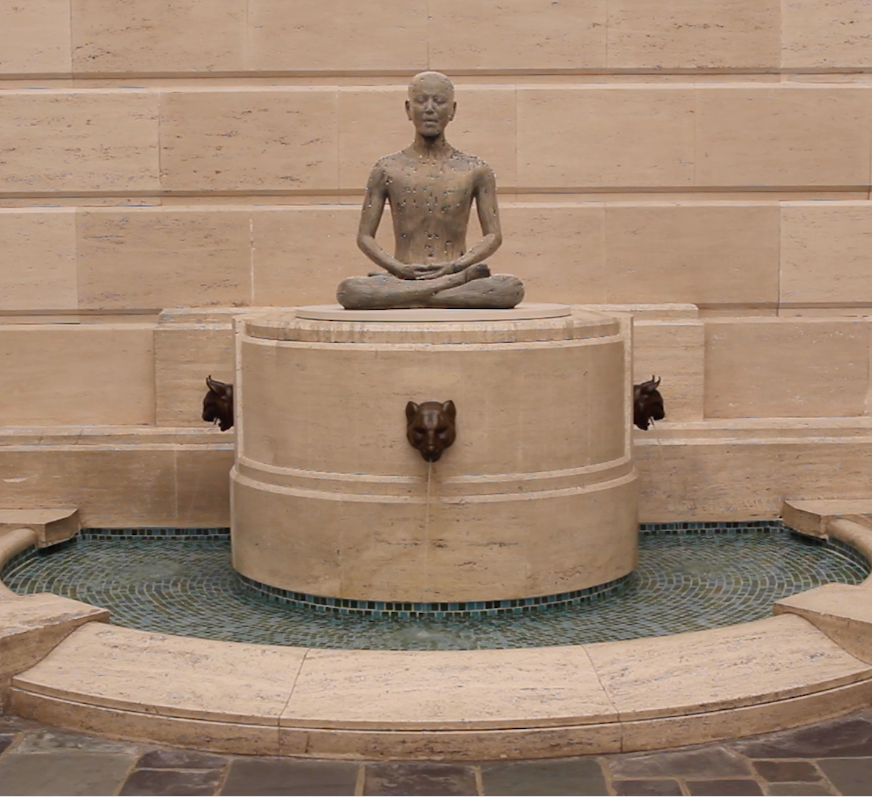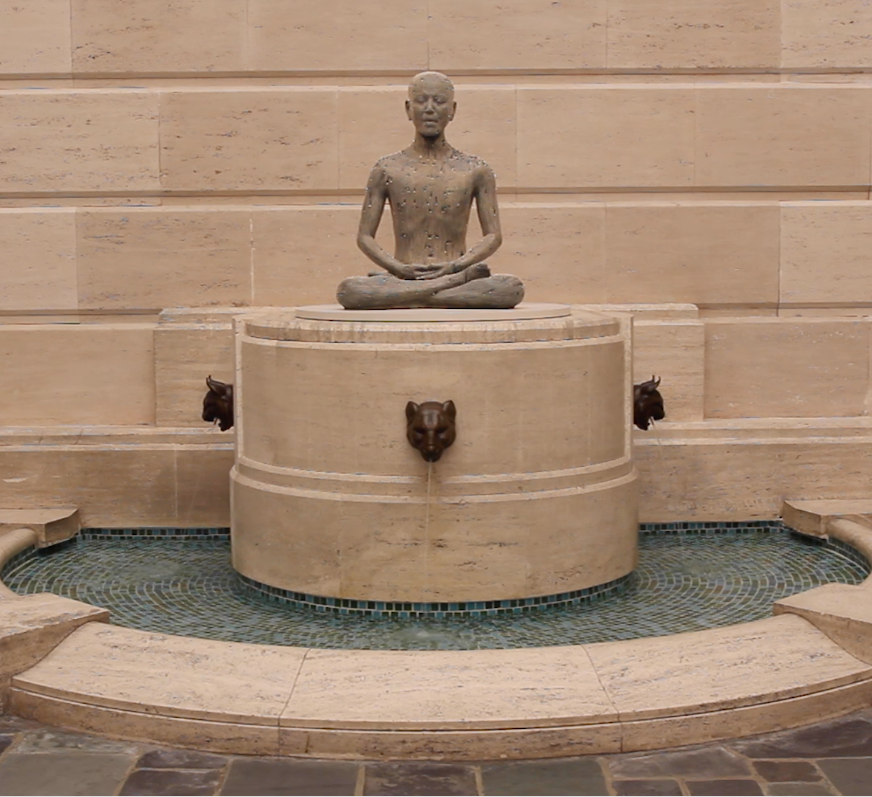 OK, kids. We have looked at a lot of old things. Now we are going to see a statue made in 2015.
This statue of a man in meditation pose sits in the huge main entrance hall of the Asian Art Museum, one of only two artworks in that space. (The other is on the ceiling.) It was made by Takahiro Kondo in 2015 in Japan. Kondo uses his own body as his model, so the seated statue is about life size, 34" high. His legs are folded in the lotus position, his hands arranged in meditation mudra, eyes downcast. Try to arrange yourself in that pose. He sits above a tiled water fountain, original to the 1933 building—a perfect location as Kondo says he works with water and fire.
Kondo makes his figures from porcelain (a very fine white clay) and fires them several times with different shades of blue underglaze. Then comes his ground- breaking overglaze that is made of metals- silver, gold, and platinum that he calls "silver mist" or gintekisai. He was granted a patent for this technique in 2004. It produces the bubbled texture that you see. Look at the way the metal glaze drips and bubbles and makes beads—like water or jewels.
Kondo made a series of these Reduction sculptures following the nuclear disaster in 2011 in Fukushima, Japan. He says that this figure is "meditating on the essence of the world," calling attention to the causes and consequences of nuclear disasters in Japan and all the world. His work and message is in major museums all over the world.
Kondo was born in 1958 and is a 3rd generation ceramicist. His grandfather was named a Living National Treasure in Japan for his underglaze cobalt blue wares. Takahiro is carrying on his grandfather's tradition in a very modern way, and even lives in his grandfather's original studio in Kyoto. He graduated from university in Tokyo and got a Masters in Design from Edinburgh College of Arts.
– Suzanne Ragen, SAM Docent
Images: Haniwa warrior figure, 6th century, Japanese, earthenware, 53 1/4 x 16 1/2 x 10 3/4 in., Eugene Fuller Memorial Collection, 62.44. Ankush (elephant goad), ca. 1600 -1700, Indian , Thanjavur, Tamilnadu, steel with gilding, copper with gilding, rock crystal, 32 x 8 in., Gift of Mrs. John C. Atwood, Jr., 54.38. Reduction, 2015, Takahiro Kondo, porcelain with blue underglaze and "silver mist" overglaze, 33 7/16 x 25 9/16 x 17 11/16 in., Robert M. Shields Fund for Asian Ceramics, 2019.5, © Artist or Artist's Estate.