SAM Connects: Naramore Virtual Art Show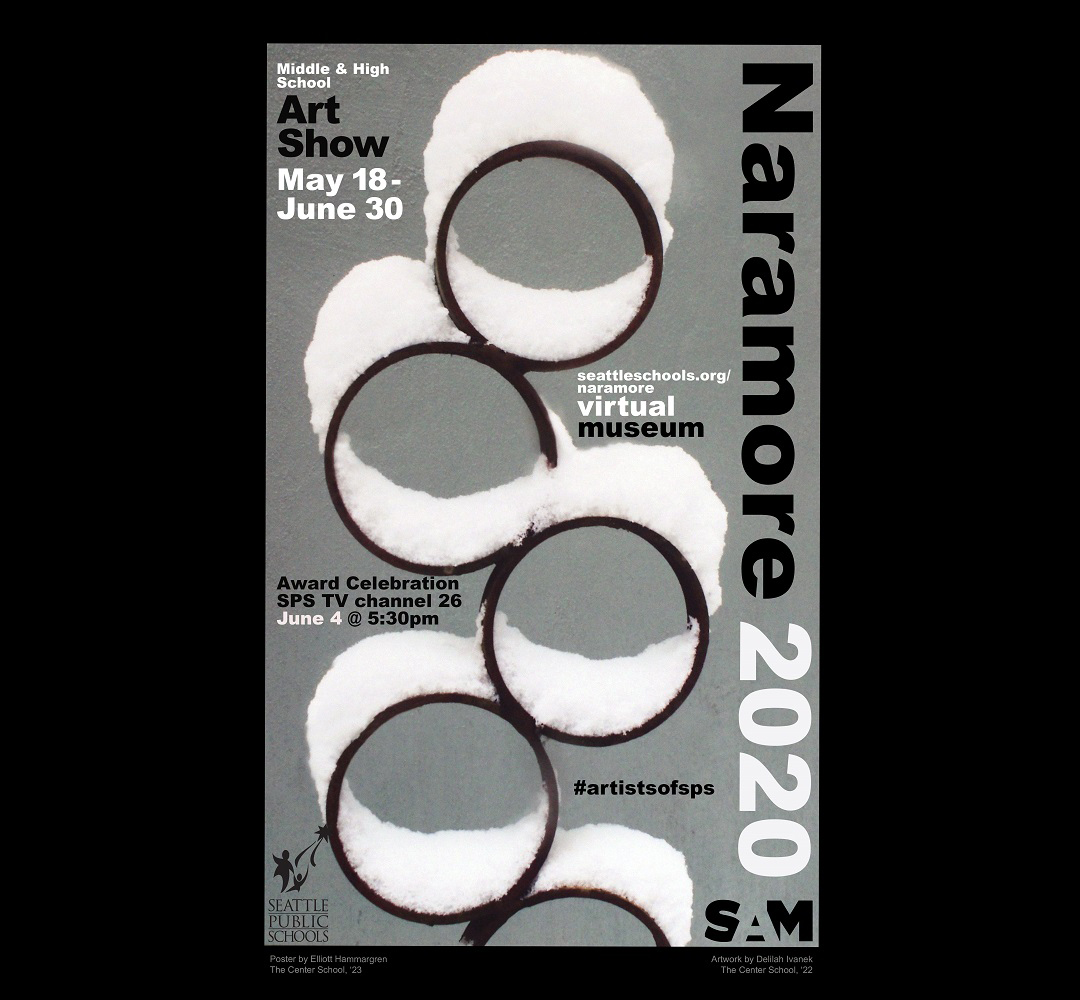 Since 1985, Seattle Public Schools has held the Naramore Art Show to share the works of its arts students and to celebrate their achievements with their community. Floyd A. Naramore, whose name is honored by this exhibition, was a visionary architect who invested deeply in his community and in the education of students. He designed over 22 schools, including Roosevelt, Garfield and Cleveland high schools, and several middle school buildings.
Seattle Art Museum has been a partner in this program for many years now, providing support and promotion of the exhibition. Around this time of year, artists and their family and friends would gather at SAM for the highly anticipated celebration and awards ceremony, normally filled with live music, refreshments, and performances. This time-honored tradition was dedicated to celebrating the creativity and excellence of each participating artist. The museum's lobby would be abuzz with joyous chatter as students' excitedly perused the halls looking for their art, and beaming as they saw their work—a piece of themselves hanging on the walls.
But with growing concerns of the COVID-19 global pandemic and social distancing guidelines, our small team of SPS administrators and SAM educators feared this would be the first time in over 30 years the exhibition might not be shown, at least in person. As stay home orders began, extended, and schools were forced to cancel the remainder of the school year in person, it became clear that our fears had come true. As we came to terms with this fact, we also reminded ourselves that Naramore is the culmination of a school year of hard work by art students and teachers. We were committed to creating space, where none had existed before, to honor the time, energy, and voices of young artists. Thanks to hard work from administrators across SPS, we were able to turn that desire into a reality. Naramore continues on as a virtual museum on the SPS website and includes over 200 works of art by students from across the district. The show will be on view through June 30, 2020 and can be accessed online here! Additionally, students are invited to continue sharing artwork they've been creating at home during quarantine on Instagram under #artistsofsps.
You are also invited to join us for the virtual celebration on Thursday, June 4th at 5:30 P.M. The celebration will include a viewing of the artwork, keynote by Superintendent Denise Juneau, student video diaries, and more! No registration required, just tune in on YouTube, stream on the Seattle School District webpage, or tune in to any local TV channels:
Comcast 26 (standard-def) 319 (hi-def)
Wave 26 (standard-def) 695 (hi-def)
Century Link 8008 (standard-def) 8508 (hi-def)
At this time more than ever, we need to center the creativity and insight of our young people and amplify their voices for the world to hear. From the devastation of COVID-19 to relentless police violence against black and brown people, our community is in crisis. Art has the power to express our fears and our joy; document our history; shape our dreams, and so much more.
We are forever grateful to these young people who have given us the gift of their perspective and ask that our community take the time to reflect on their wisdom and leadership, so that we can all do our parts in dismantling injustice.
Molly Cain, Baby Gun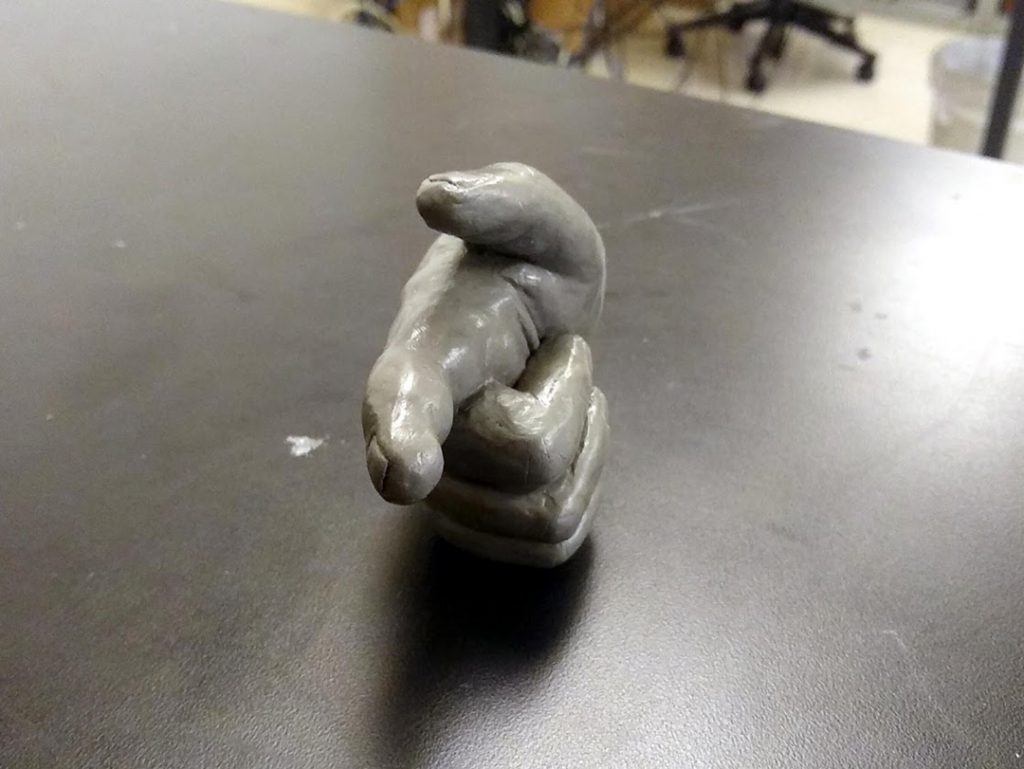 Ever since I was a kid I've been kinda obsessed with the dichotomy between the innocence of children and the harsh violence of guns. Things like nerf guns and videogames were fun as a kid but what are they saying about gun violence? That is what inspired my piece. I wanted to highlight the soft innocence of the toddler hand vs. the violence of the hand motion.
Remi Adejumobi, Overcoming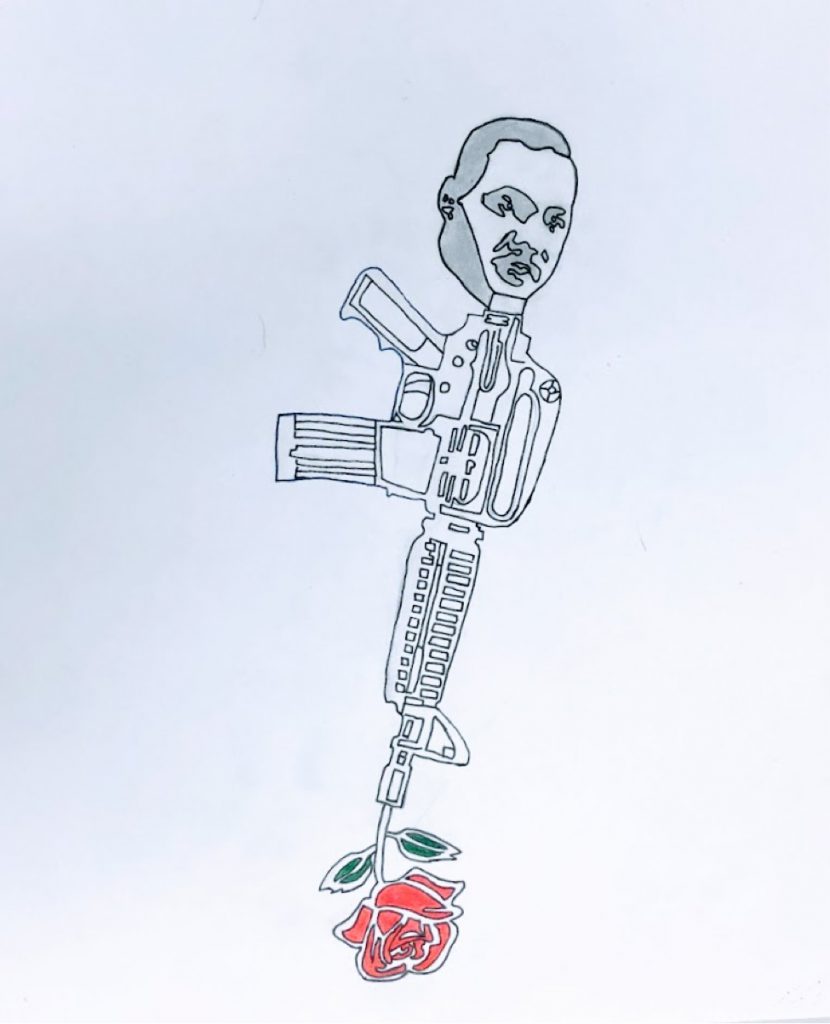 I was inspired by the idea that Martin Luther King symbolizes peace. Our society needs lass hate and violence and more peaceful thoughts and actions. The colors flower draws attention to hope, to the possibility that we can make our country a more beautiful place to live in if we support each other more and find ways to overcome our negative feelings.
Camellia Maxson, Pear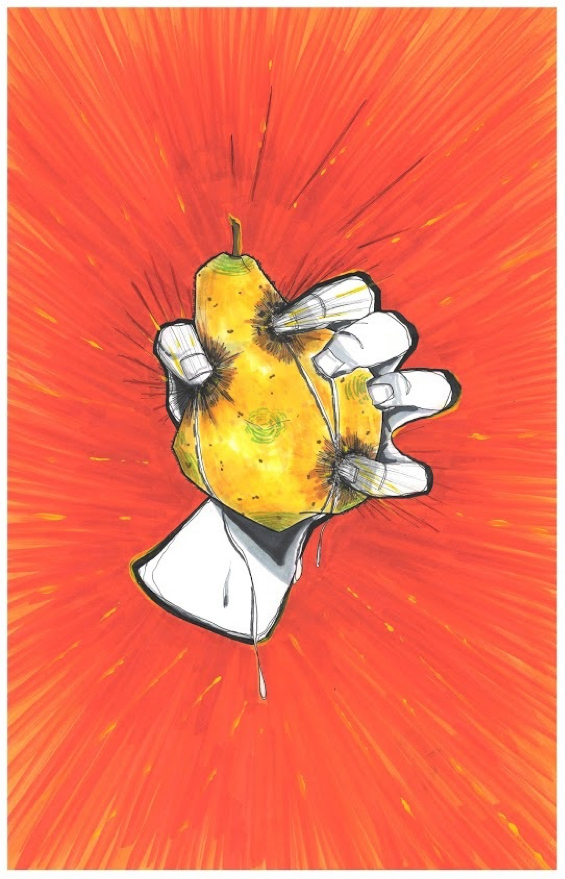 I created this piece because I wanted to show emotion in another way besides the face. I liked the idea of someone who is so angry squeezing a pear until it bruises and leaks juice. I chose markers because it is a medium I enjoy working with due to the markers quick drying nature and flat colors yet easy to blend when needed. The main challenge was drawing the hand squeezing the pear.
Ella Maurer, The Beginning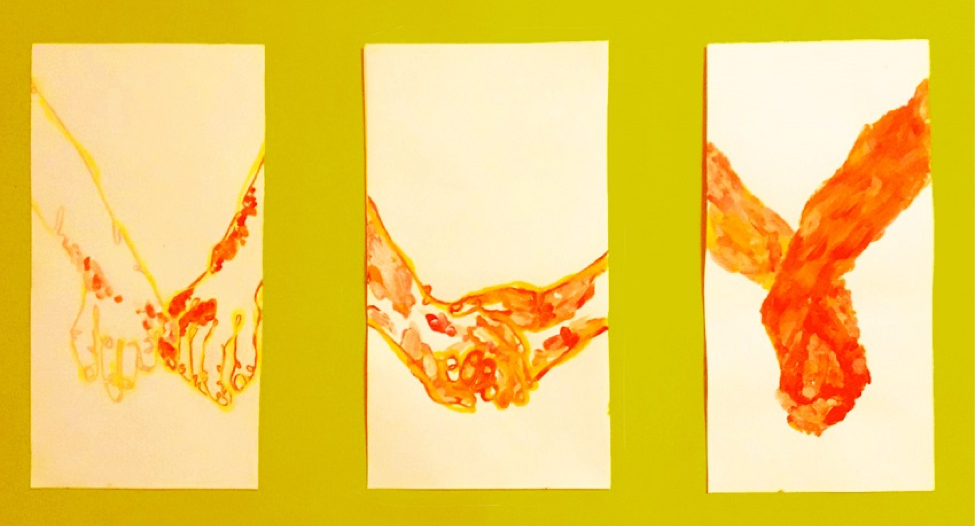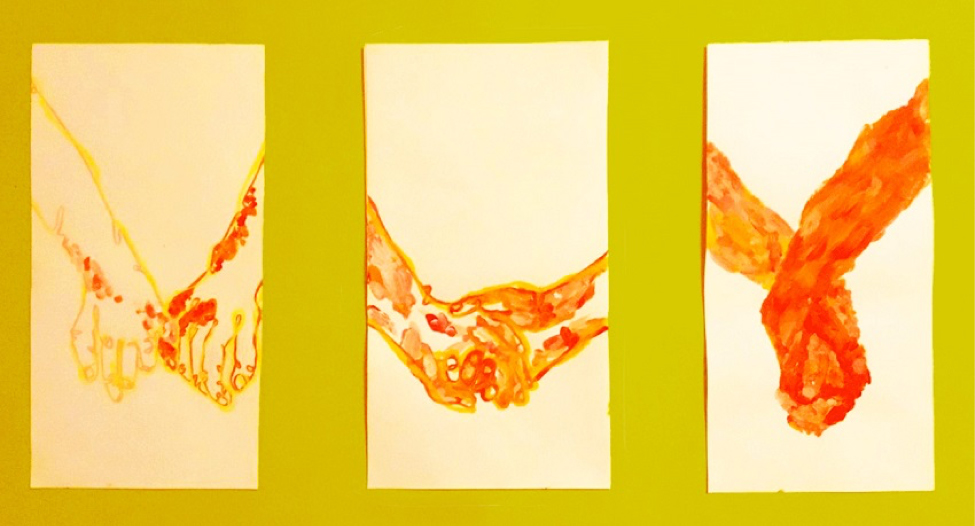 I created this piece to capture the emotions felt during the beginning of my relationship, while connecting with others who have felt similar emotions, past or present. I want to spread comfort thought knowing that others have felt caution, growing, trust, love, and more.