Things To Do For Earth Day & Every Day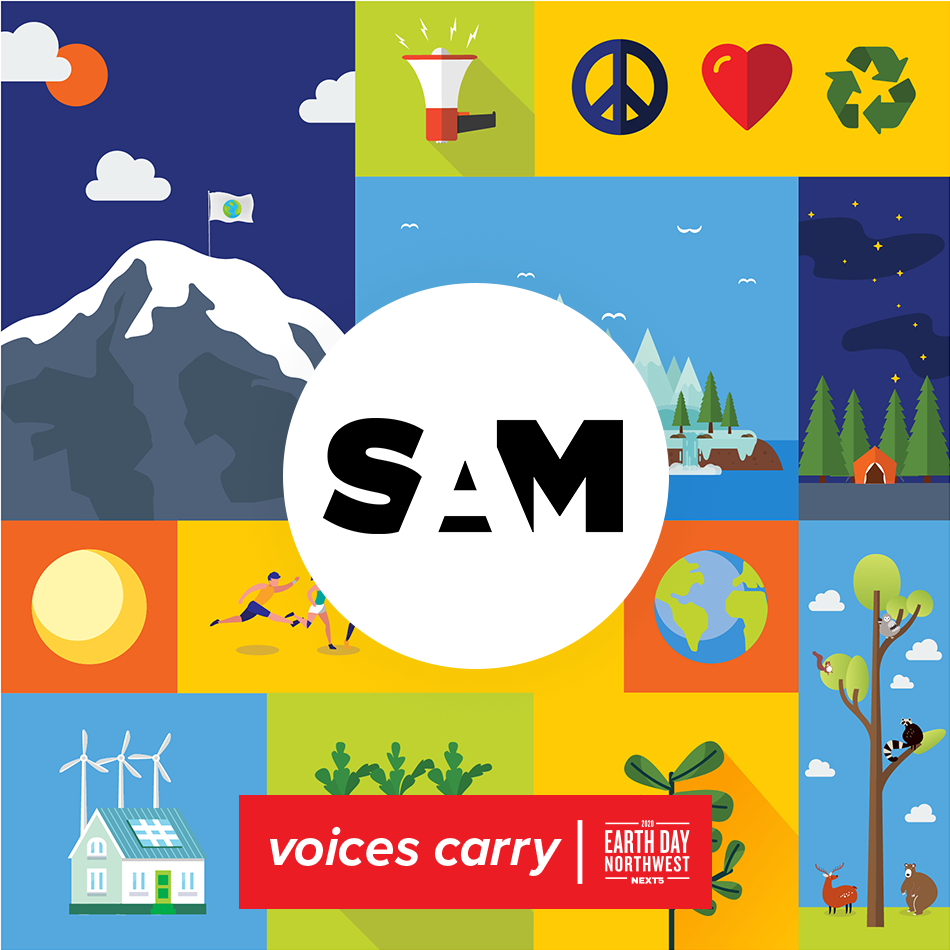 In the spirit of the 50th anniversary of Earth Day tomorrow––and our current stay-at-home situation––we've compiled a few resources and recommendations from members of SAM's Green Team for April 22 as well as a fun art activity for all ages!
Earth Day is the first holy day which transcends all national borders, yet preserves all geographical integrities, spans mountains and oceans and time belts, and yet brings people all over the world into one resonating accord, is devoted to the preservation of the harmony in nature and yet draws upon the triumphs of technology, the measurement of time, and instantaneous communication through space.

– Margaret Mead, cultural anthropologist, 1978

Check out Earth Day Northwest 2020
#Next5 actions features tips to effectively reduce your home energy bill and work toward zero-waste! A few ideas below, since we're all at home more these days.
100% Clean Energy
Turn off lights, use turn-off power strips and unplug all appliances that you are not using.
Set the thermostat to 68°F or lower when you're at home and awake, and lower 7°F to 10°F when you're asleep or away.
Turn down your water heater to 120°F or the "low" setting.
Run your washing machine and dishwasher only when full.
Using a ceiling fan to circulate air can lower both your cooling and heating costs (counterclockwise recirculates warm air).
Zero-Waste
Recycle right: Empty. Clean. Dry.
Reduce, reuse and up-cycle: donate or give new life to old clothes and home goods instead of throwing them out.
Target food waste – reduce, donate, and compost.
Reduce or eliminate single-use plastic.
Avoid last-minute purchases and reduce excess by making a shopping list- and sticking to it.
Articles
Books/Poetry
Podcasts
Movies
Ice on Fire, 2019 (Hulu and HBO)
Chasing Coral, 2017 (Netflix)
Before the Flood, 2016 (Disney and Amazon Prime)
How to Let Go of the World and Love All the Things Climate Can't Change, 2016 (iTunes)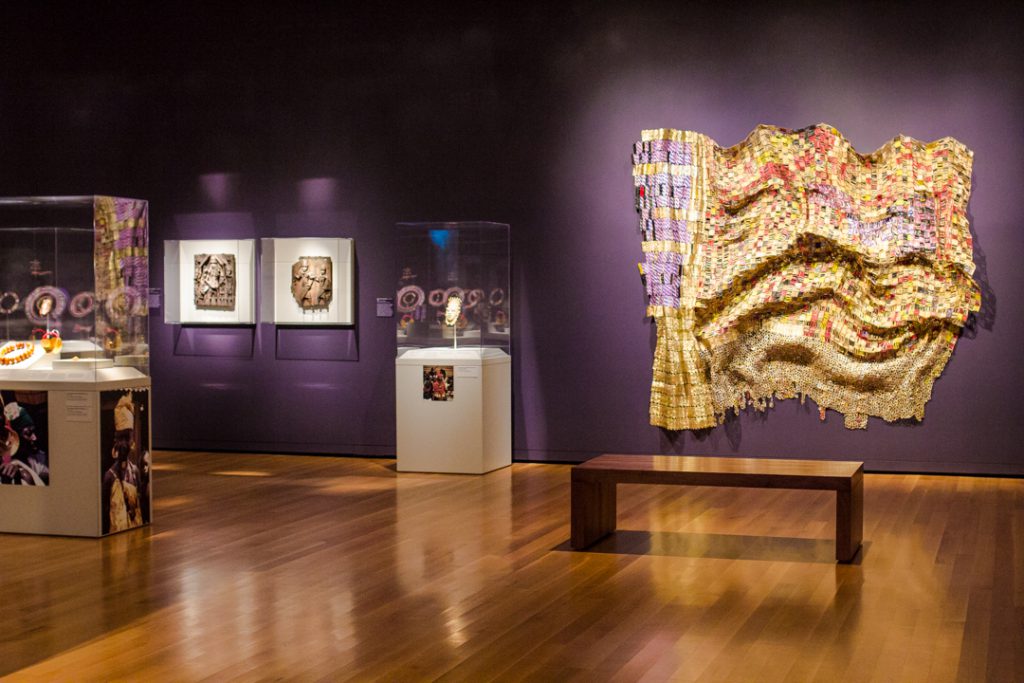 In SAM's galleries, you will find artist El Anatsui's sculpture, Takpekpe (Conference) draped on the wall. From a distance, the artwork appears to be a gold, purple, and red tapestry, or wall hanging. But up close, you will notice interesting materials the artist has chosen for his artwork – metal tops from recycled bottles and cans. El Anatsui, who lives and works in Nigeria, creates his sculptures from metal, wood, and reused materials from bottles and packaging. The artist works collaboratively with a team to create sections of theses materials, arrange the sections in different positions on the floor, and then take pictures of the arrangements to document the process. Through a practice of experimentation and play, El Anatsui creates sculptures of different patterns and colors that represent abstraction in African Art.
In honor of Earth Day, we want to consider ways to minimize our waste and reuse items in our home recycling bins. What types of packaging or plastic do we often have in our homes? Where might these items go when they leave our homes? How can we creatively reuse items like packaging, bottle caps, and plastics?
Art Activity
El Anatsui gathers packaging, bottle tops, and other items to create artwork. Through a process of play and experimentation, the artist creates patterns and documents these with photographs. These images help guide El Anatsui to create new sculptures.
Play, experiment, and create your own recycled material artwork!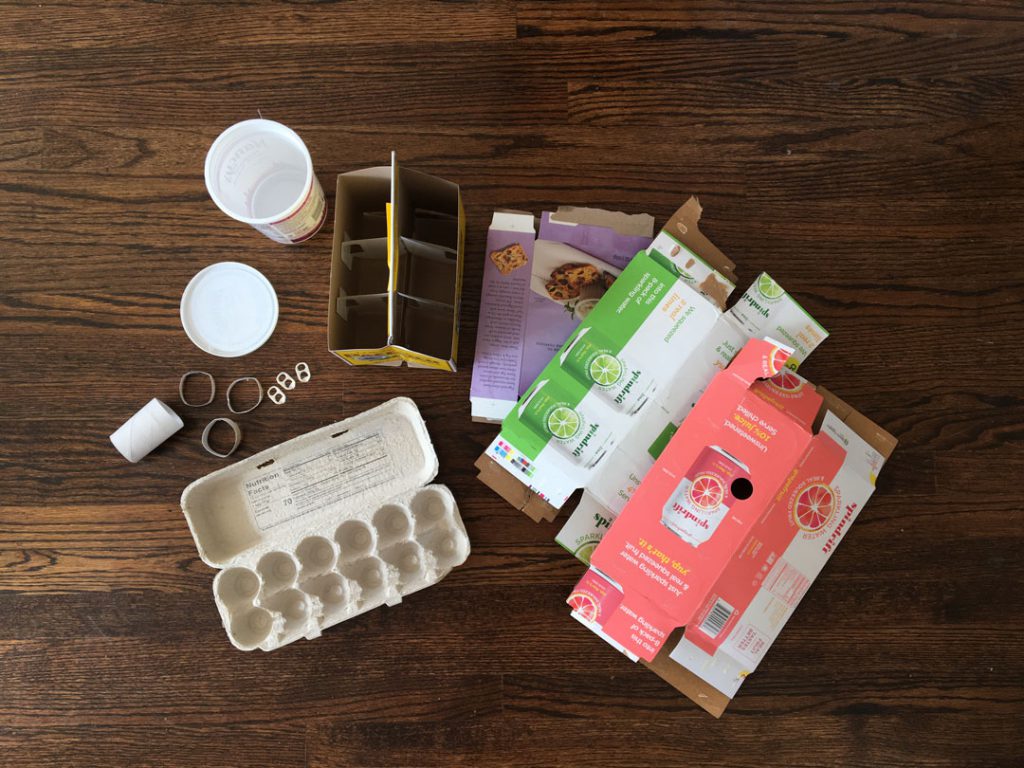 Gather recycled materials in your home over a week. Ask yourself if an item could become an interesting art material before you place it in the garbage or recycling bin. Rinse off the material and set aside until you are ready to begin creating.
Some items you could collect include: cardboard boxes, paper tubes, bottle caps, aluminum can tabs, foil yogurt lids, egg cartons, twist ties, and cereal boxes.
Once you have some recycling gathered, imagine how these items can be transformed. Can they be cut, twisted, folded or combined to create a new material?
For example, you could cut paper tubes into rings, cut shapes out of cardboard boxes, or trim egg cartons into smaller objects.
Lay your materials out on a surface and move them around to see what patterns you can create. Take pictures along the way to document your experiments! Try arranging the materials into groups by size, color, shape, texture, transparency. Or into patterns!
Once you find a pattern you like, glue or tape your materials to a piece of cardboard to finish your artwork. Share your abstract recycled artwork on social media using #StayHomewithSAM.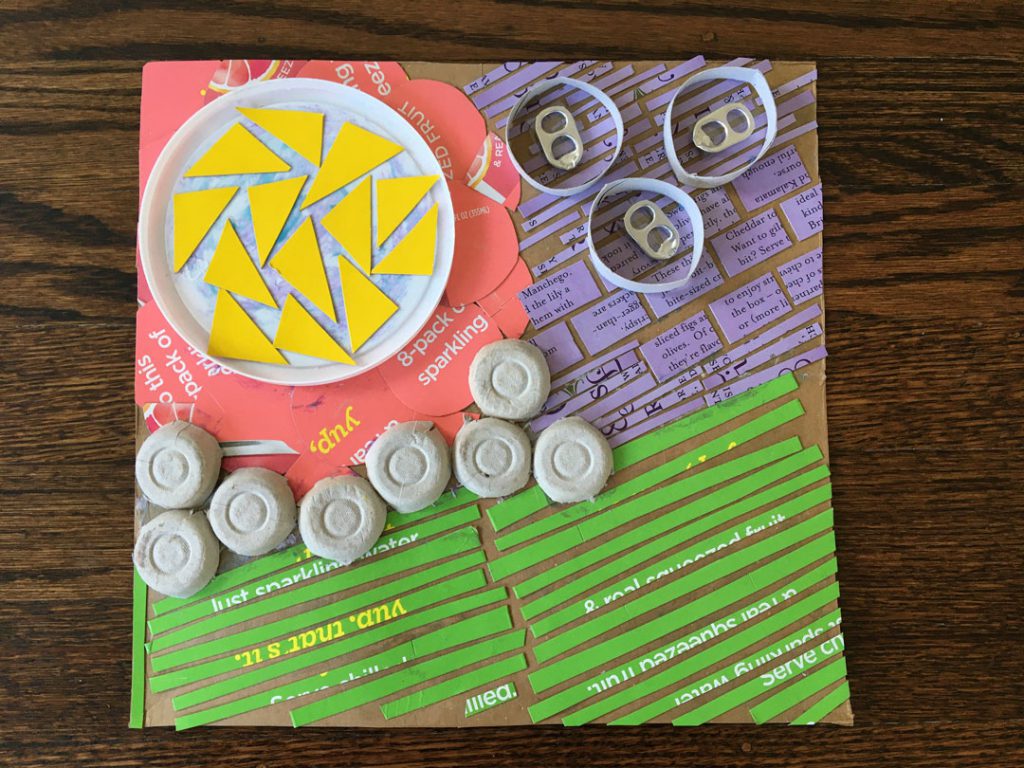 – Maggie O'Rourke, Program Associate for Arts and Environment
Images: Installation view of Takpekpe (Conference) by El Anatsui, photo: Natalie Wiseman. Art making images: Maggie O'Rourke.