Make Dreams Come True with Jung Yeondoo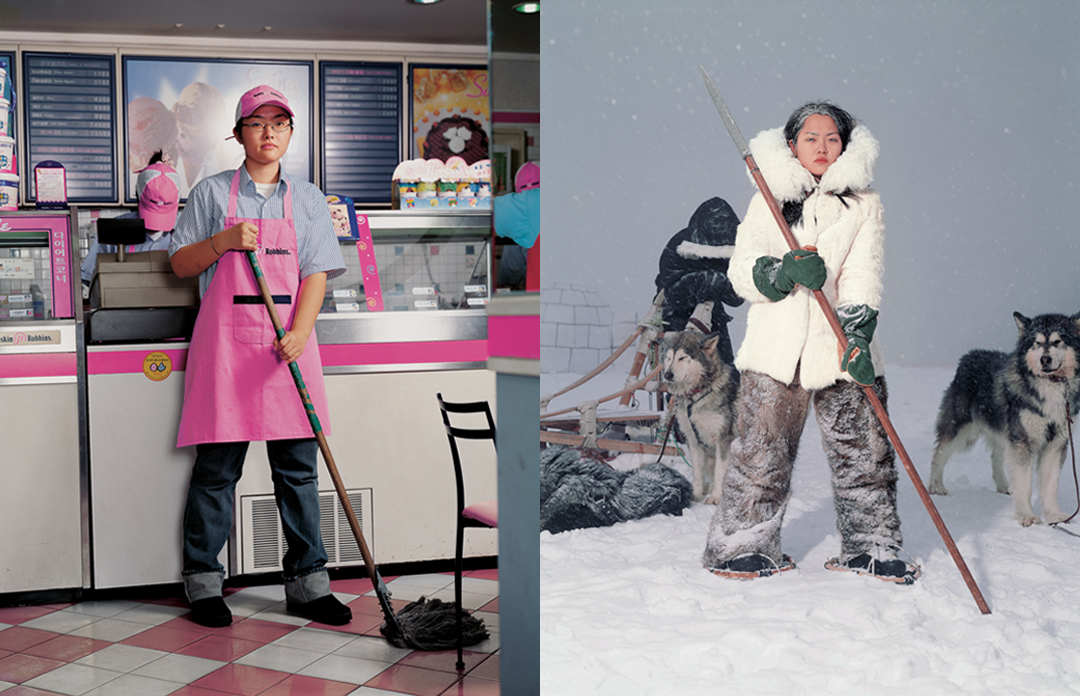 Since 2001, South Korean artist Jung Yeondoo has visited six different countries to make people's dreams come true. In his Bewitched series, he asks local people about their wishes for their future and then makes them come true with a pair of photographs: the first, a portrait of the person in their everyday life and the second, showing their dream or fantasy. Bewitched #2 Seoul shows a Baskin Robbins employee at her job next to her dream of going to the Arctic. Her change in clothing, accessories, and setting changes how we see her and shows us a part of her that we might not know about upon first glance. Jung uses costumes, settings, and props to transform a scene from everyday life into the individual's dream.
Speaking about his inspiration, Jung said in a 2015 profile, "I started this project with an artist's curiosity about wanting to know about the lives of people you just pass every day," he said. "It's not about a happy perspective or a negative perspective . . . It is more about [my] attempts as an artist to communicate with someone else."
Looking questions
What's going on in these artworks? What do you see that makes you say that? What more can we find?
What words would you use to describe the person in each photograph, based on what they are wearing? Are there any words that would describe both of them?
Look closely at the image on the left. What do you think are some things this person does every day? What do you see that makes you say that? Now do the same for the image on the right.
Why do you think you see the same pose in both images? What does it feel like to pose in that way?
Visualize
Take a moment to close your eyes and ask yourself these same questions: What is your dream? What is your fantasy? Who do you want to be? Think about this dream that you have for yourself. In this imagined future, what are you wearing? What are you doing? What are your surroundings? Time yourself for five minutes and free-write or draw any ideas that you have. Don't worry about making it look or sound good, this is just to document your ideas.
Art Activity
Create a drawing or collage that represents the daily life and imagined dream of someone you know.
Call a friend and ask each other questions to learn more about your everyday lives, just like Jung Yeondoo interviews the people that he works with. Be sure to write down words that describe what they are saying! Here are some example questions:
Where are you right now? What does it look like there? What do you see around you?
What part of your daily routine happens in this space? Describe that routine.
Who else spends time here? Is anyone there now? What are they doing?
Is there anything else that you want to share?
Now, interview each other about your future dreams. This could be three months from now or far into the future. What is your dream? What is your fantasy? Who do you want to be? Keep digging—ask for more details that can help you imagine their dream. Write down more descriptive words as you listen.
For this next part, you can choose to either
Make a drawing!
Divide a blank sheet of paper in half. On the left side, create a drawing of your friend in their current daily life. On the right side, create a drawing of them in their imagined dream.
Tell a story with your drawing—the more details that you can include from the interview, the better!
Make a collage!
Choose a blank sheet of paper or piece of cardboard for your base. You'll need: old magazines, newspapers, or other printed papers, a pair of scissors, and glue.
Cut out words and images from the magazines that remind you of what you learned about your friend in these interviews. Divide your cutouts into two piles: your friend's everyday life and their wish for the future.
Draw a line dividing your base in half. On the left side, create a collage using the cutouts related to your friend's everyday life. On the right side, create a collage using the cutouts related to your friend's wish for the future.
When you are done, send each other photos of your artwork or exchange them the next time you see each other. What are some things that you learned about yourself and each other in this process?
– Yaoyao Liu, SAM Museum Educator & Lauren Kent, SAM's Museum Educator for School Programs & Partnerships
Image: Bewitched #2 Seoul, 2001. Jung Yeondoo. C-print photograph. 62 5/8 × 51 9/16 in. (159.1 × 131 cm) Purchased with funds from the Estate of Rosa Ayer, 2016.8.1–2.