Object of the Week: I'll Be a Monkey's Uncle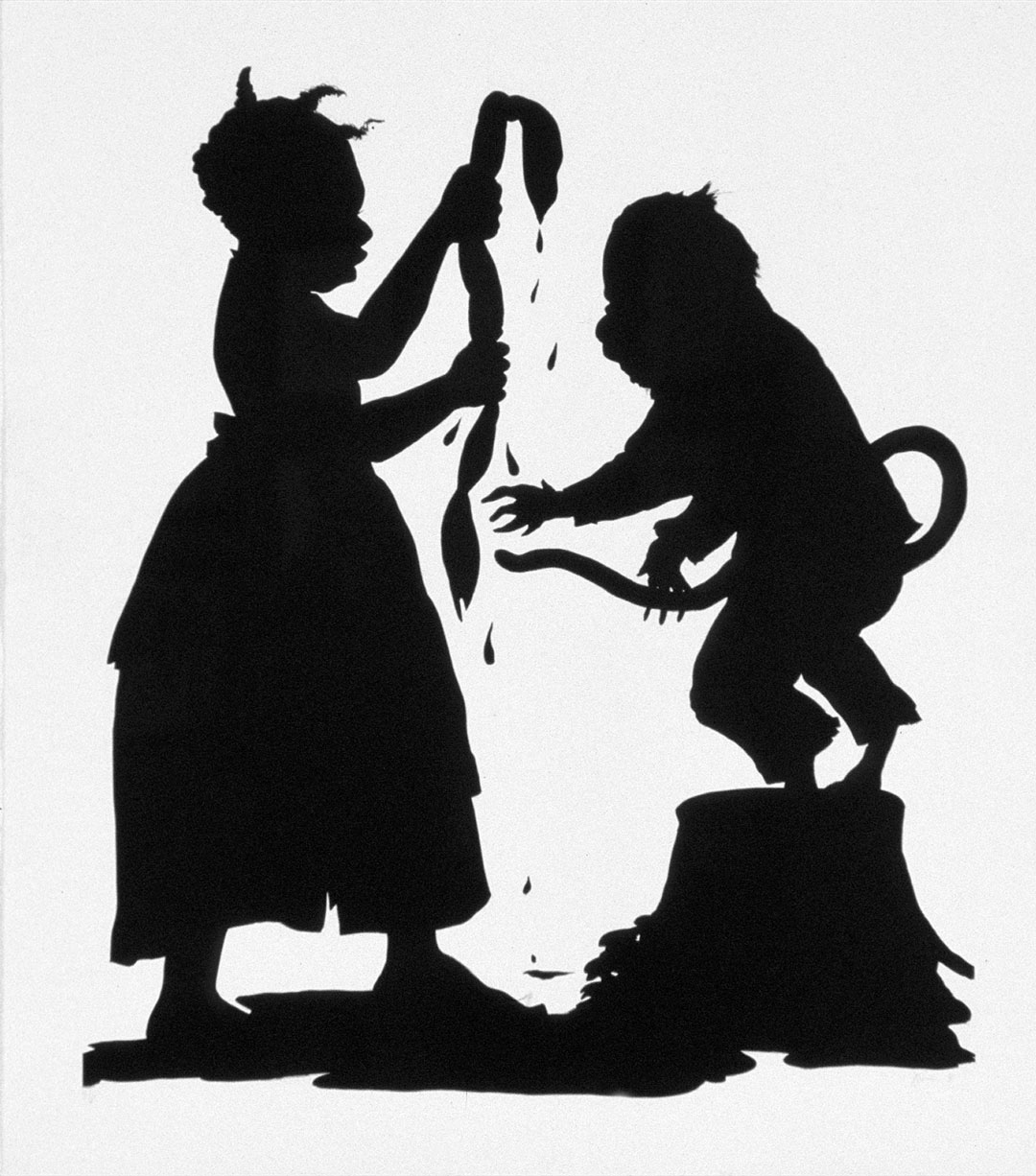 In honor of Black History Month, Object of the Week will highlight works by celebrated Black artists in SAM's collection throughout the month of February.
Kara Walker's particular mode of engaging with our attention spans—her visual and conceptual provocations—have often caused furor, first from the generation above her, now not infrequently from the generation below. For when it comes to the ruins of history, Walker neither simply represents nor reclaims. Instead she eroticizes, aestheticizes, fetishizes, and dramatizes.

– Zadie Smith, What Do We Want History to Do to Us?, The New York Review of Books, February 2020
With a prolific and controversial career spanning decades, Kara Walker is perhaps best known for her use of cut-paper installations that give visual form to the histories of racism, violence, and subjugation in the antebellum South. Walker's unsettling images mine eighteenth- and nineteenth-century stereotypes and ideologies and consider the legacies of slavery today.
This lithographic print in SAM's collection, I'll Be a Monkey's Uncle, is a relatively modest work compared to larger installations and sculptures since realized by Walker. However, the print is an early work, dating to 1995-96—one year after receiving her MFA from the Rhode Island School of Design, and two years before receiving the MacArthur "Genius" award at just 27 years old. Walker has since gone on to produce major sculptural works, such as Fons Americanus (2019-20) in the Tate Modern's Turbine Hall, and A Subtlety, or the Marvelous Sugar Baby (2014) sited in Brooklyn's Domino Sugar Factory. 
In this graphic work, a woman holds a dripping rope or do-rag[1] before a monkey—a recurring figure in Walker's work and, together with the title, often read as an allusion to the scientific racism used to justify the enslavement of African women, men, and children. Regarding her use of the silhouette figure, Walker explains:
The silhouette technique announced itself to me as I was researching the cultural identity of early America. In many ways as a form it succeeded in being both a minimal reduction and a means to cover a lot of territory. With the technique one is talking both about the shadow as a form by making a paper cut, but also shadow as the subconscious in psychology. I surprised myself, actually, when I began working [by] how well it…seemed to exemplify the experience of women and blacks as second class citizens. This was a craft form that was (and is) everywhere, but rarely attains a high status. Silhouette cutting, for me, was my rebellion against high art and painting, and to me a way of undermining the patriarchal tendency in Western art.[2]
Producing work that has received praise and criticism in equal parts, Walker is a provocative and challenging contemporary figure who offers a challenging portrait of American history. Probing the intersections of race, gender, sexuality, and power, Walker intends to make work where, as she describes, "viewer[s]…get pulled into history, into fiction, into something totally demeaning and possibly very beautiful."[3]
– Elisabeth Smith, SAM Collection and Provenance Associate

---
[2] Kara Walker, "Art Talk with Kara Walker," interview by Paulette Beete, National Endowment for the Arts, February 1, 2012, https://www.arts.gov/art-works/2012/art-talk-kara-walker
I'll Be a Monkey's Uncle, 1995-96, Kara Walker, lithograph, 39 1/2 x 35 in., Print Acquisition Fund and gift of P. Raaze Garrison, 99.61 1995-96 © Kara Walker