Object of the Week: Still Life with Fruit and Vegetables, After Juan Sanches Cotan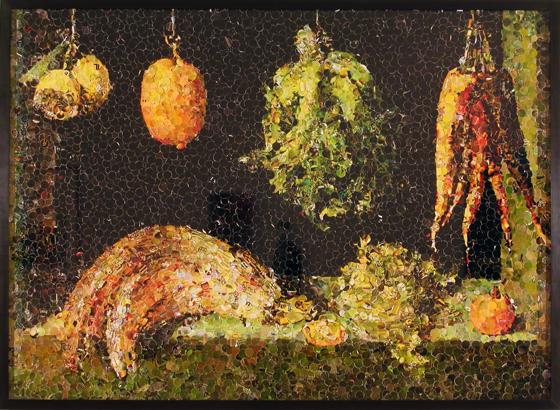 From very far away, one sees the softly rendered image of a still life, complete with various citrus fruits, root vegetables, and leafy greens. Their shapes are loose and open, lacking definition aside from the sharp color contrasts between the bright yellow of the lemon, orange of the carrot, and deep black of the background. As one moves closer to the work, peering intently at it, the fruits and vegetables in the window sill reassert their construction in a pointillist fashion. Each "brushstroke" turns out to be a dot of distinct color, contributing to the ambiguous outlines and shapes.
However, the work is not a painting with layers of dots of color. Rather, Brazilian-born artist Vik Muniz created Still Life with Fruit and Vegetables, After Juan Sanches Cotan by layering cut and hole-punched paper scraps from magazines into a collage. To add yet another dimension to the work, Muniz then photographed the collage, which resulted in the final work: an enlarged chromogenic print. This photo is based on a still life by Juan Sanches Cotan, a notable Spanish Baroque painter, known for his austere yet deeply realistic still lifes.
The optical relationship between part and whole has been something that has interested Muniz for many years:
It's like the fur in Vermeer's painting of The Woman Reading a Letter at the Frick. You get up close and you can't see fur anymore, just a blur of brushstrokes. Then you go back and it's fur again. . . . I think art without pretenses of being more than a visual exercise can indeed be powerful and complete.1
Throughout his career, he has used elements such as sugar to construct portraits of children working on sugar plantations, peanut butter and jelly to recreate the Mona Lisa, and garbage to depict pickers in one of Brazil's largest garbage dumps. His works connect past and present and create illusions of famous and recognizable works.
– Emma Ming Wahl, SAM Curatorial Intern
1 Vik Muniz, "Bomb Magazine: Vik Muniz by Mark Magill." Vik Muniz. Accessed September 10, 2019. http://vikmuniz.net/library/vik-muniz-by-mark-magill.
Image: Still Life with Fruit and Vegetables, after Juan Sanches Cotan, 2004, Vik Muniz, Chromogenic print, 72 x 99 1/2 in. (182.9 x 252.7cm) Gift of Jeffrey and Susan Brotman, Jane Davis, Barney A. Ebsworth, Henry and Mary Ann James, Janet Ketcham, Sally Neukom, Virginia Wright, and Ann Wyckoff in honor of Chiyo Ishikawa, 2004.93.
.