Object of the Week: Milk Container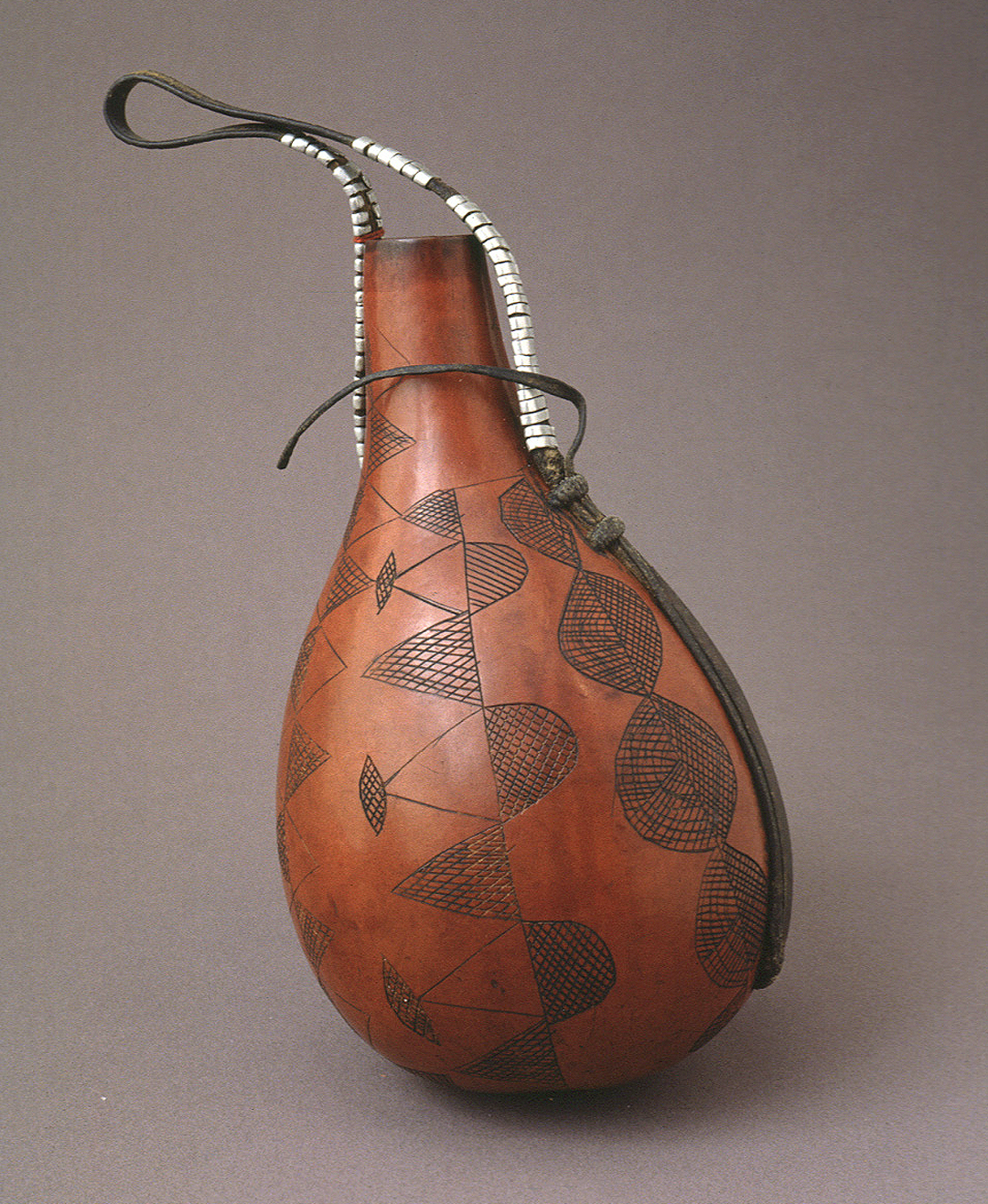 The fall weather has arrived and, with it, decorative gourd season. [1] This Pokot gourd, however, is not purely decorative or ornamental, but carries with it important food traditions and community symbolism.
Like this elegant vessel, inscribed with geometric patterns, such milk containers are made by Pokot women to contain a thick, yogurt-like dairy beverage (also known as mala ya kienyeji or kamabele kambou) that is prepared from cow's or goat's milk, and mixed with the ashes of the cromwo tree—a tree endemic to western Kenya. Produced by Pokot communities for generations, the beverage is prepared by fermenting milk inside dried hollow gourds, later adding cromwo ash for its antiseptic properties, aromatic flavor, and distinctive color.
To make the gourd vessel, the hard skin of a calabash gourd is hollowed out, dried, and smoked using cromwo wood. The milk is then poured into the gourd, whose natural bacteria magically assists in the fermentation and acidification process. Once the milk begins to coagulate, whey is removed and fresh milk is added. This process repeats for one week, with the addition of an occasional shake.
Historically a staple of the Pokot diet, ash yogurt's presence has decreased significantly due to shifts in livestock farming, as well as other environmental and economic factors. While the yogurt beverage is still made by some families, it is far less abundant. Still, the tradition persists. As poetically described by a food activist and scholar of global fermentation processes: "the gourd itself is the vehicle of perpetuation."[2]
– Elisabeth Smith, SAM Collection & Provenance Associate
[1] Colin Nissan's "fist-pumping celebration of fall" was first published online by McSweeney's in 2009 and has since proven to have consistent longevity on the internet, in no small part due to the efficiency with which the essay captures the American mania for autumn.
[2] Sandor Ellix Katz, The Art of Fermentation: An In-Depth Exploration of Essential Concepts and Processes from Around the World (White River Junction, Vermont: Chelsea Green Publishing, 2012), pp. 181-182.
Image: Milk container, Pokot, gourd, leather, and metal, 7 1/2 in., diam.: 4 1/4 in., Gift of Katherine White and the Boeing Company, 81.17.1053