Object of the Week: Veronica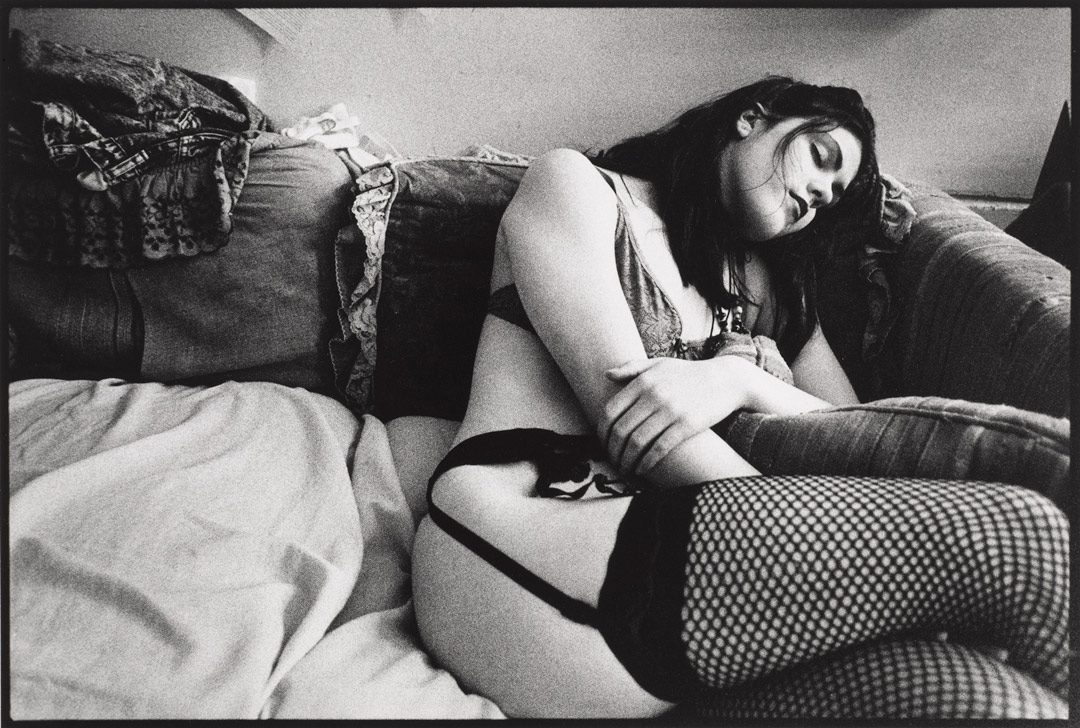 Veronica is a telling image from a larger body of work that examines what it's like to be an erotic dancer. For the photographer, this series sheds light on the commitment artists make to produce meaningful work.
Erika Langley (American, born 1967) moved across the country in 1992 after attending the Rhode Island School of Design and working as an aspiring photojournalist. She quickly learned that photojournalism work in Seattle was hard to come by, being turned down by several potential employers. One told her to go out and do something "really gutsy and personal" and then come back.[1]
Upon arriving in Seattle, Langley had noticed Seattle's many topless bars and thought she could do a project on strippers. She stumbled upon the Lusty Lady–the legendary peep show establishment formerly located across First Avenue from the Seattle Art Museum—and was intrigued to learn it was women-run, that the dancers were protected from the patrons, and that they were paid a reasonable wage in 1990s dollars: $9/hour to start with a $1/hour raise every week if you came in on time and were doing well. Some dancers made $27/hour. This operation was defying industry stereotypes.[2]
There was one catch. If she wanted to take photographs, she had to become a dancer. "If you really want to understand this, you have to work here," she was told by one of the supervisors. "You have to dance to gain people's trust and be taken seriously." There was no access to the locker room until she was a Lusty Lady employee. So, she became a dancer. "I want to learn about a world I know nothing about, I want to see what I'm capable of." She took the stage name, Virginia, after her home state: Southern, Gothic, exotic. She got to know her co-workers. They were married and single, straight and queer, some were doting mothers, and some had degrees or were working their way through school. She was interested in "showing these women as whole women…it's just a job."[3]
In 1997 the body of work she'd created at the Lusty Lady was transformed into a book produced by European publisher Scala called The Lusty Lady. She delivered a copy of the book with a handwritten note–"Howdy, neighbor!"–to then SAM Deputy Director of Art/Jon and Mary Shirley Curator of Modern and Contemporary Art, Trevor Fairbrother. Shortly thereafter, he encouraged her to be part of a group show. In 1999, several of her works–from the Lusty Lady series, including Veronica—were included in the exhibition, Hereabouts: Northwest Pictures by Seven Photographers, one of the Documents Northwest: The PONCHO Series exhibitions. SAM ultimately brought five of Langley's photographs into the collection.[4]
Langley's work reminds us that women like Veronica (that's her stage name) work legal jobs, just like other women. "There are no venues like this for women, this is the intersection of public sex and fast food. Sometimes I feel like a naked waitress—other times, a quarter-operated social worker. It's not so unlike other jobs. I punch a time clock, look forward to my breaks, and then I go home. But I love it best when my friends and I are howling with merriment in the shadow of Hammering Man."[5]
"Had the Lusty Lady not told me I'd have to dance to photograph, I'm sure I'd have made some competent but average pictures. Instead, working there changed my life, how I looked at myself and my sexuality, and it taught me about my own erotic power." — Erika Langley[6]
– Traci Timmons, SAM Senior Librarian
[1] Peggy Andersen, "An f-stop and a G-string Mark Woman's Dual Career" in The Seattle Times (January 30, 2000), p. B4.
[2] Erika Langley, The Lusty Lady (Berlin: Scala, 1997), p. 10 and Andersen, p. B4.
[3] Langley, p. 7, 13 and Andersen, p. B4.
[4] Andersen, p. B4 and Trevor Fairbrother, Documents Northwest: The PONCHO Series: Hereabouts: Northwest Pictures by Seven Photographers (Seattle: Seattle Art Museum, 1999), p 3.
[5] Langley is referring to Hammering Man, the monumental public sculpture by Jonathan Borofsky, sited in front of the Seattle Art Museum. Learn more here. Fairbrother, p. 3.
[6] Langley, p. 7.
Image: Veronica, 1993, Erika Langley, Gelatin silver photograph, 16 x 20 in. (40.6 x 50.8 cm), Mark Tobey Estate Fund, 2000.57, © Artist or Artist's Estate.