Object of the Week: ChimaTEK Virtual Chimeric Space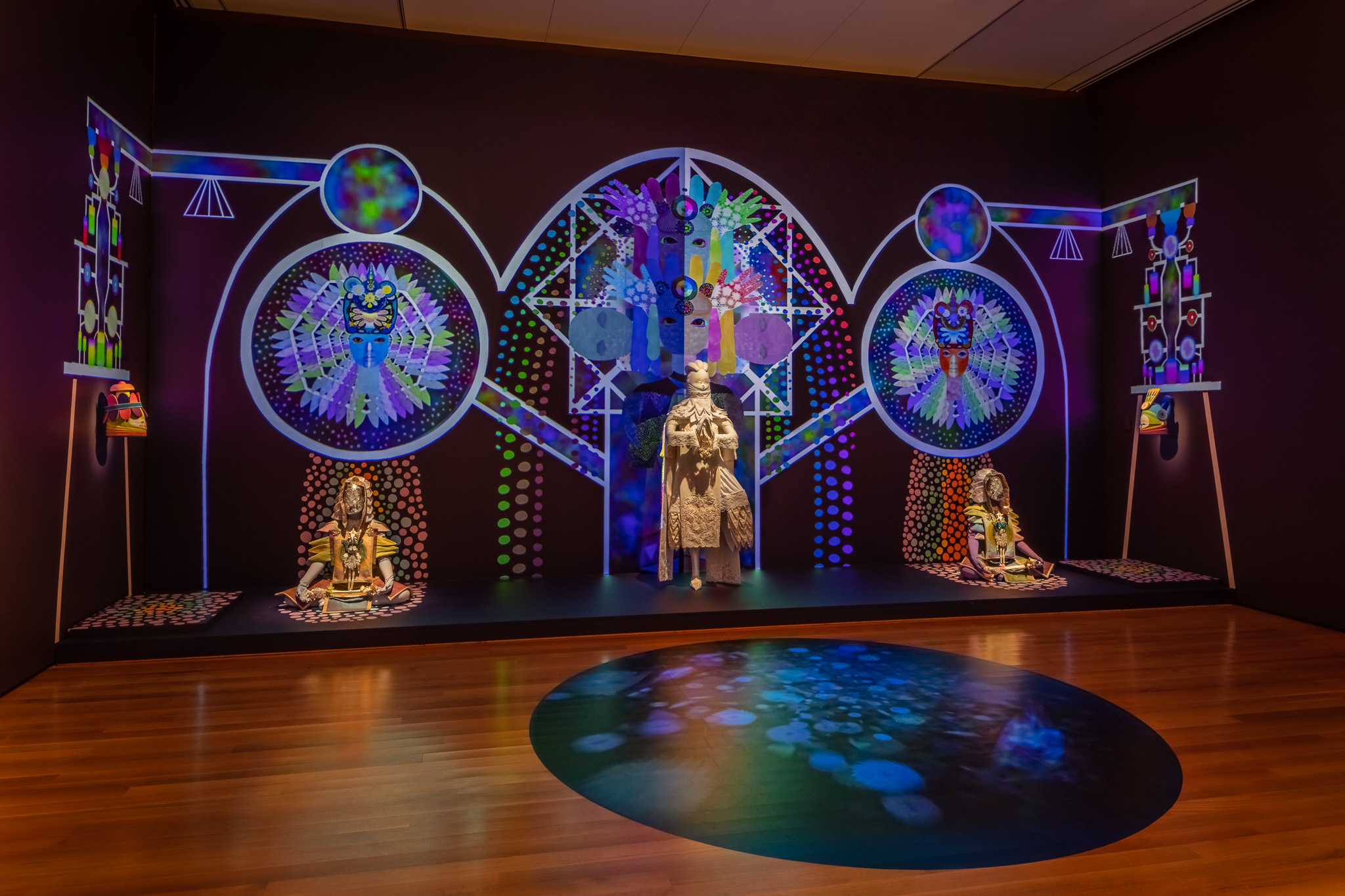 Want is the desire to possess or do, or the feeling of lack or being short of something desirable. As long as you're wanting, you're usually in a space of trying to gain something for yourself and yourself only. This is a result of individualized thinking, which is one of the pillars of the Western-American ideology. So what does freedom from want look and feel like? And what does it require of us to consider living free from want?
This possibility is explored by Saya Woolfalk, a New York-based artist who uses science fiction and fantasy to reimagine the world in multiple dimensions. With her multi-year projects No Place: A Ritual of the Empathics and ChimaTEK: Virtual Chimeric Space—the latter of which is on view in Lessons from the Institute of Empathy—Woolfalk creates a world of Empathics, a fictional race of women who are able to alter their genetic make-up and fuse with plants. With each body of work Woolfalk says, "I want a person to experience something that simultaneously makes them slightly uncomfortable about the potential of the world that I have created, but also gives them an excitement about a harmonious, multi-cultural society."
While seemingly very different from human beings, the Empathics actually reflect our multicultural society in myriad ways. Through these beings, who have developed the ability to think collectively, we learn just how powerful the effects of empathy are when honed and used to empower a society in the direction of cultural evolution.
Freedom from want has the potential to take us to a place where this kind of evolution can be realized. In this free state, we are enabled to shift our focus from individual want to helping others gain what they require in order to experience the satisfaction of their needs. With the pressures of scarcity and fear eliminated, a new form of thinking emerges from a place of equity and equality.
Moving closer to freedom from want as a reality—as opposed to an out-of-reach ideal—challenges us to consider others instead of only the self. It challenges us to remove the ego—to listen and understand. It challenges what we consider necessary in order to live happy and successful lives. It challenges us to move beyond individualized, self-centered thinking and towards an elevated level of collective thinking, which is necessary for harmonious living and ultimately stimulates our capacity for acceptance, benefiting every global citizen.
– Adera Gandy, Visitor Services Officer
Image: Installation view of Lessons from the Institute of Empathy at Seattle Art Museum, 2018, Seattle Art Museum, photo: Nathaniel Willson