Visiting Tokyo's New Yayoi Kusama Museum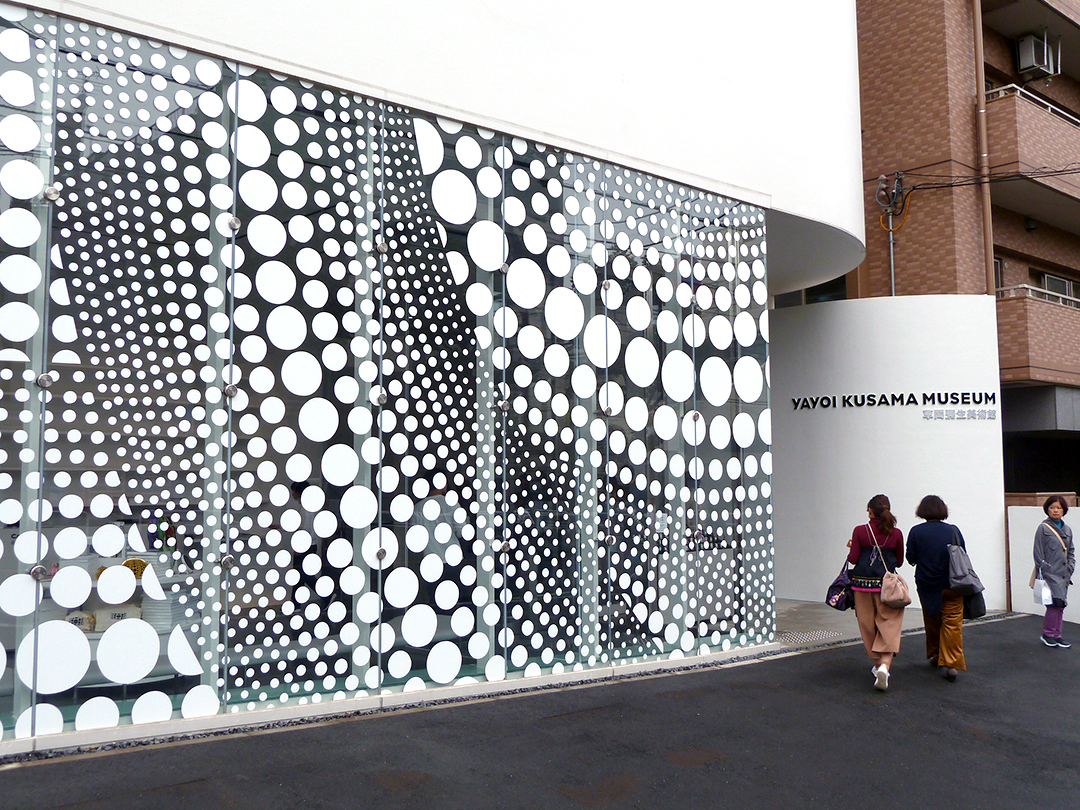 Were you one of the more than 130,000 visitors to the Seattle Art Museum's Yayoi Kusama: Infinity Mirrors exhibition over the past summer? If so, then you'll remember the citywide frenzy of excitement as everyone rushed to get tickets and be the first to post their Kusama selfies. I was lucky enough to visit twice while it was here. So when I learned that the legendary Japanese artist was opening a new museum in Tokyo in October 2017, the same month I would be there, I jumped at the chance to go!
Located in Tokyo's Shinjuku neighborhood, The Yayoi Kusama Museum's sleekly curved white building was constructed in 2014, but its purpose was a local mystery until the museum was announced in 2017. The five-story space features paintings, sculpture, and the popular "infinity rooms," as well as an archive and reading room.
The museum's inaugural exhibit, Creation is a Solitary Pursuit, Love is What Brings You Closer to Art, focuses on Kusama's recent work. If you saw the SAM exhibit, you'll recognize the large, vividly colored paintings of her latest series, My Eternal Soul. Frenetic, pulsing with energy, and almost biological—like gigantic microscope slides of cells and amoeba—there's an uneasy tension between the bright rainbow of colors that pull you in and the jarring, repetitive forms that repel the eye.
Visiting the Kusama Museum is a surprisingly hushed and peaceful experience. Only four sets of 70 people are admitted per day, so there were only a few people in each gallery. In the museum's Infinity Room, we were allowed to stay for two full minutes, walking around the glowing cube of orange-gold pumpkins, and we could take all the selfies we wanted. With such a small crowd, it was easy to get into the Infinity Room alone—and now that I've done it, I believe silence and solitude is the best way to truly immerse yourself in the illusion of limitless space and light.

Speaking of selfies, you won't want to miss the museum's restroom. That might sound odd, but the restrooms and elevators are decorated with wall-to-wall mirrors and red polka dots. Photography isn't allowed inside the galleries (other than the Infinity Room), but this might just be your best bathroom selfie ever.
Since the SAM exhibition featured five Infinity Rooms, some visitors might feel a bit disappointed that this museum offers only one. But Kusama is a prolific artist in many media, and her museum offers a carefully curated selection representing the themes and styles of her 65-year-long career. While they're small, the quiet, uncrowded galleries make for a uniquely intimate atmosphere.
If you're headed to Tokyo and interested in learning more about Kusama's career and legacy, the Yayoi Kusama Museum gives you a chance to get up close and personal with her art—just as she intended.
IF YOU GO: The Yayoi Kusama Museum is open Thursdays through Sundays and national holidays (closed Mondays, Tuesdays, and Wednesdays). Reserve tickets for four timed slots per day on the first day of the month for the following month (e.g., December 1 for the month of January), starting at 10 am, Japan time.
– Stephanie Perry, SAM Member
Photos: Stephanie Perry