Art Champ: Lawrence Cenotto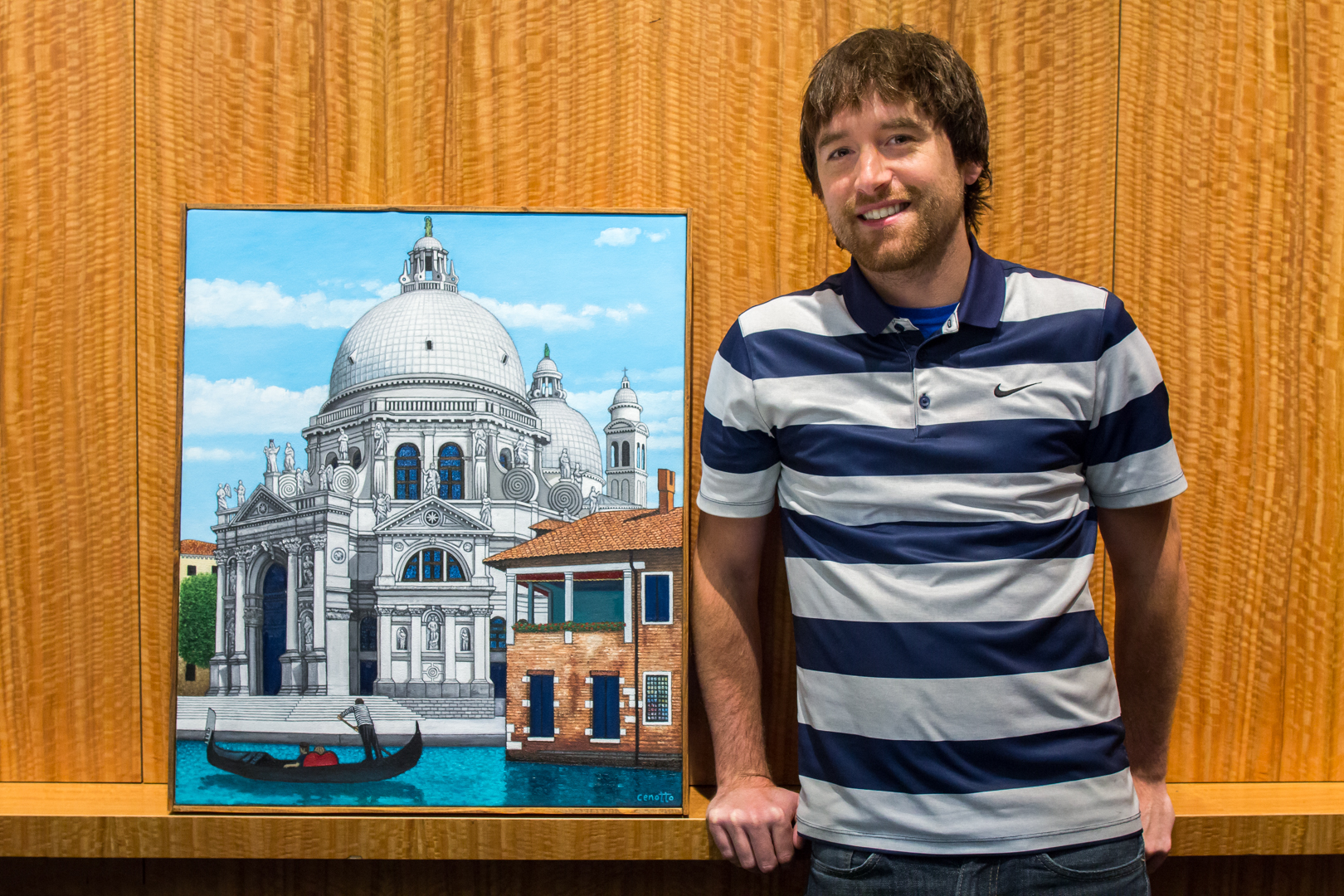 Lawrence Cenotto, SAM's multi-talented Events and Group Sales Manager, was selected the crowd favorite in the SAM Staff Art Show that hung in the South Hall Community Gallery, August 30 to September 24. A SAM employee since 2012, Cenotto has been making art for much longer than that. He often feels as if he was born in the wrong era and wishes he could have been a court painter for some king or queen hundreds of years ago (and he would like to point out that if any royalty or rich benefactors are reading this that he is available).
A Washington native, Cenotto grew up in Lakewood (which he reminds us is where COPS was filmed) and went to Gonzaga in Spokane (the other place in the state where COPS was filmed, Cenotto points out). His two passions have long been art and sports, though eventually the art became his focus. He recently combined the two when he got to be on a private, after-hours tour of Yayoi Kusama: Infinity Mirrors with Russell Wilson and Ciara and take a picture of them in the Obliteration Room, a highlight of his five-and-a-half years here at SAM. This gets us to today, where we'll be talking with Cenotto about his creative drive and his winning painting, Santa Maria della Salute.
SAM: When did you start painting? 
Lawrence Cenotto: My first memory of making art is drawing animals I found in books at my grandparent's house or drawing football players on Monday Night Football while watching with my grandpa when I was about five or six years old. I'm sure there was some tempera or finger painting in there somewhere, but I didn't really start painting until high school when I started making watercolors of The Beatles and landscapes from photos I found in the stacks of National Geographic magazines we had in the art lab.
Did you study art at Gonzaga?
I started as an art major there, yes, but an early morning class my first semester staring at slides of pre-historic art made me feel like I was sitting in Ben Stein's class in Ferris Bueller's Day Off so I switched to a business major while keeping art as a minor so I could still take the studio classes.
I see a lot of paintings of Venice on your website, did something about that specific location inspire you? Did the Seeing Nature exhibition strike a chord with you?
Venice is my favorite city, along with Paris. I've always been a big fan of architecture. The uniqueness of the city, mixed with my northern Italian bloodline, made me fall in love with the city. I've always liked building things and my brain  is wired very much like an engineer, but my heart draws me to the art side of things. Had I gone to a different school I probably would have gone into architecture but Gonzaga did not have an architecture program. I respect the art form from a design perspective and all the planning that goes into it (I am very meticulous) and maybe painting buildings is my way of getting that out of my system like I'm George Costanza pretending to be an architect. Seeing Nature was definitely one of my favorite exhibitions that SAM has had (probably right behind Intimate Impressionism) because it incorporated a lot of paintings of Venice with my favorite art movement, Impressionism.
Can you tell me more about the two versions of you painting, Santa Maria della Salute and the 10 years between them? You mentioned that you hope that you'll think back on this painting in 10 years like you think back on the original, what do you mean by this?  
Unfortunately the older version can't be seen anymore unless you put it through an x-ray (because I painted the new one on top of the old one) but I do have pictures to show the difference. When I look at the newer version I think it is much better than the older version, so 10 years from now I hope to be able to continue to develop my painting techniques. In the meantime I can indulge myself in delusions of grandeur in envisioning future art historians putting my paintings through rigorous x-ray testing like I'm Leonardo da Vinci or something.
Do you often revisit paintings and paint them again? 
Not very often. This might be the second painting I have re-done, though I am currently working on one that I originally completed around the same time period. One of my biggest problems in painting is that I get too excited to start the painting itself so I rush through the drawing process and often find things I wish I had changed, which is hard to fix once the paint is wet. I think I'm saving myself time but it ends up taking longer than if I had just focused on finalizing the drawing. It's like Charlie Brown trying to kick the football . . . he knows that Lucy is going to pull it at the last second but he can't help himself.
What inspires you? 
I don't claim that my art has any deep meaning or significance. I just try to capture moments and places that I find beauty in. Since I don't have a knack for photography, painting is the way I best express that. Other artists definitely inspire me—I want to be able to see the world as they do and I want to challenge myself to see if I can compare to their skill. I am definitely more of a realist, although I would like to have more of a "painterly" style like Edouard Manet (my favorite artist). I have a hard time not trying to make my paintings look as real as possible. My other favorite artists are Diego Velasquez and Canaletto (who I am probably the most similar to in terms of style and subject matter and last name).
Lastly, how long have you been playing fantasy football? Because I have lost every game! 
I started the SAM league three years ago but I've played with my friends for about 15 years and it's one of the most frustrating things I have ever subjected myself too. The stars aligned once and I won back in college but other than that it's a never-ending cycle of disappointment and thinking I jinxed someone when they get injured which is why I never draft any Seahawks. To go back to the Charlie Brown example, I know I'm going to be mad at the end of the year and that the fantasy football gods are going to pull the football away from me at the last moment as soon as I get a glimmer of hope, but I can't help myself from trying to kick it anyways.
– Chelsea Werner-Jatzke, Copywriter/ Content Strategist
Photo: Natali Wiseman