Object of the Week: Round-corner wood-hinged cabinet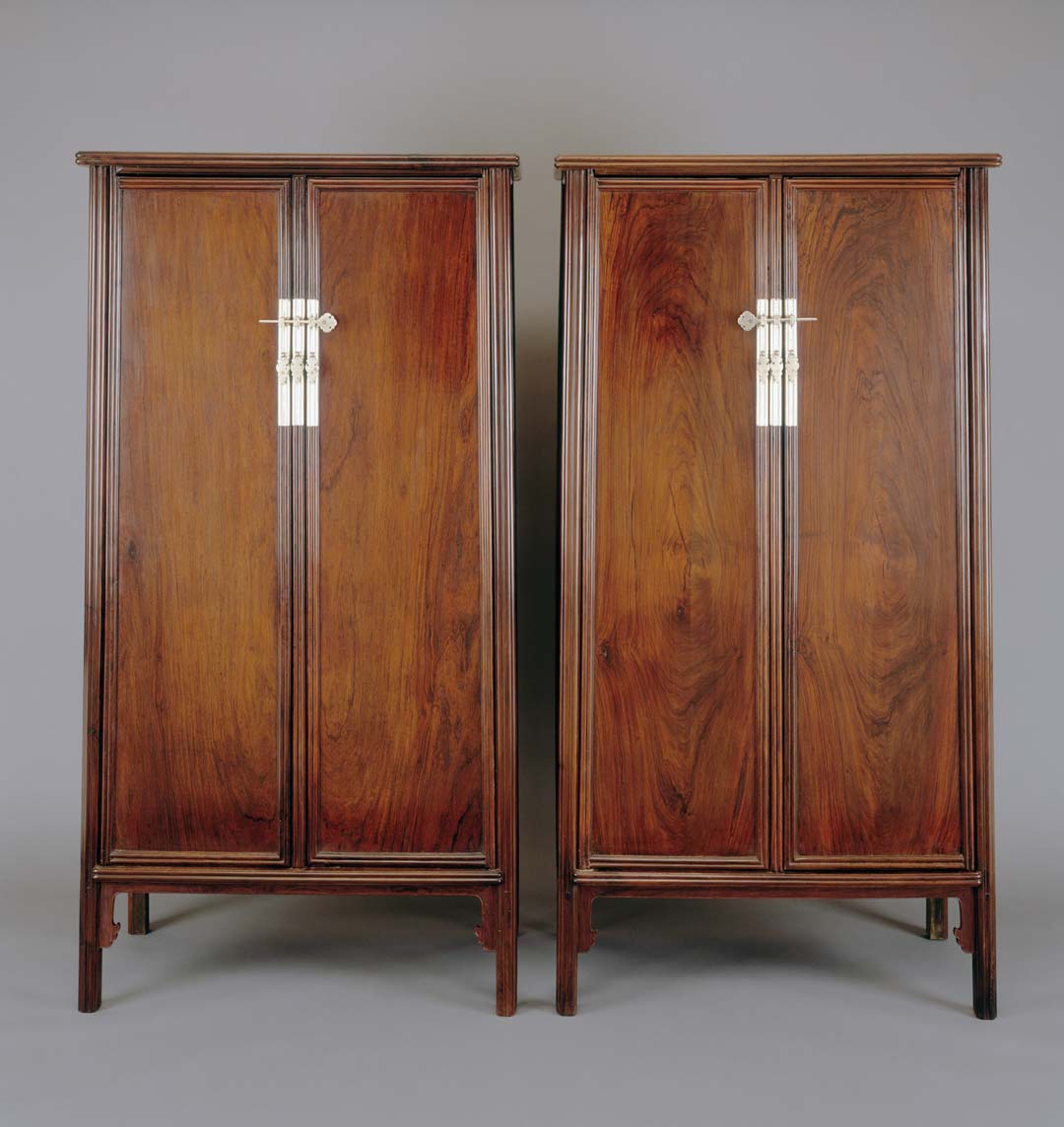 "Why are we drawn to a work of art?" is an interesting question, but it's also a clumsy one that is too broad to tell us much. "Why are you drawn to a work of art?" That might get us somewhere. What about an artwork compels you, reader, to pull out your phone for a selfie, or take down a note with the artist's name, or fix an image of it in your head, so you can tell your friends about it later? What makes it resonate with you, in thought or emotion? One person might respond to the look of a piece—qualities like exceptional craftsmanship, a vision of beauty, or a herculean effort of construction—while another cares most about the conceptual content, the artwork's associations with history, the way it offers timely social commentary, or how it prompts imagination.
Here's some proof that art rocks: Art, and readings of art, are as diverse as people. Individual perspective colors our experience of art, as it does the rest of life. What we're looking for, we can find. And different folks might see a wide range of facets to the exact same piece.
SAM's Round-corner wood-hinged cabinets welcome visitors to the first gallery of Tabaimo: Utsutsushi Utsushi. That they are a nearly identical pair, "a set of twins," fascinated artist-curator Tabaimo, who is interested in how we read multiples. Even though our eyes see and our brains understand that there are two, we can still experience a sense of confusion because the boundary between them is slippery.
The cabinets date to the 16th century, when they were fashioned from a precious wood called huanghuali. The rich marbling of the wood grain acts as a natural ornament for the tall, quietly stunning single-panel doors. While the beauty of the wood itself takes center stage on the panels, the difficult method of construction and finely carved trim provided plenty opportunity for artisans to strut their stuff, and strut they did, notably in the softly rounded upper corners for which the cabinets are titled.
These were high-ticket items, reserved for the court and elite classes. They acted as status symbols, speaking wealth and prestige over their owners, and also fulfilled the most basic of utilitarian functions, as storage for books, scrolls and other scholar's accoutrements. Grand wardrobe cabinets like these took the place of closets in traditional Chinese homes, and when you picture a closet in your head, and then you look at these cabinets, you understand why. They looked really good while they were hiding stuff.
Because huanghuali wood was a choice material during an important period in the making of Chinese furniture, it still carries an association with that time and culture, kind of like how marble sculpture can bring to mind Golden Age Greece for those of us familiar with the European art tradition. Tabaimo is not the first artist to pick up the historical associations of huanghuali wood and bring them into a conversation about contemporary ideas. Chinese dissident artist Ai Weiwei has used huanghuali wood in spherical constructions like LACMA's Untitled, Divine Proportion that are boldly un-utilitarian, contrasting the storied functional use of huanghuali.
Don't miss Tabaimo's playful installation at the Asian Art Museum that animates these cabinets with the artist's unique vision, and remember to bring your perspective to the equation.
–Jeffrey Carlson, SAM Collections Coordinator
Image: Round-corner wood-hinged cabinet (gui), 16
th

 century, Chinese, huanghuali wood, 72 x 37 x 20 in. Seattle Art Museum, Sarah Ferris Fuller Memorial Collection and an anonymous donor, 89.20.1 and 89.20.2, Photo: Paul Macapia.