Object of the Week: Kitchen Range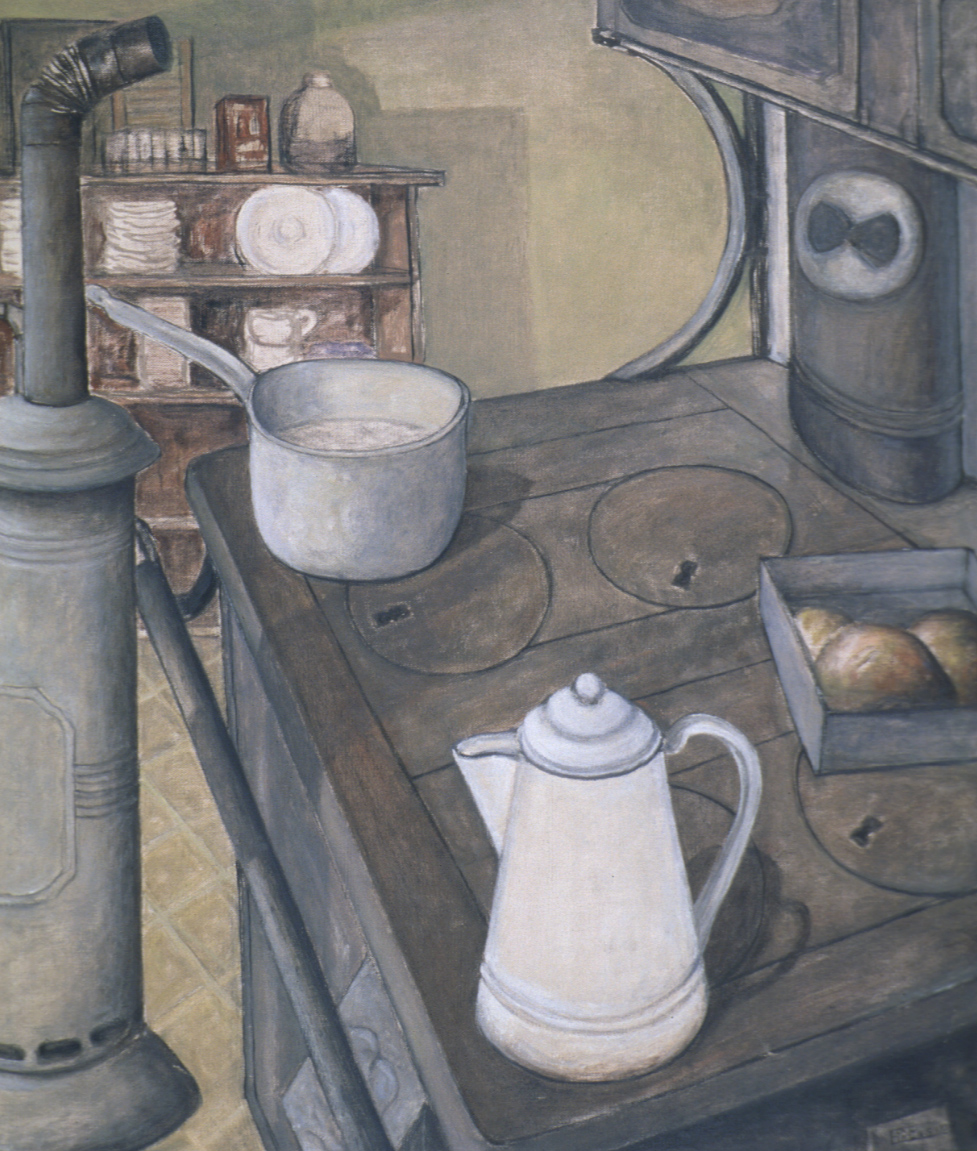 In 1959–1960 Walter Mattila organized a retrospective exhibition for the Northwest artist Earl Thomas Fields. The show had two venues: the public bank in Fields' native Woodland, Washington; and a gallery in Mattila's Portland, Oregon. Mattila was not a curator but a historian, one especially interested in Finnish immigration to the US. In the early 1970s, the Finnish American Historical Society of the West published volumes of Mattila's work on the subject as the Finnish Emigrant Studies Series. He was understandably drawn in by the story of a young Finnish artist from the rural Northwest.
Earl Fields' father Charles was the first native of Pielavesi, Finland, to settle in Woodland as a farmer. Like his father, Earl was a trailblazer. While his older brothers were pressed into logging jobs that would augment the farm's income, Earl became the first Finn from the Woodland community to graduate high school and go on to attend the University of Washington. Earl was not only a strong thinker but a creative one. He earned his bachelor's degree in fine art in 1925, and after traveling and sketching up and down the West Coast—sometimes joined on these trips by Kenneth Callahan, among others—Fields went on to attain an MFA, also from UW, in 1933. Still, his heart stayed with his family. Earl devoted the large part of his early work, from the 1920s up until World War II, to the Finnish people, and to farm life in the Woodland area.
Highly sensitive to the story of the Finns in the Northwest, Mattila wrote this about Earl Fields' work in August of 1959:
There is not much left of the strange interlude of the Finnish emigrants in the Woodland country. Fortunately one of the Pielavesians was an artist and a brave one to persist being an artist in the hills. Even more than Americans today, the emigrants, Finns like others, had to keep a sharp eye on the dollar. To them a house painter was more of a performer than a portrait painter because he was sure of so much money an hour. And portraits weren't bread.

Earl Fields painted the slashing Finns who lived in the disappearing forest on the fading frontier. His pioneers are genuine, simple, strong and resigned to their hard lot. The things they didn't have—you feel that in his paintings.

The day will soon come when the spirit and people of this strange interlude in the Woodland hills survive largely in Earl Fields' paintings.1
If this community's history relied on being remembered in the painting of Earl Fields, then their history would be in danger, since Fields has been all but forgotten—unfortunately, in my view. Mattila may have been drawn to Fields' work by the story, but its bare simplicity kept his attention. The visual element that Mattila found most gripping was Fields' ability to depict a lack of things, a sense of going wanting. In paintings like Kitchen Range (1932) this feeling of poverty remains palpable.
Fields' work as an artist is inextricably linked to SAM. He was part of the SAM family for nearly 40 years himself, and he also traveled in a circle of better-known artists, including Callahan, Morris Graves, and Mark Tobey, who were all heavily involved at the museum. During the Great Depression, SAM served an important social role in Seattle as an employer and patron of local artists, allowing them to continue creating. Fields was one beneficiary of that generosity. He first joined the museum as an assistant upon its opening in 1933. In 1941, he was appointed staff photographer, a role in which he earned a reputation as a meticulous and creative documenter of three-dimensional objects. He remained on staff until 1972, retiring from SAM just one year before Dr. Fuller, who had hired him.
Kitchen Range inspires thanksgiving in me because of "the things they didn't have," to borrow Mattila's words. I'm thankful for bread; for the unique voices of artists and the stories they represent; for the diverse cultural histories remembered by their work; for the museums that have supported them and preserved their work so we might learn from it.
Happy Thanksgiving, all!
–Jeffrey Carlson, SAM Collections Coordinator
1 Walter Mattila, "Finnish folk arrive at turn of century," Lewis River News, Woodland, Wash., Aug. 12, 1959.
Image: Kitchen Range, 1932, Earl Fields (American, born Pielavesi, Finland, 1898; died Seattle, 1975), oil on canvas, 36 1/4 x 32 1/4 in. Seattle Art Museum, Public Works of Art Project, Washington State, 33.216.