For the Love of Art Member Profile: Libby Hughes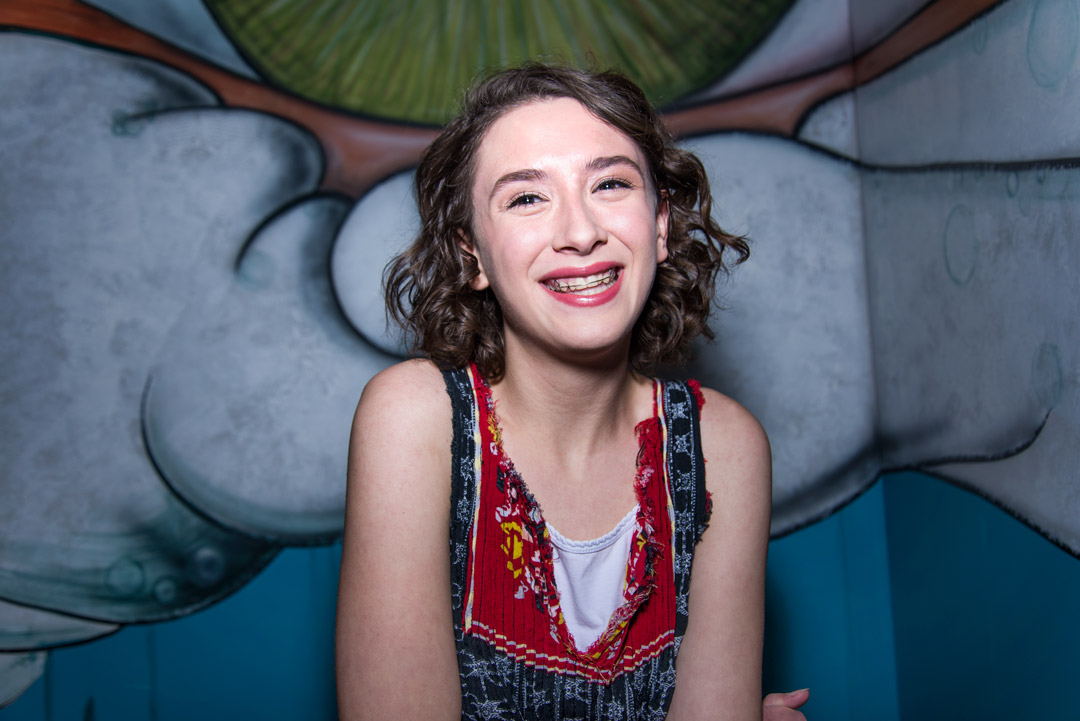 LIBBY HUGHES
11th grader
TAG student member
Libby, you're part of SAM's Teen Arts Group. Why did you join?
Yes. Because it's a volunteer service and also because I really, really like art and it sounded really cool to get involved in it.
What do you like about art?
Well, I really like doing art and I like looking at how other people do art and seeing what they think of. What I really like is how people decide to do art, like imagination and stuff like that…
Art is so personal. We have had people sit here and say, "Well, I didn't like art for a long time and then I realized…"
Well, I used to draw and then became interested in looking at it.
What is your favorite part of TAG?
I really like meeting the people and I really enjoy just interacting with art and doing all these cool things. We did tours for Teen Night Out and just this semester we recorded audio tours which was really cool.
Do you think art is important for society?
Yes, I do. I think it's a way to express yourself and it triggers emotions. It's how you portray the world—you're showing how you see the world to other people.
Do you have a favorite piece of artwork here?
I really like the Italian Room just because I did the audio tour for it. So I learned about it. Yes, I thought it was really interesting. Art-wise, I really like—it's not out right now but it's a mouse—looks like a black rat on the bed. That one is my favorite.
Why do you like it?
I don't know. It's kind of creepy and I don't want to be like, "Oh, I like creepy art work," but I really like artwork where it invokes a lot of emotion. And the first thing you think is, "Oh, that's creepy" and you think about it a lot and why it's there. I really like artwork that makes you think.
I like Mann und Mouse. A lot of people like it, actually, which I think is interesting. A lot of kids like it—really little kids. I could see that maybe they think it's a cute mouse. It's funny because it is a little bit scary—but little kids are often drawn to scarier things than we give them credit for.
Yes, I think people think kids should be too sheltered but I think people should, even when they are little, know what sadness is and stuff. And artwork can do it.
What role do you think artwork plays in that?
Well, for me it was always a part of it and I always loved to draw and my dad was really into painting, too. He was always showing artwork. I always thought it was a way for people to express themselves. Even things like sadness or dangerous things. I remember when I was little my dad brought home this magazine and it was called High Fructose and all the pictures in it were really creepy, but I thought it was super cool.
Do you know what you want to do when you "grow up"?
I really want to be a character designer for games and stuff.
Do you think being in a museum now relates to that? Is it helping you think about that?
Well, it is definitely a kind of artwork. It's not exactly the type I was looking at but I do really like looking how other people do it. What kind of artwork other people do and seeing what's popular and what people like and what's interesting…
How long have you been part of TAG?
I started last semester and this is my second semester, so about a year now.
Are you going to keep doing it?
Yes, I'm probably going to keep doing it until I graduate. I really like it.
Calling all high-school aged teens—take over the museum during Teen Night Out this Friday, May 6! Get loud with incredible DJs, teen art tours, and art making workshops led by Seattle's coolest contemporary artists. Free—RSVP on Facebook.