19th-Century European Depictions of Africans: A Book Installation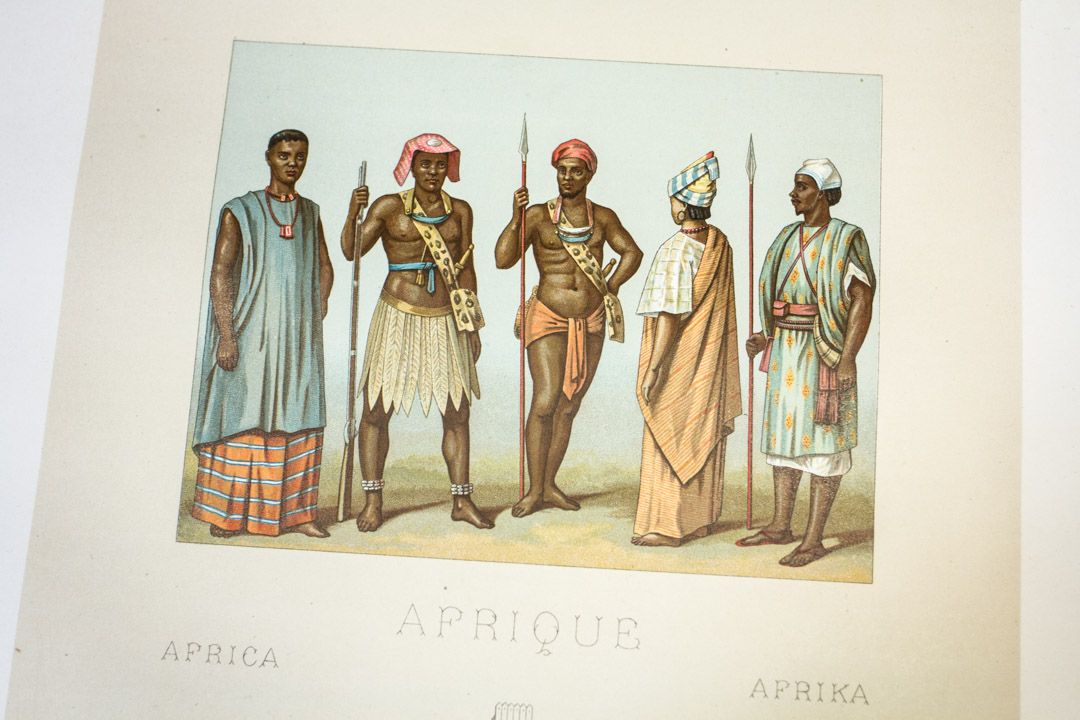 During the run of Kehinde Wiley: A New Republic, whose work addresses ideas about identity and representation, the Bullitt Library is featuring a book installation that considers ways in which people of Africa were depicted in 19th-century book illustrations. The works in this installation, considered "costume books," depict African subjects with an emphasis on clothing, published with the intent of educating an otherwise unacquainted audience. This tradition, derived from European 16th-century illustrated costume books, was created to satisfy a demand for information on dress and manners of both homeland and foreign lands. The depictions of non-European subjects, though beautiful in their presentation, are problematic in that they project a distinctly Western perspective and a lack of drawing from firsthand observation.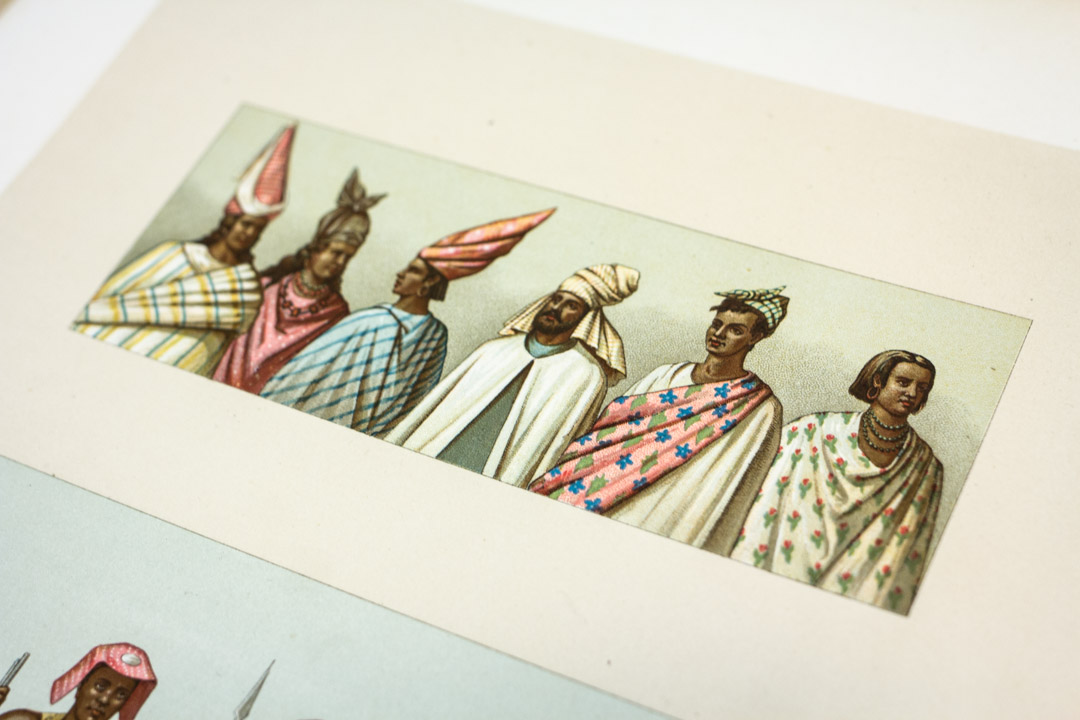 Published in Paris by the firm of Firmin-Didot et Frères between 1876 and 1888, Le Costume Historique: Cinq Cents Planches, Trois Cents en Couleurs, or et Argent, Deux Cents en Camaïeu… by Auguste Racinet (French, 1825–1893) was considered the most wide-ranging study of clothing of its time. Here, Racinet depicts "Senegalese tribesmen and women, from the lands by the River Senegal in Western Sudan" who "are a handsome people who take great care of their appearance." And although Racinet's work is an exceptional example of chromolithography, images like the ones shown are derived from a long illustrative tradition whereby images of "exotic" peoples were based on written accounts or secondhand drawings.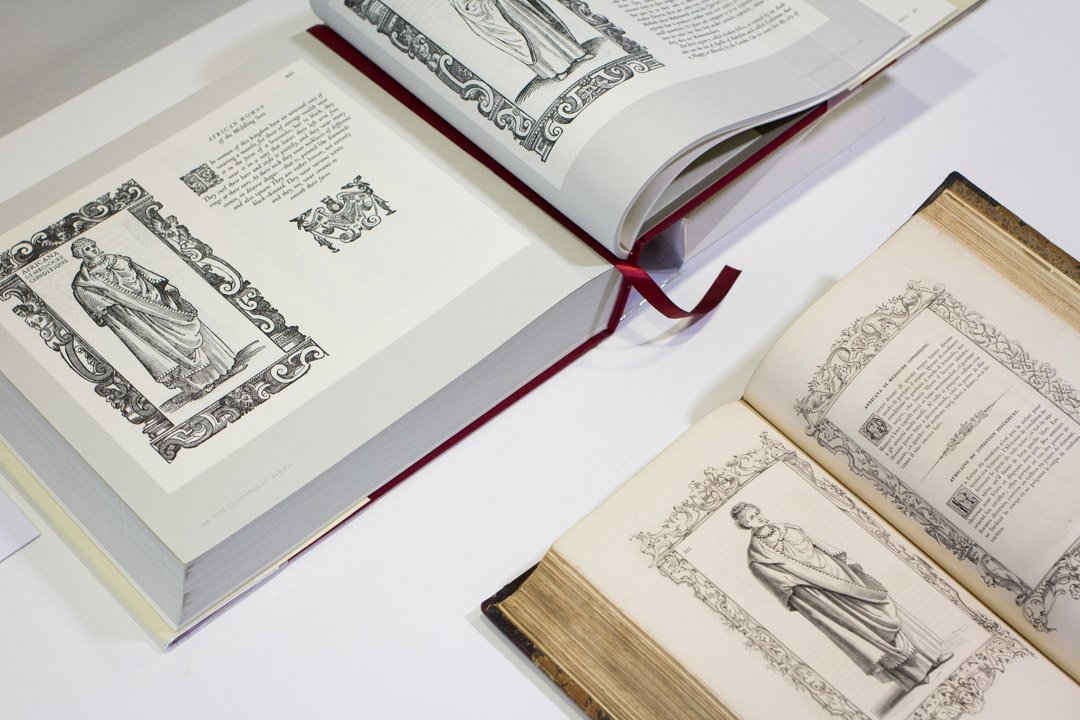 Another work published by Firmin-Didot et Frères is Costumes Anciens et Modernes, a 19th-century reproduction of Cesare Vecellio's (Italian, 1521–1601) Habiti Antichi et Moderni di Tutto il Mondo, an early costume book published in Venice in an expanded edition in 1598. Firmin-Didot's version is written in Italian and French and covers the same geographic regions covered by Vecellio's work.
In this example, we see an ordinary African woman: "Africana di Mediocre Conditione/Africaine de Condition Inférieure." Referring to Vecellio's original depictions, one scholar has noted that the images of African costumes, in particular,
"…were participating in 'translations' of African dress into costumes for European paintings and theatre. During this process, they accumulated new meanings. The dressed figures were copied from art objects with varying degrees of removal from immediate African encounters and combined with texts from published travel narratives to create mythic bricolages of Africans."
Additionally, when a comparison is made between Vecellio's original image and Firmin-Didot's replication of this particular subject, we see the result is a distinctly more Europeanized version.
This book installation is on view just outside the Bullitt Library on the fifth floor of the Seattle Art Museum during the library's public hours: Wednesday-Friday, 10 am-4 pm.
—Traci Timmons, Librarian, Dorothy Stimson Bullitt Library
Images: Le Costume Historique: Cinq Cents Planches, Trois Cents en Couleurs, or et Argent, Deux Cents en Camaïeu… 1876-1888, Paris: Firmin-Didot, Auguste Racinet, French, 1825–1893, SPCOL GT 513 R23 v. 2. The Clothing of the Renaissance World: Europe, Asia, Africa, the Americas: Cesare Vecellio's Habiti Antichi et Moderni, 2008 London; New York: Thames and Hudson, Margaret F. Rosenthal, American (birth date unknown), Ann Rosalind Rosenthal, American (birth date unknown), GT 509 V42 C57 2008. Costumes Anciens et Modernes = Habiti antichi et moderni di tutto il mondo, 1859-60, Paris: Firmin-Didot, Cesare Vecellio, Italian, 1521-1601, Ambroise Firmin-Didot, French, 1790-1876, From a private collection. Photos: Natali Wiseman.