Interning with the buried treasure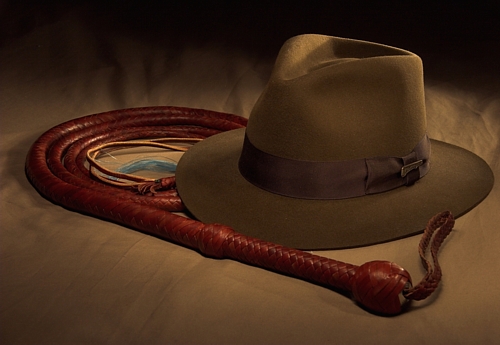 By Kaley Ellis, archive and exhibitions intern
What is an archive? And why would I work in one?
When I first spoke with Sarah Berman, Collections Coordinator and Research Associate at the Seattle Art Museum, she mentioned the possibility of interning in SAM's archives and my mind immediately conjured images of buried treasure languishing in the basement of the museum awaiting a moment (or in this case a person) to tell its story. Although admittedly somewhat implausible, the thought of digging through the museum's archive – tucked out of sight and thus inherently mysterious – was intriguing.
I could easily imagine Indiana Jones (relocating to the Pacific Northwest for example) uncovering a treasure map that led to an underground chamber in SAM, overflowing with riches, long lost paintings by Titian, Vermeer, or Degas, ancient Egyptian coffins, or Roman marble sculptures for example. Now, seeing as my mind had already made this leap from archives to Indiana Jones to priceless art work, the next obvious step was to accept Sarah's proposed internship working with the archives.
During my first few weeks interning, Sarah asked if I'd like to see where the archives were kept – which I clearly needed to see if I was going to discover the previously mentioned hidden treasure. However, I was instead led to a small, rather dreary room, decorated with a table, chair, and numerous filling cabinets. While this was a bit depressing, I was promised I would not be left alone to work in this windowless room that had a door that occasionally locked you inside, so I suppose there was a silver lining. However, this process of imagining an archive filled with treasure – whether those are jewels and piles of gold or artwork – and then coming to terms with the reality of a room bursting with metal cabinets of old documents made me think about what it means to be an archive.
Archives preserve documentation of the past, in this case a visual reminder of the art and exhibitions held at the SAM since the 1930s. While these files do not contain actual treasure, they do offer valuable insight into the museum's history and collection. They offer the chance to analyze and reflect upon the past while simultaneously acting as a reservoir of memories. (And, thankfully they have been moved from that cell-like room to the much sunnier library!) During the upcoming months, I plan to delve into and share some of the secrets found within these file folders. I hope you'll join me.Recognize the fedora and whip? Photo: Gary Stewart
Top photo: Recognize the fedora and whip? Photo: Gary Stewart