Make Your Own Wonderful Wardrobe at the Seattle Asian Art Museum on Free First Saturday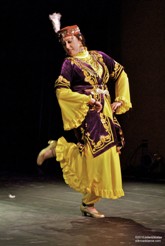 On Saturday, May 5, bring your family to the Seattle Asian Art Museum for Free First Saturday! Explore the exhibition Colors of the Oasis: Central Asian Ikats, and design your own wearable art inspired by gorgeous garments from central Asia.
This fun-filled day will feature special performances by Silk Road Dance Company, which has delighted audiences around the country with traditional and fusion dances from the Middle East and Central Asia. Performing Uzbek, Afghani, Tadjik, Azerbaijani, Kurdish, Persian, and Egyptian dance techniques rarely seen in the United States, Silk Road Dance Company offers a unique glimpse of the life, culture, and art of little known regions.
Please note that a large public event in Volunteer Park will be taking place all day May 5. We recommend that you allow extra time for parking and walking to the Seattle Asian Art Museum. You also may want to consider biking or taking a bus instead of driving.
Free First Saturday at the Seattle Asian Art Museum is presented by Russell Investments with support provided by The Peg & Rick Young Foundation.
-Madeline Moy, Digital Media Manager