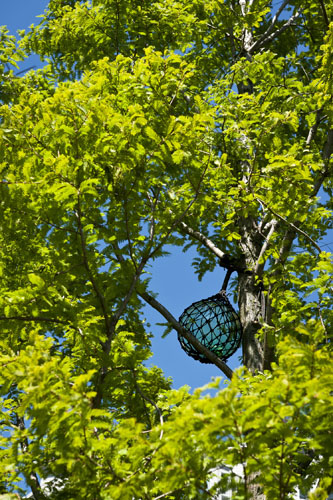 If you liked Earth Hour then you'll love Earth Day (it's like 24 times better than Earth Hour). While Earth Hour challenged people to make lasting change, Earth Day is a celebration of all that we have achieved and a look forward to differences we can still make.
SAM has already made a number of changes in an effort to be more sustainable. They include:
Reduced the museum's carbon footprint, including cuts in energy use, paper conservation, and waste reduction
Switched to 100% recycled copy paper
Earned Salmon-Safe certification of land management practices at the Olympic Sculpture Park. (Watch this video of Gardner Bobby McCullough employing one of those practices)
Supported SAM's museum educators in designing art activities that use repurposed, recycled and non-toxic supplies
Created a culture of sustainability within SAM, including meeting with departments to identify barriers to "going green"
And now that it's Earth Day, the SAM Goes Green team isn't letting this opportunity go by without challenging our coworkers to continue moving forward and establishing more green habits. This week we are asking SAM staff to pledge to make a difference. We're going to track the changes they make at home and at work and offer incentives for the most actions taken. A little positive reinforcement will hopefully encourage big change!
-Liz Stone, Operations Assistant/Digital Media Support Specialist
Specter, 2011, Gretchen Bennett, American, b. 1960, blown glass, hemp rope, Photo: Robert Wade