SAM Art: A focus on ceramics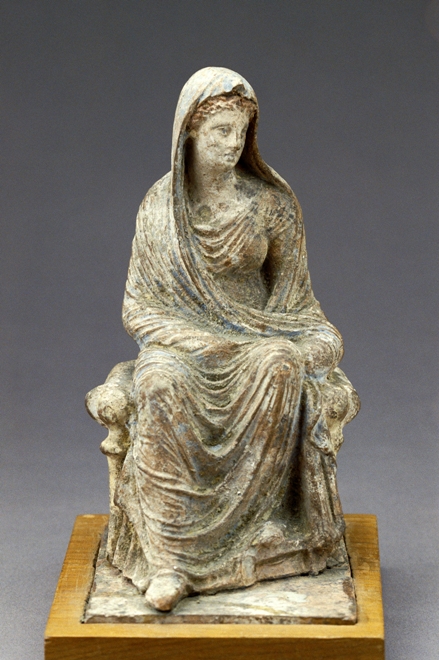 Through much of Greek art history—from the abstract grave or cult carvings of the Cyclades to the generalized portraits of the Hellenistic period—the Greeks often depicted women as ideals of beauty and grace. For both men and women, in fact, Greek beliefs held that external appearance was the manifestation of internal character. As a result, the artistry lavished on appearance and personal adornment rivals that given to public monuments.
This small ceramic figure was created in a world where Greek culture was dominant, and on the move. Following the path of Alexander the Great's conquests across Europe and West Asia, Greek art and culture spread across the Mediterranean world. Ceramic sculptures already had a long history in these areas, but arguably reached an apex in the Greek region of Boeotia during this period. Produced in multiples in workshops, their compact size and relative inexpense allowed them to be exported to major Hellenistic markets. Tanagra figurines—these finely modeled figures of seated, standing and dancing women—exemplified the Greek ideals of femininity, celebrating the perfection inherent to beauty.
Seated tanagra figurine, 4th–3rd century B.C., Greek, Boeotia, Hellenistic period (ca. 323-31 B.C.), terracotta, pigment, 6 1/2 x 3 5/8 x 4 1/2 in., Norman and Amelia Davis Classical Collection, 66.101. Currently on view in the Ancient Mediterranean and Islamic art gallery, fourth floor, SAM downtown.