Experience the Art and Culture of French Polynesia at Community Day on March 10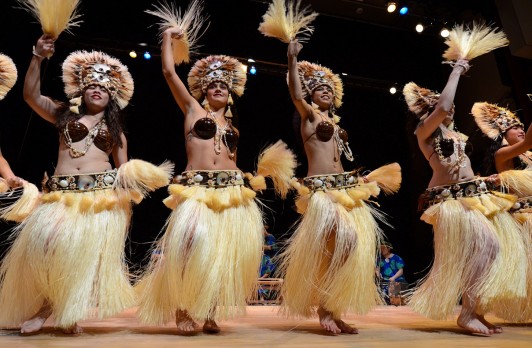 Join us at SAM Downtown on Saturday, March 10 for a fun-filled celebration of French Polynesian art and culture that the whole family can enjoy.
The first 400 people in line at Hammering Man at 10 am will receive free tickets to Gauguin & Polynesia: An Elusive Paradise! These are timed tickets, which means that they are for various time slots throughout the day. Please proceed to the Gauguin & Polynesia gallery entrance on the 4th floor 10–15 minutes prior to the time listed on your ticket.
Community Day activities include art making, tours, dancing and live music.
Experience the power and beauty of Tahitian dancing and drumming performances by Te'a rama, including a Marquesan haka (a Polynesian traditional welcome) with performances at 10:30 am and 1:45 pm in South Hall, and 11 am and 2 pm in the Plestcheef Auditorium.
Enjoy French café music by Rouge in South Hall at 12:30 pm.
Participate in all day art making activities will include: paper leis, Polynesian-inspired printmaking, tiki masks, mixed media postcards, and landscape pastels.
-Madeline Moy, Digital Media Manager
Photo Credit: Dan Bennett
art making, Community Day, dance lessons, drumming, family, free, French American School of Puget Sound, French Immersion School of Washingon, French music, Gauguin, Gauguin & Polynesia, giveaway, leis, March 10, masks, postcards, printmaking, Rouge, SAM News, Tahiti, Tahitian dance, Te'a rama, tickets, tiki