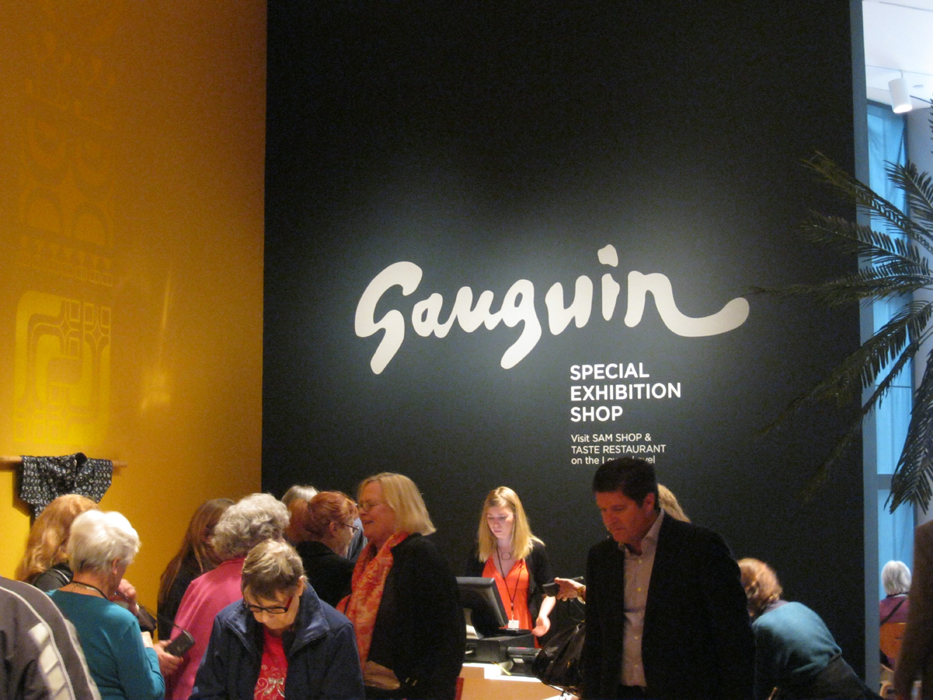 It's difficult to leave the Gauguin & Polynesia: An Elusive Paradise galleries; the vibrancy and serenity of the island-inspired exhibition is an oasis where guests can escape the gloom of a dreary Seattle winter.  Fortunately, SAM SHOP has made it possible for everyone who can't bring themselves to leave the islands to take home the spirit of the exhibition.
I had the opportunity to talk with SHOP Assistant Manager of Retail Operations Tina Zucchero who gave insight into how SHOP put the retail collection together.  "We draw inspiration from the pieces in the exhibition, and consider what inspired Gauguin himself," she says.  SHOP Lead Buyer Renata Tatman sought products that mirrored the bright, beautiful and lively qualities of the exhibition.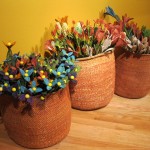 At the end of the Simonyi Special Exhibition Galleries guests can find the Gauguin & Polynesia Special Exhibition Shop.  The vibrancy of the paintings and the mystery of the Polynesian carvings live on in the products featured here.  The shop is set up like a marketplace, with floor baskets containing paper flowers and textiles flowing from bamboo rails.  Batik-style garments made by David Bali Studios offer island style that is perfect to wear on the beach (or while dreaming of being on one).  David himself is a Seattle native who now lives in Ubud on Bali.  Other Gauguin-inspired wear includes felt hats handmade by Lauri Chambers.  These sculptural head coverings are vivid showpieces themselves.
From the islands of Hawaii come hand-painted pareos (large sarongs worn in Polynesia as body wraps) crafted by Angela Tisseraud.  Brilliantly adorned with tropical images, the airiness of these pareos alludes to swaying palm trees and turquoise seas.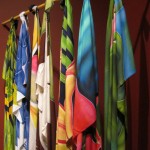 Zucchero suggests that the best take-home to remember the exhibition by is the Gauguin & Polynesia catalogue.  This 400 page, full color book features images of all 60 pieces from the exhibition including paintings, sketches and sculptures.
Those looking for an affordable memento from Gauguin & Polynesia should peruse the postcards, handmade paper flowers and writing utensils in the Special Exhibition Shop.  I highly suggest the tiki torch candles as a great way to bring artistic flair to your next party.  Guests can also purchase a vibrant exhibition t-shirt for $12.50.
While the Special Exhibition Shop can only be accessed by guests leaving Gauguin & Polynesia: An Elusive Paradise, SAM SHOP on First Avenue contains an array of items available to anyone.  For the scholar, the central display features books about Gauguin including Noa Noa, the Tahitian journal of Gauguin's life.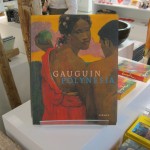 Exquisite high-end items include hand crafted furniture and mirrors by El Dot, perfect for turning your own home into a less-elusive paradise.  Local artists Jill Smith and Amy Downs are selling pieces inspired directly by the exhibition.  Smith's paper lamps showcase exquisite craftsmanship and fun design.  In SHOP's window is a shade with images of tiki men.  Downs is a hat artist whose pieces have a fun, island feel.
Finally, don't forget the kids on your shopping trip!  The bright colors of Polynesia make for perfect sticker books, puzzles and a memory game.  Gauguin picture books and ukuleles are another great option for young art aficionados.
Don't leave Polynesia behind after visiting SAM!  SHOP is open during museum hours and has the perfect items to help you remain on island time.
– Sean C. Fraser, Public Relations Intern