"Book of Shadows" Installation at SAM Gallery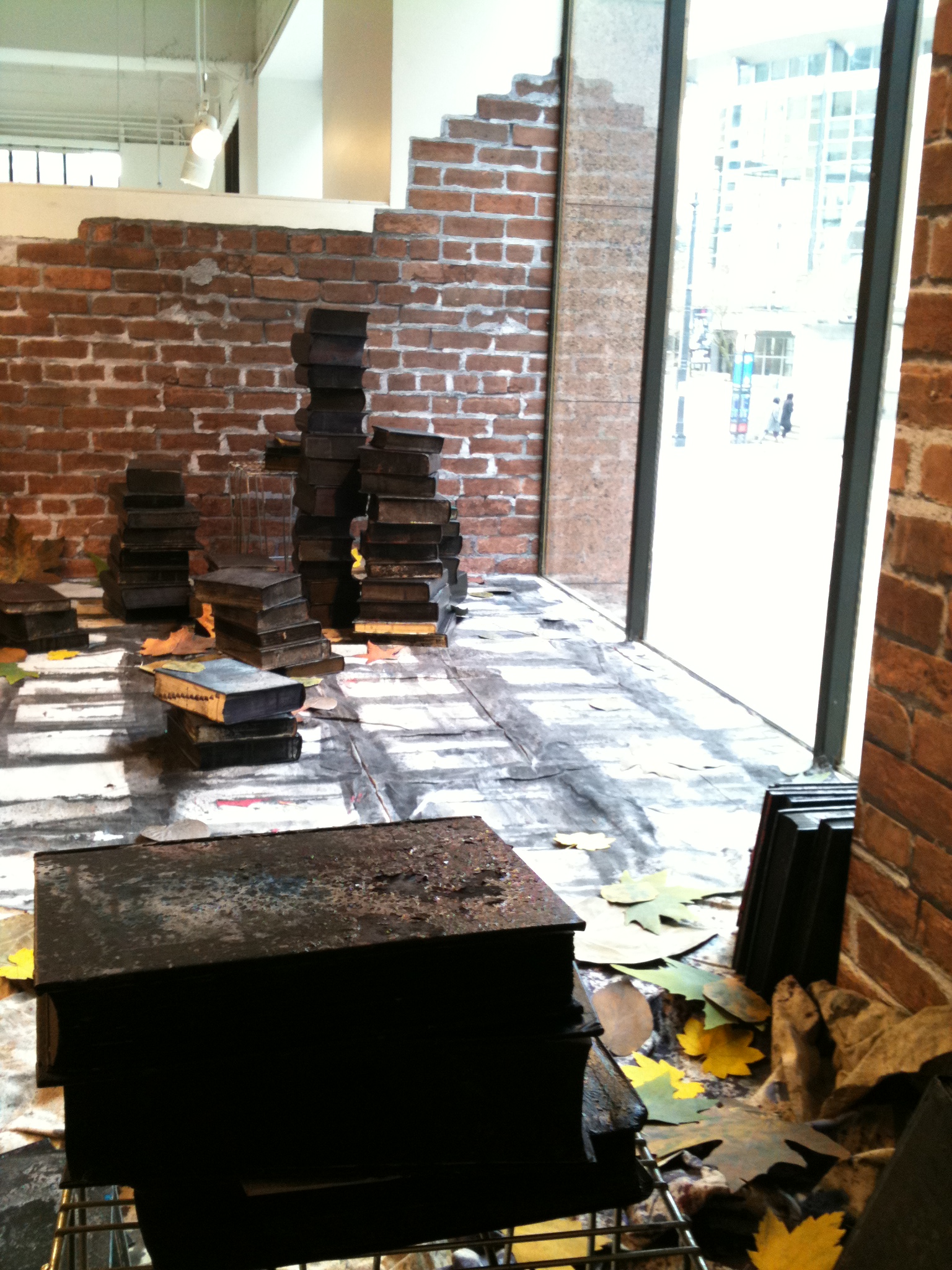 When peering into the SAM Gallery window display on 3rd and University, one gets a sense of witnessing a moment suspended in time. There are stacks of reference books covered in powdered graphite and ink placed amongst graphics of fallen leaves scattered under hand colored brick walls. It looks as if they've been lying around for years, left behind and somehow preserved from deteriorating. The installation is titled BOOK of SHADOWS: A Hidden Hagiography of New Mystics, by artists Dan Hawkins, No Touching Ground and NKO.
This is not the first collaboration for these three artists, they are responsible for the successful Tomb exhibition at Gallery 4Culture last year and three of the driving forces behind New Mystics, a Seattle based collective of artists that includes performers, writers, musicians, photographers and designers working in varying mediums.
Destruction and decay is a theme for these three artists, and the most dominating factor linking their very unique styles. While Hawkins photographs abandoned churches, asylums, hotels and other spaces, No Touching Ground's graphic images represent a social commentary that are pasted on conspicuous spots around town and NKO's work is based in semantics, things broken, misspoken and lost in translation and ranges from wall murals to theater to prose.
When asked about the installation and how it transpired, this is what No Touching Ground offered:
"Prior to the conception of Book of Shadows NKO and I had been gathering and collecting materials with the intention of creating an installation together. We hadn't fully solidified our vision until photographer Dan Hawkins shared with us an image he had taken of an abandoned building in Detroit.  The image resonated with us because it reflected the materials that we had been working on individually. We felt inspired to create a coherent collaborative piece based on the feeling we got from this image. Book of Shadows is about capturing a moment- where there is destruction, and yet some element of preservation taking place simultaneously. Where history is being written over, or blacked out and physical objects have been frozen in time. This one specific moment that could be set anywhere in time, a potential look into the future, or the past. The end, or the beginning."
Book of Shadows will be on view at SAM Gallery, 1220 3rd Avenue (on the corner of 3rd and University), through February.
-Alyssa Rhodes, SAM Gallery Coordinator
Photo credit: Jody Bento