SAM Art: Tokita, Nomura, and Seattle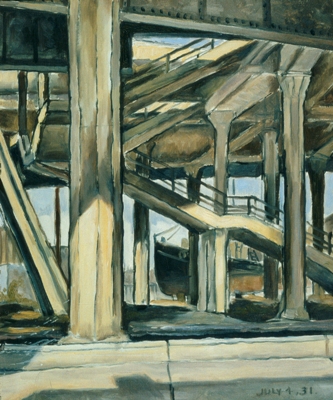 Kamekichi Tokita and Kenjiro Nomura were first-generation Japanese Americans, or Issei, who made their home inSeattle. While many artists turned their sights to the Northwest's natural grandeur, Tokita and Nomura looked to the places they knew well—the neighborhood in and around Japantown or Nihonmachi (today part of the International District), the working waterfront, and the farmlands cultivated by Japanese American families.
Labeled American Scene painters (a popular movement in American art of the 1930s) by their contemporaries, both artists' work reveals the details of place that derive from daily familiarity, often the intimate views one sees while walking. In their choice of subject, the particularities of place and time, and the reference to cultural heritage, they describe the perspective of American immigrants who have made a new home.
Bridge, 1931, Kamekichi Tokita, American, 1897-1948, oil on canvas, 23 1/4 x 19 1/16 in., Gift of the artist, 33.230, © Kamekichi Tokita. On view in Painting Seattle: Kamekichi Tokita and Kenjiro Nomura starting on Saturday, 22 October, Seattle Asian Art Museum, Volunteer Park.