Three Bands, Five DJs and John Travolta at Remix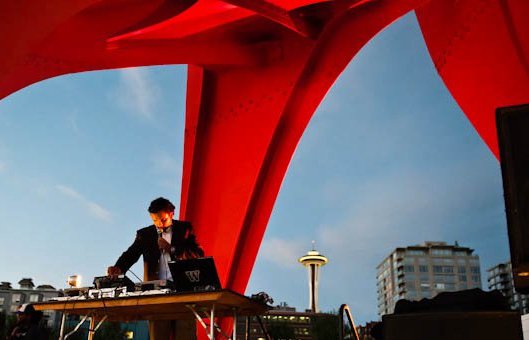 Last August, I attended my first SAM Remix at the Olympic Sculpture Park, and I danced the night away under The Eagle, which was easily one of the highlights of my summer.
But I almost never made it to Remix that night.
I had spent all day volunteering at a conference, and I was tired, hungry and definitely not in any mood for a party. However, my friends kept calling me and asking me to come to Remix so I told them if I could easily find parking, I would meet them at the Sculpture Park.
Now finding parking in downtown Seattle is no easy task. So I was already resigned to the fact that I'd probably be spending that Friday night at home, but I barely had to circle the block before I saw an empty spot. I still wasn't that excited about the event, but I'm a woman of my word so I sighed and walked over to the park…and had one of the best nights ever!
My only regret was not getting to Remix earlier so that I could fully experience the interesting and eclectic mix of live music and DJs at the event. Since I now work at SAM, I will not make the same mistake twice. I'm definitely going to take the opportunity to listen to the complete musical lineup at Remix at the Olympic Sculpture Park on August 12.
This year's Remix has a county fair theme, which is an apt setting for bluegrass band Northern Departure, finalists in EMP's 2011 Sound Off! competition. They perform at 8-8:30 pm in the Gates Amphitheater.
From 8:45-9:15 pm in the Gates Amphitheater, Craft Spells will play dreamy, nostalgic pop music melodies.

Daydream Vacation, a new collaboration by Dave Einmo of Head Like a Kite and vocals by Asya of Smoosh will bring beats and hooks to the Gates Amphitheatre at 9:30-10 pm. Go to their website to get a free download of the song "That Girl Don't Sleep."
SunTzu Sound will be spinning soulful dance music in the PACCAR Pavilion while electro house by DJ Skiddle and Sammy LaForge will emanate from beneath The Eagle.
For an entirely different musical experience, sing along to an outdoor screening of the ultimate American musical, Grease, starring John Travolta and Olivia Newton-John. The screening will take place on the Bridge Lawn near Teresita Fernández's Seattle Cloud Cover.
Whatever your musical tastes, I do believe that you will thoroughly enjoy SAM Remix. Click here now to buy your tickets!
-Madeline Moy, Digital Media Manager
Photo: Robert Wade