SAM Art: Some Thoughts from Our Interns, Part II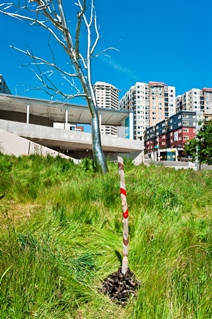 For this week's SAMart, I would like to share with you the reflections of two summer interns I have been lucky enough to work with for the past several weeks. Katie Tieu and Jasmine Graviett have been friendly, thoughtful, conscientious, and eager colleagues this summer, and will be missed when they go back to their "real" lives—as a sophomore and a senior in high school, respectively.
-Sarah Berman, Collections Coordinator and Research Associate
My experience at the Seattle Art Museum    
Jasmine Graviett
You don't find many 17-year-old girls working/interning at an art museum, but I am one of them.
Hi, my name is Jasmine Graviett and I am a YWCA GirlsFirst intern, which is an all girls program that helps young ladies get through their high school years and this program is how I got my awesome internship at SAM. Working at SAM has helped me see art in a different way and understand more about the art work. At first I wasn't really all that into art, I only liked art that made sense to me or that I could relate to. Things that looked like a whole bunch of paint splashed on a board or something that looked like a 2-year-old drew it never really appealed to me because I thought that I could make something like that. I mean, what could be so special about that?  This summer I found out there's a story behind every single painting and that it isn't always as it seems.
When I first saw this painting, I thought "Ummmm how is this art? I mean, it has pretty colors but I think it's scribbles." This is actually a work of art by Emily Kam Kngwarray. And through this painting she shows us the center of Australia which is where she's from. This is just one of many pieces that does not look like what it is. In my head it relates to that saying, "Don't judge a book by its cover" or "Life is like a box of chocolates, you never know what you're going to get." If you just look at the painting you won't fully understand it, you have to take the time and "read" the painting.
Now let's go upstairs and behind the scenes of the Seattle Art Museum where I work! What many people don't know or don't see is the amazing staff that puts this whole museum together. I never knew that there were sooooo many people working behind the scenes. There are so many departments involved that I can't remember all of their names. But what I really love about everyone that works here is that everyone loves their job and they show it through their kindness, and when they talk about a piece of art or their favorite art their face lights up like a little kid at a candy store or a teenage girl meeting Chris Brown for the first time. I do have to say the staff is just as amazing as the art work in the galleries.
Another bonus about being an intern at SAM is getting to go down to the galleries for free and going to the other sites, like the Olympic Sculpture Park and the Seattle Asian Art Museum. I don't get much time to go to any kind of museum usually, so getting to go to three different ones in a matter of weeks (and for free!) was a huge plus for me. I think going to the Olympic Sculpture Park was my favorite.
Overall, being a YWCA GirlsFirst intern here at SAM has been such a great, new, different, and fun filled experience for me. It helped me understand a lot during these few weeks I worked here, and a lot of what I learned I can use in life.
Oh yeah, their gift shop is pretty cool too. I think you should visit if you ever get the chance!
"On-Site" installation view with work by Gretchen Bennett, Olympic Sculpture Park, 2011, Photo: Robert Wade