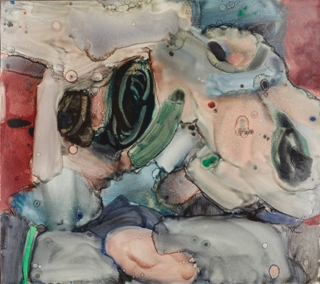 In the 1970s, Alden Mason gained national attention for his "Burpee Garden" series. Inside Out Landscape is a significant example from this body of work: large-scale canvases originating from several watercolors the artist had completed earlier. Named for seed packets sold by the Pennsylvania seed company, Burpee, Mason created images that are colorful abstractions which suggest amorphous and visually intoxicating landscapes. It is in these works that we see Mason's dialogue with a generation of artists who preceded him, such as the American color field painters Morris Louis and Helen Frankenthaler, who were working in New York in the 1950s and 1960s.
This is the final week to see the retrospective installation of Alden Mason's work in the Modern and Contemporary galleries at SAM downtown.
Inside Out Landscape, 1972, Alden Mason, American, born 1919, oil on canvas, 70 x 80 in., Gift of Herschel and Caryl Roman in honor of the museum's 50th year, 83.167, photo: Susan Cole, © Alden Mason. On view through this Sunday, 17 July, Modern and Contemporary galleries, third floor, SAM downtown.