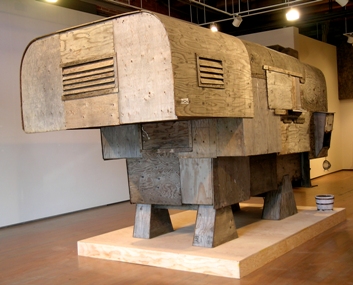 Seattle-based artist Whiting Tennis explores transformation in Bovine, a large hollow structure made of found plywood. Recalling a covered wagon, he has outfitted it with tools that would be necessary for survival in uncharted territories. However, masquerading as part animal and part domesticated site, Bovine is directionless, lost in the wilderness with its windows boarded and four stationary legs that were once wagon wheels. As if to conjure an image of isolation and the frontier experience, Tennis includes a soundtrack, Alone & Forsaken,
by the legendary Hank Williams, whose forlorn music is heard emanating from inside the structure. Fittingly, Tennis often refers to this sculpture as "The Oregon Trail Reversed"—decay and renewal were part of his concept when creating this work.
"Bovine," 2006, Whiting Tennis, American, born 1959, lumber, found plywood and found objects and CD, 102 x 168 x 90 in., Gift of Greg Kucera and Larry Yocom, friends of Whiting Tennis, and the Mark Tobey Estate Fund, in honor of the 75th Anniversary of the Seattle Art Museum, 2006.134, image courtesy Greg Kucera Gallery, © Whiting Tennis. On view starting 30 June, in "Reclaimed: Nature and Place through Contemporary Eyes," Special Exhibition galleries, fourth floor, SAM downtown.