SAM comes clean about SOAP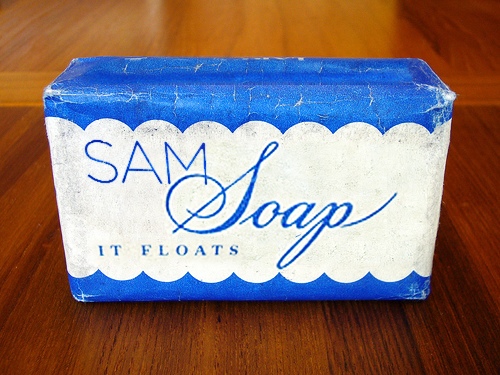 As part of a self-stated wish to broaden the dialogue within/about the Seattle Art Museum's new blog experiment, ideally as quickly as possible, it is worthwhile to respond to some of the questions that have been posted so far about the initial name of this blog. Why SOAP? To help respond to this, I asked Matthew Renton, who leads SAM's communication efforts, to share some background.
MR:
Creating the SAM blog has been a little like having a baby. Do we even like kids? Are we ready to have one? Can we support him properly? How do we protect him from the world out there? What if nobody likes him!?
After realizing that there is never a perfect time, we decided to take the plunge and we started making our baby. What made the timing all the more perfect, was the arrival of a wonderful midwife (I hope he doesn't mind me calling him that) – Mr. Derrick Cartwright.
So, what to call our first-born? Plain old 'SAM's Blog' felt like it was the 'Bob' of names (no disrespect to any Bobs out there). We wanted him to be distinctive ….different, dare I say it…ARTY! But we didn't want him to be bullied in the playground (out went 'Off the Pedestal', 'SAM-a-log' and 'Touchable', which surely would have earned him a well deserved kicking). Then came the word play…'SAMbigious', 'SAMbiguity' – maybe too open to misinterpretation.
We started to think about symbols that people associate with SAM – eagles, camels, and hammering men. This led to 'Red Eagle',  'Camelback' and 'The Hammer'….but where's the fun? It's all about us, and doesn't encourage the participation that we know will be essential to our blogs success.
Then one of the team threw 'SOAP' into the conversation. Nice word we all agreed…. kind of….clean. We then went into a roller-coaster discussion about the merits of the word. The bad stuff: 'soap-box' – sounds negative; 'soap-opera' – like a tedious drama; 'soapy' – lightweight and frothy….all valid contributions. Then we thought about the positive connections: 'SAM comes clean, bursting the bubble, let it soak for a while….getting lathered up'. It felt like we might have a language for our blog that would be distinctive and engaging.
We then started thinking about acronyms ….S.O.A.P…..Sam Offers Alternative Perspectives,  Sam Off A Pedestal, Seattle's Official Art Place, Seattle's Outstanding Art Personalities !!! I hope you've realized by now that 'SOAP' doesn't stand for anything in particular…well, anything serious anyway. We hope it will be open to interpretation and we welcome your suggestions (keep it clean please!).
Suddenly, we realized we were making too much of this. The blog is a fun, informative, revealing and powerful way to share with our audiences, and most importantly listen to what they have to say. It doesn't matter what you call your blog, or your child for that matter. Once the name sticks, that's it – they become that name in whatever shape or form their personality dictates. Unlike a child though, we can use 'SOAP' for now and if someone comes up with something better further down the path, then great!
Thanks for that, Matthew. I actually took time to check and there are a bunch of 'Sam's Blogs' out there, which helped convince me that it wasn't the ideal choice. Matthew has a quick British wit, captured neatly in his thoughts above. I had somewhat different responses to his, of course. I said already that I rather liked 'SAMbiguous', or 'SAMmy' (which might, I imagined, typographically morph into 'my SAM' and then back again on the screen). Ultimately, I fell upon my art historical preferences in giving a deciding vote to 'SOAP, thinking that it had all of the aforementioned allusive strengths—soapbox, soap opera, popping idea bubbles, etc.—but with a subtler set of references to transparency, the ephemeral, and prismatic reflections on the visible world.
For these reasons, and others I am sure, artists have chosen the depiction of soap bubbles as a subject throughout history. A detail from such an image in SAM's own permanent collection—a 17th century Flemish genre scene—appears at the top of this blog. The conjunction of soap and art conjures for me, first and foremost, Jean Siméon Chardin's great images of bubble blowers and their youthful observers, begun in the 1730s. These were key representations in a chain of more or less phenomenological experiments by artists that are linked to enlightenment ideas. Or, it made me recall more contemporary works, like Tara Donovan's brilliantly whimsical 'bubble drawings.' Ultimately, by putting 'SOAP out there, both as a name and a communications device, my colleagues and I hoped it would inspire curiosity and, in the end, still bigger thoughts. We expected a few swipes, but what's clearly better? SAMbitious?
 Derrick Cartwright