How do museums show that they are engaged with artists at a deep, supportive level?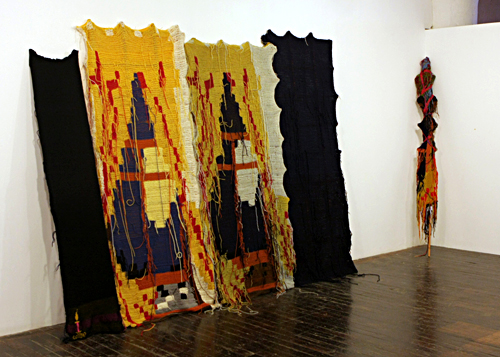 While the public probably expects art museums to venerate famous creators from the historical past (Michelangelo and Alexander Calder jump to mind), few institutions are practically skilled at paying tribute to younger artists, and still more rare are those that are capable of committing the time necessary to really get to know creative men and women.  Outside of planning exhibitions and acquiring their works of art—professional practices typically reserved for artists who are substantially far along in their careers—how do museums show that they are engaged with artists at a deep, supportive level?  Limited time, limited resources, and basic risk aversion all weigh against engaging deeply with artists as a community.
I attended two events at the Seattle Art Museum recently which left me with a sense of pride about the ways in which this institution balances its responsibility to art history and to the local community by making long term investments in support of the creative life of artists.
The Betty Bowen award has been an important recognition given to an artist from the Pacific Northwest at the early stages of his/her career. Awarded for over thirty years now, it currently includes a significant cash prize, together with the opportunity to display a work (or two) in a prominently designated space at the entry of the downtown SAM facility. Last Friday night, Josh Faught accepted the 2009 Betty Bowen award for his innovative work, which slyly combines the values of homespun fiber arts with cool conceptualism. Josh spoke about his motivations for making work that owed equal parts to Magritte's surrealism, Judd's seriality, and the appeal of a hand-crocheted afghan thrown over the sofa. He did this to a nearly full auditorium. The Betty Bowen Award committee, led by Gary Glant, but comprised of artists, collectors and others committed to boosting Pacific Northwest culture worked closely with Michael Darling, SAM's curator of modern and contemporary art to identify Josh from a field of 494 submissions. Jenny Heishman and Matthew Offenbacher also received prizes from the Betty Bowen Award Committee, and both spoke with sincerity and a sense of support for local artistic endeavors that impressed me, and I am guessing many others in the room. All of the artists were supported by friends, partners, parents who witnessed what are likely not the last public recognitions of their rising talents. SAM's role in this was gratifying.
Awards for strong artists who are no longer in school, but who have not yet become household names, are doubtless too few. The Betty Bowen Committee does impressive work by creating the opportunity to showcase serious, relevant work in the region's most visited art museum. Earlier this week, at the end of SAM's October board meeting, my colleagues and I invited the Seattle-based artist Roy McMakin to speak informally with the trustees. Earlier in the month, Michael Darling had presented a large group of McMakin's work to the Committee on Collections, and the Committee had voted to acquire the works for SAM's collection. Although that particular acquisition was in process long before my arrival in Seattle, I count myself as an admirer of McMakin as an artist and a thinker. Listening to him speak about the thought processes that went into his work at the Olympic Sculpture Park, Love & Loss, I was still more convinced about his approach to making poignant, smart works of art. Even more, the dialogue between the artist and this committed group of civic leaders struck me as the best possible way to mark an end to my first month at SAM—thinking about the world with artists and remembering the power of representations to change the way we view our lives.
When my colleagues and I launched this blog, I signed on to do this for a month. I am eager now to share the SOAP box at SAM with others. I hope to write another entry from time to time, so I am not done with this experiment. Hearing the voices of others in and around the institution will be of still greater interest, I hope.
Derrick R. Cartwright
Top photo: Endless Night, 2008, Josh Faught, crocheted wool yarn, indigo, garden trellis and ribbon in two parts (abstracted view of night sky from window) is dyed in successively darker vats of indigo dye. Courtesy of the artist and Lisa Cooley Gallery, New York