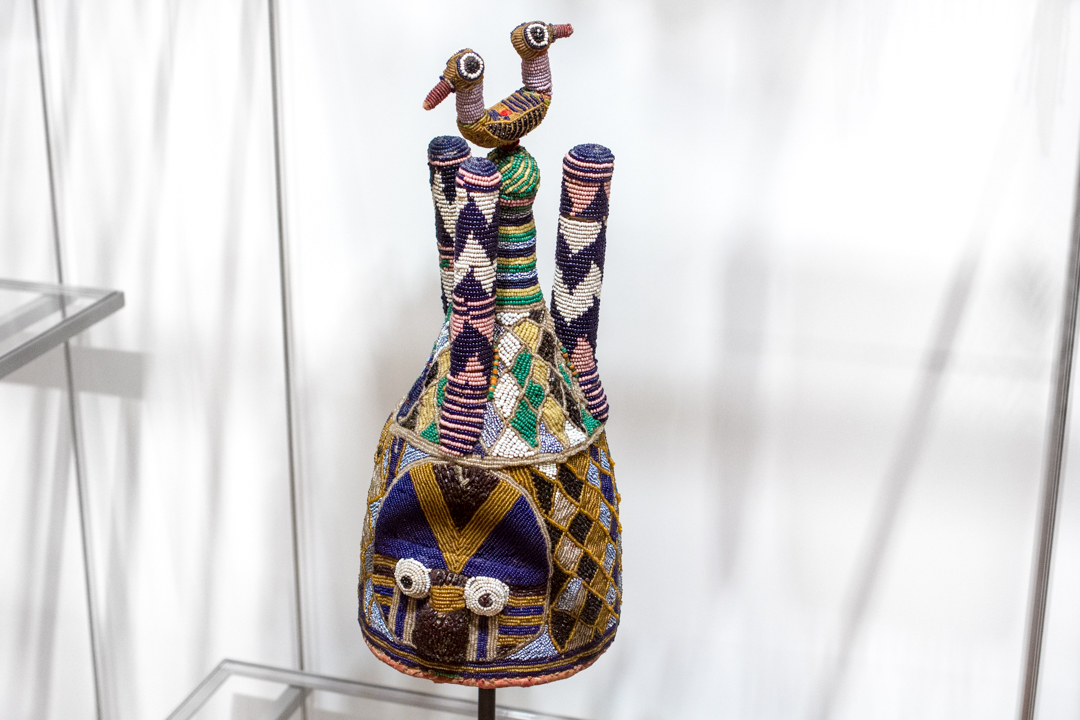 Delicate beadwork, strung together in pleasing patterns and color combinations, blankets the surface of a Yoruba crown, or ade, made to be worn only by a king, or Oba. The great care and effort applied by the crown's makers remain evident for us to see and appreciate.
Minute beads are artfully arranged over every inch of its surface. The crown, standing about one and a half feet tall, has an imposing presence even on its own. It comprises three sections, or registers. On the lowest register, a circular face looks out toward the viewer. His countenance is marked by big, protruding white eyes; triangles and a prominent "V" that suggest his forehead; vertical and horizontal bands that make for decorative cheeks; and a black mound that forms a nose. On either side of the face, diamond patterning alternates between blue, beige, gold, blue-striped white, and turquoise beads. The patterning leads around the crown to a second, identical head on the back that we can't see as the piece is installed.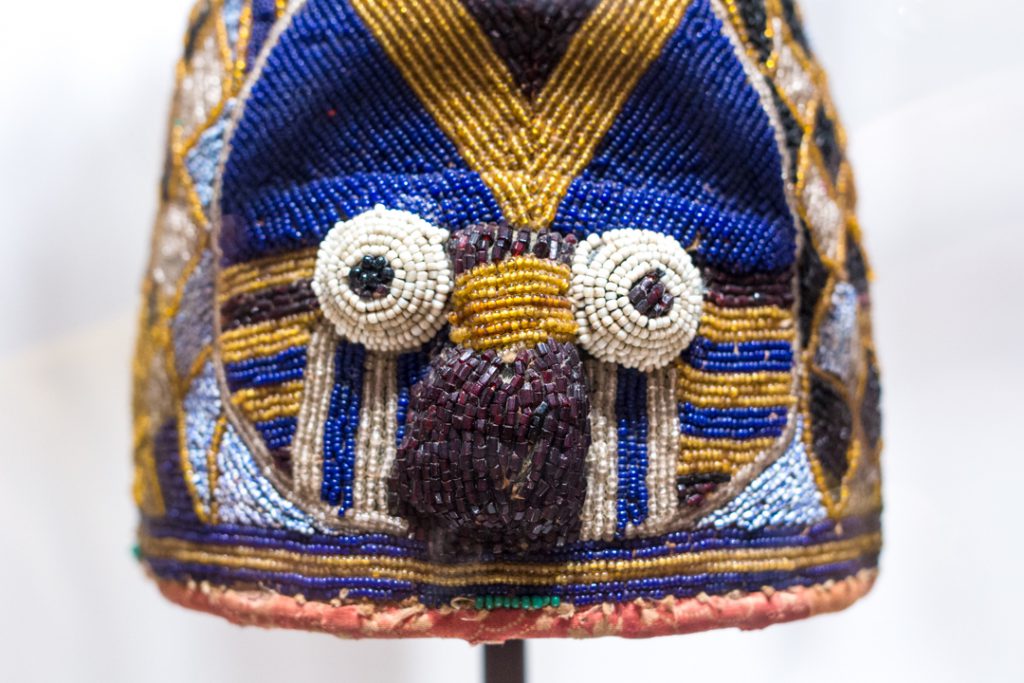 A rung of horizontal beads separates the lower register with the faces from a second, higher register, marked by the striking verticals of four peaks, or towers. Three outer towers originate, at their base, in horizontal bands, progressing upward in alternating chevrons of white, blue, and pink beads, capped by more horizontal bands—looking a bit like wine bottle necks. The three outer peaks encircle a central tower that bears lively color bands of gold, green, pink, sky blue, and navy blue, culminating in a half-dome of swirling, intertwined gold and green beads.
Atop the central tower, and the tallest feature of the crown, rests a figure of two birds fused together at their mid-sections, one head facing toward us, and the other facing opposite. The whole piece is visually remarkable and worth admiring at close range for a good while.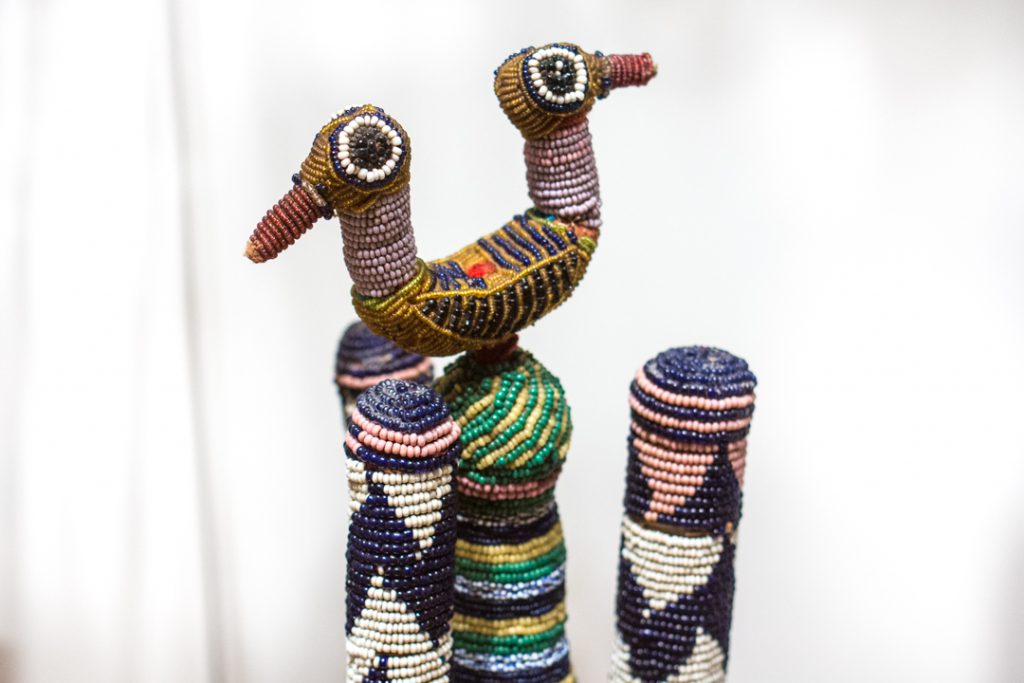 Many years now after its completion, the crown continues to exude reverence—aimed by its makers at its wearer. For the Yoruba, the crown transcends its widely applied role as a decorative accessory: It embodies the essence of kingship, marking the king as a mediator between heavenly and earthly realms. Consider that if the king is absent, and the crown is placed on his throne, the king's subjects observe the same strict level of protocol as if the king himself were there. That is a tremendous amount of respect to accord headwear, and it's a level of respect that has driven artists to produce wonderfully crafted pieces like SAM's Yoruba Crown.
It was not only meticulously but thoughtfully done. Symbolic meaning lives in the patterns, colors, and imagery. Certain colors are associated with certain gods in the Yoruba pantheon, while the frontal face may represent Ododuwa (Odua), the mythic father of the Yoruba. By donning this crown of fabric and glass beads, the wearer boldly, visibly communicated that he could trace his lineage back to the mythical founder of the Yoruba kingdoms.
—Jeffrey Carlson, SAM Collections Coordinator
Image: Crown (Ade), Yoruba, 19th-20th century, cloth, glass beads, fiber, height: 17 in.; diameter: 8 in. Seattle Art Museum, Gift of Dr. Oliver E. and Pamela F. Cobb, 91.251, Photos: Natali Wiseman.