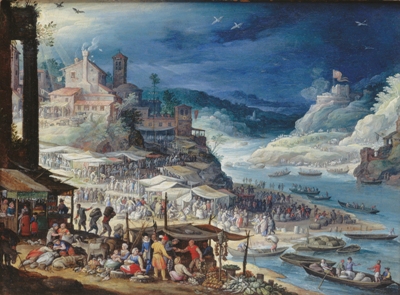 The countless local farmers markets we host in Seattle are part of a long tradition—and one that is surprisingly well-plumbed by artists.
In this painting (known as a "world landscape") a bustling market day is set within a vast scene that extends for miles into the distance. The sun breaking through the clouds provides an opportunity for painter Paul Bril to create alternating zones of light and dark that supply an attractive visual rhythm. A permanent settler in Italy from the age of twenty, Bril nevertheless remained a loyal heir to the Antwerp landscape tradition established in the sixteenth century.
Market Scene in Imaginary Landscape, 1600, Paul Bril (Flemish, 1554-1626), oil on canvas, 10 3/4 x 14 3/4 in., Gift of Seattle Art Museum Guild, 54.49. Currently on view in the European Art galleries, fourth floor, SAM downtown.