Communications Team Preps for Gauguin & Polynesia Opening!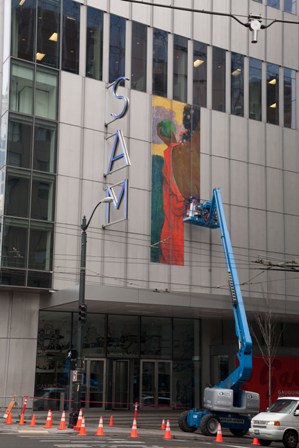 Everybody at SAM is in a flurry to get the Gauguin & Polynesia exhibition ready to open to the public on February 9. Of course you know that we must hang paintings on walls, but what else is there to do? The answer is, lots! The Communications department is responsible for all printed materials at the museum (from the quarterly members newsletter SAMconnects, to invitations sent to 50,000 households, to the Map & Guide that get when you arrive), advertising and museum signage, so there's no lack of things to do! Below you'll see a big sign going up on the outside of the building, the tools we use for selecting the perfect color for our billboards, and one of our designers working away at her desk. What other behind-the-scenes images do you want to see?
-Calandra Childers, Communications Manager
Photo credits: Carlos Garcia
Top photo: Here you can see the special lift that is required to install this huge sign on the outside of the building at 1st Ave and Union St. The sign is 45′ x 36′ when it is complete! The image is of Gauguin's Three Tahitians, a stunning work that's become the signature piece for the exhibition promotion.