Volunteer Soiree Honors Generous Gifts of Time and Talent to the Seattle Art Museum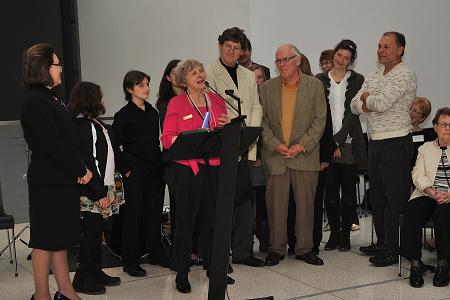 In April, during National Volunteer Week, SAM held our annual Volunteer Soiree, a very special event that celebrates all our volunteers across the museum (600-plus this year) and outstanding volunteers from various departments, committees and councils. In addition we present the Dorothy C. Malone Award to one exceptional volunteer who reflects the highest standards of dedication and service to the museum.
This year SAM honored long-time volunteer Marilyn Batali with the 2011 Dorothy C. Malone Award.
Marilyn has been volunteering with the museum since 1991. She served with the Human Resources Committee, in the Interactive Studio, and became a docent in 1994. She has taken on various roles with the Docent Executive Committee, including Docent Chair in 2003-04. Rather than sitting back after that service, she has continued her outstanding work. As Docent Special Events co-chair, she arranged site visits to artists' studios, and led a very successful trip to Santa Fe.
Marilyn's personal interests have often inspired her volunteer efforts. An avid reader who loves to explore new places, she brings those experiences to her tours. Marilyn is a skilled baker and has a great interest in cooking and food. It is notable that she is motivated to "give to other volunteers". She took the initiative to research, coordinate and participate in docent "feasts" with authentic Native American foods to celebrate S'Abadeb, and authentic dishes from the Italian Renaissance in honor of the Michelangelo exhibit.
Having reached 15 years of service, Marilyn is only obligated to tour one block a year, but always volunteers for more, including challenging assignments like a tour for hearing-impaired school children. Following that tour, she contacted the teacher to ask for feedback and ways to better serve such children.
Marilyn's family, husband Armandino, three children and six grandchildren, all associate her with SAM. They know how much pride she takes in the museum, the people she works with, and how dedicated she is to supporting the museum
through her volunteer service.
Despite all she does, Marilyn would be the first to deflect credit. She says, "It doesn't matter who does something, just that it's done." Marilyn's curiosity, initiative, generous spirit, enthusiasm and commitment reflect the qualities Dorothy Malone exemplified and make her a most deserving recipient of this award.
Congratulations to Marilyn, and thanks to all of our volunteers for supporting SAM!
Click here for a complete list of our 2011 Volunteer Soiree Honorees.
Photo credit: Team Photogenic