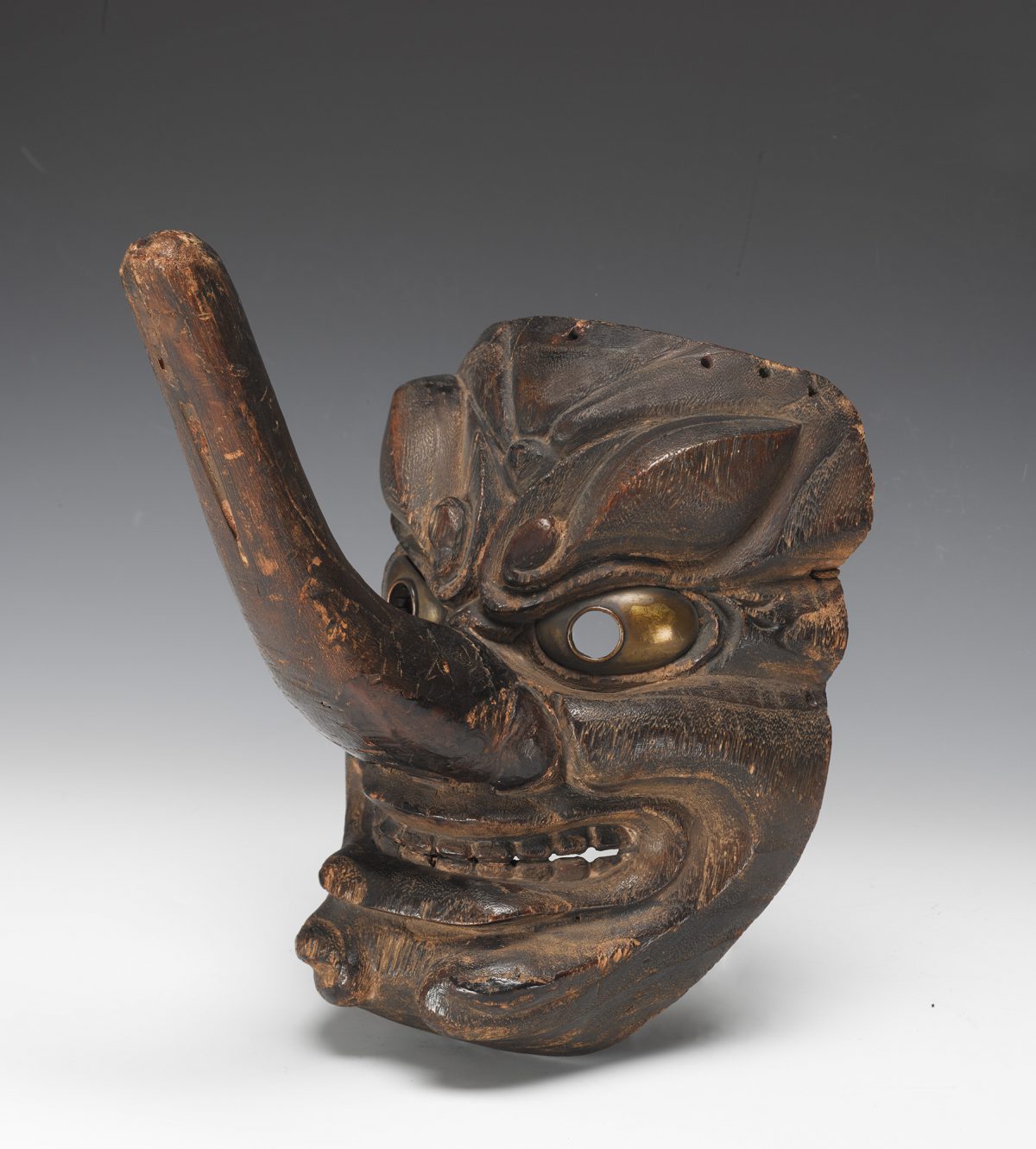 These days, people are wearing masks everywhere you look. Bandanas, medical paper masks, fashionable masks with elaborate designs, face shields—there are many ways to wear our masks while expressing ourselves. Me, I love my mask with sharp teeth on the front, for an extra bit of Halloween in December. SAM, too, has its fair share of masks, and one of my favorites in the collection is the Mask for tengu, a Japanese festival mask depicting the maliciously grinning face of a tengu.
Tengu are one of the more famous youkai, or mythical creatures, in Japanese lore. Depicted as bird-men either with beaks or long noses, they are figures of dangerous cleverness that will either teach you magical secrets or abduct and torment you. They have an array of abilities including fire and wind manipulation, flight, and otherworldly swordsmanship. They are said to live deep within the mountains and forests of Japan, and many shrines that worship tengu are similarly placed. Interestingly, these are one of the few youkai to have come about with Buddhism, as they often tempted Buddhist priests and posed as mountain ascetics in old tales.
The tengu mask in SAM's collection is one that would have been worn during festival processions. Festivals in Japan are often lively and bright affairs with elaborate costumes and parades, with dancers balanced on floats. It's likely that someone in the past wore this mask as they pretended to be a fearsome tengu, playfully frightening the children watching. It's equally likely that in Japan today, someone is wearing another tengu mask and doing the same. There are tengu festivals held all over Japan, from Tengu Matsuri on Mt. Tengu in Hokkaido, to the Shimokitazawa Tengu Festival in Tokyo. While the tengu Matsuri is a more traditional affair, the Shimokitazawa festival is a modern take on setsubun, where beans are thrown to ward away evil. People dressed as tengu take to the streets, visiting shops and homes to throw their beans of evil's bane to bring good luck and fortune.
Although SAM and the Asian Art Museum are temporarily closed, when they reopen, head on over to see the Mask for tengu on view. It, and many other masks and youkai-depicting items will be on display! In the meantime, everybody continue to mask up, and stay safe.
– Kennedy Simpson, Former SAM Blakemore Intern for Japanese and Korean Art
Image: Mask for tengu, 18th-19th century, Japanese, wood and brass, 10 1/8 x 7 1/2 x 13 1/2 in., Eugene Fuller Memorial Collection, 45.104