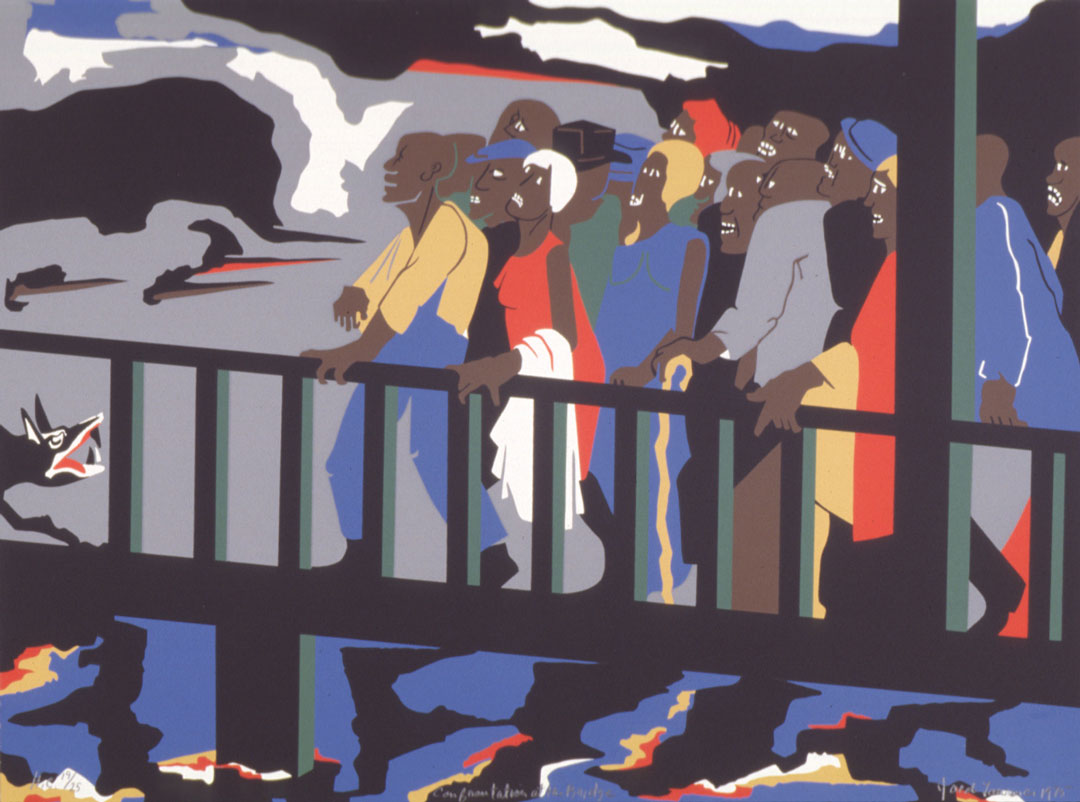 This 1975 screenprint by Jacob Lawrence was commissioned on the occasion of the United States' bicentennial. The prompt: to create a print that reflects an aspect of American history since 1776. Lawrence, one of 33 artists to contribute to the portfolio An American Portrait, 1776-1976, chose to depict the infamous incident in Alabama known as 'Bloody Sunday'.
On Sunday, March 7, 1965, hundreds of unarmed protesters—led by civil rights leaders such as Martin Luther King, Jr. and John Lewis—organized a 54-mile march from Selma to the state's capitol, Montgomery, advocating for the voting rights of African Americans. As demonstrators began their route out of Selma, they were met by a barrage of state troopers at Edmund Pettus Bridge. With orders from Alabama Governor George Wallace "to use whatever measures are necessary to prevent a march," the state troopers attacked the activists—resulting in the death of 26-year-old Jimmie Lee Jackson—using clubs and tear gas. Though the march dissipated due to this senseless violence, two days later the protesters safely reached Montgomery (thanks to court-ordered protection) and numbered nearly 25,000.
As horrible as these events were, what took place on March 7—publicized nationally and internationally—helped galvanize public opinion and finally mobilize Congress to pass the Voting Rights Act, which was signed into law by President Lyndon Johnson five months later.
In Lawrence's screenprint, the troopers' brutal actions are represented through the presence of a vicious, snarling dog. To its right, we see African American men and women of various ages clustered together, their political solidarity conveyed through their visual unity. A tumultuous sky surrounds them, whose jagged cloud forms find likeness in the choppy waters below.
This horrible event would leave an indelible mark on our nation's history and is remembered today for the courage shown by the thousands of activists who marched for a more equitable world. When articulating his choice to depict this important moment, Lawrence recalled: "I thought [the Selma-to-Montgomery march] was part of the history of the country, part of the history of our progress; not of just the black progress, but of the progress of the people."
– Elisabeth Smith, SAM Collection and Provenance Associate
Image: Confrontation at the Bridge, 1975, Jacob Lawrence, serigraph; ink on paper, 19 1/2 x 25 15/16 in., Anonymous gift in honor of Jacob Lawrence and Gwen Knight, 92.10 © Jacob Lawrence