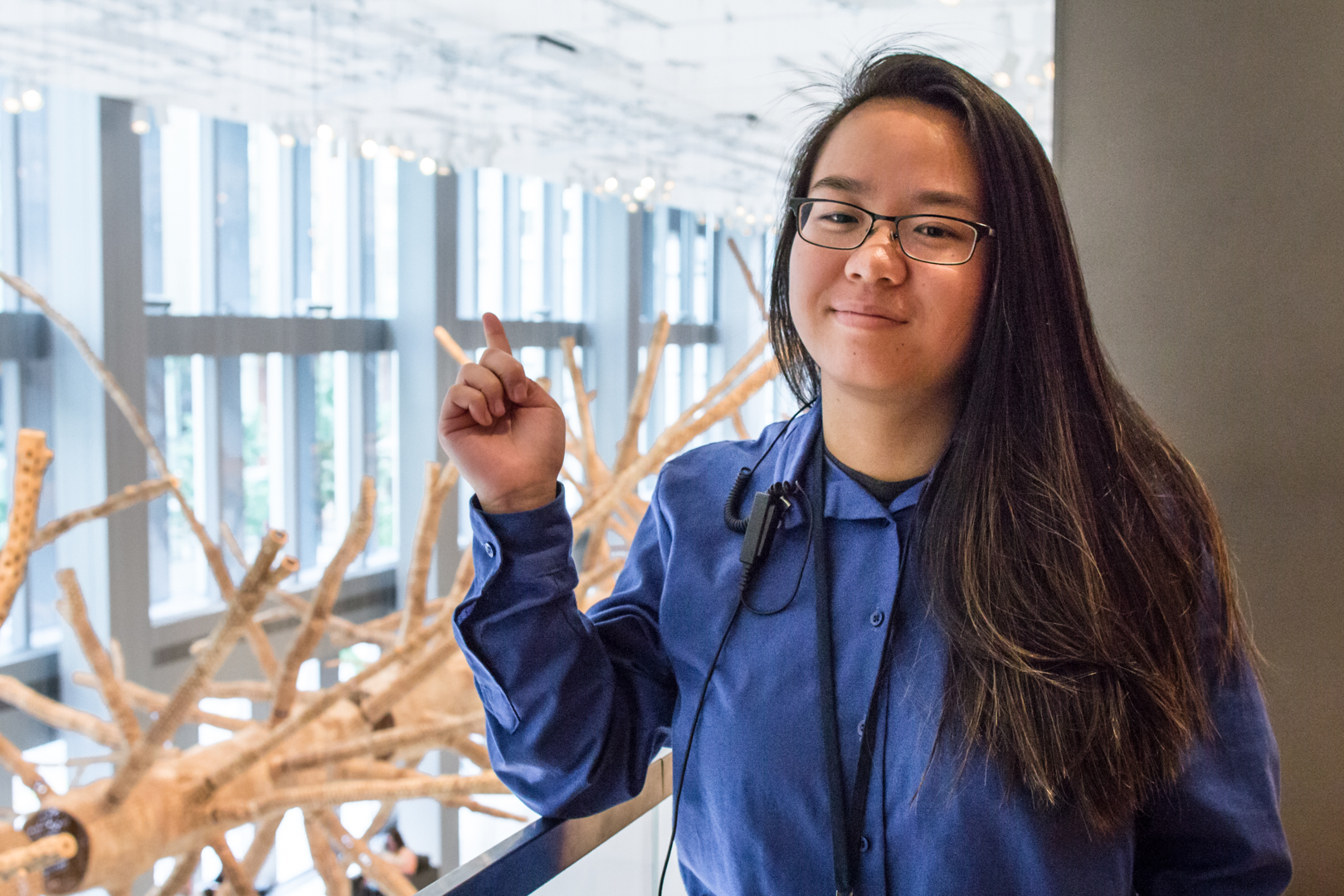 Kay Dien Fox was born in China and moved to Seattle with her adoptive parents when she was nine months old. The nickname her parents gave her, Kay Dien, not only fits her personality but also represent her culture and ancestral heritage. It originated from a combination of her legal name Katherine (Kay) and her Chinese name Dien Dien. Since graduating in March of this year, she took a road trip along the West Coast and travelled to Spain. After returning, she realized she should probably get a job and, fortunately, a friend sent her a link to SAM's career page. She applied to become a Visitor Services Officer (VSO) and could not be happier that she did.
SAM: What are your thoughts on Yayoi Kusama: Infinity Mirrors?
Kay Dien: It's an incredible exhibition and it doesn't surprise me that it sells out every day. My favorite piece is The Aftermath of Obliteration of Eternity. The lights inside the infinity room are on a cycle so the visitor doesn't know what part of the cycle they will get to experience. The room evokes various responses from the visitor, many exclaim how awesome the room is and some use the room to have a meditative experience.
What is your favorite piece of art currently on display at SAM?
John Grade's Middle Fork. I didn't initially read the description of this piece, but I got enough questions about it that I figured I should know more (other than that it looks like a big tree trunk). After reading the description of Middle Fork, it instantly became my favorite piece on display. Grade combined two wonderful aspects of life: art and nature, to make this prominent piece that hovers over the forum.
Who is your favorite artist? 
My favorite artist at the moment is the band The Antlers because of their album Hospice. It's a beautiful album and not quite as depressing as the title would make it seem.
What advice can you offer to guests visiting SAM? 
Take your time—unless we give you the 15 minute warning, then please make your way towards the door.
Tell us more about you! When you're not at SAM, what do you spend your time doing?
When I'm not at SAM I like to spend time outside and hanging out with people I care about. I also enjoy film photography and traveling. I'm still figuring out what I want to do in the future, but I am planning a 100 day road trip next year.
– Emily Jones, SAM Visitor Services Officer
Photo: Natali Wiseman.