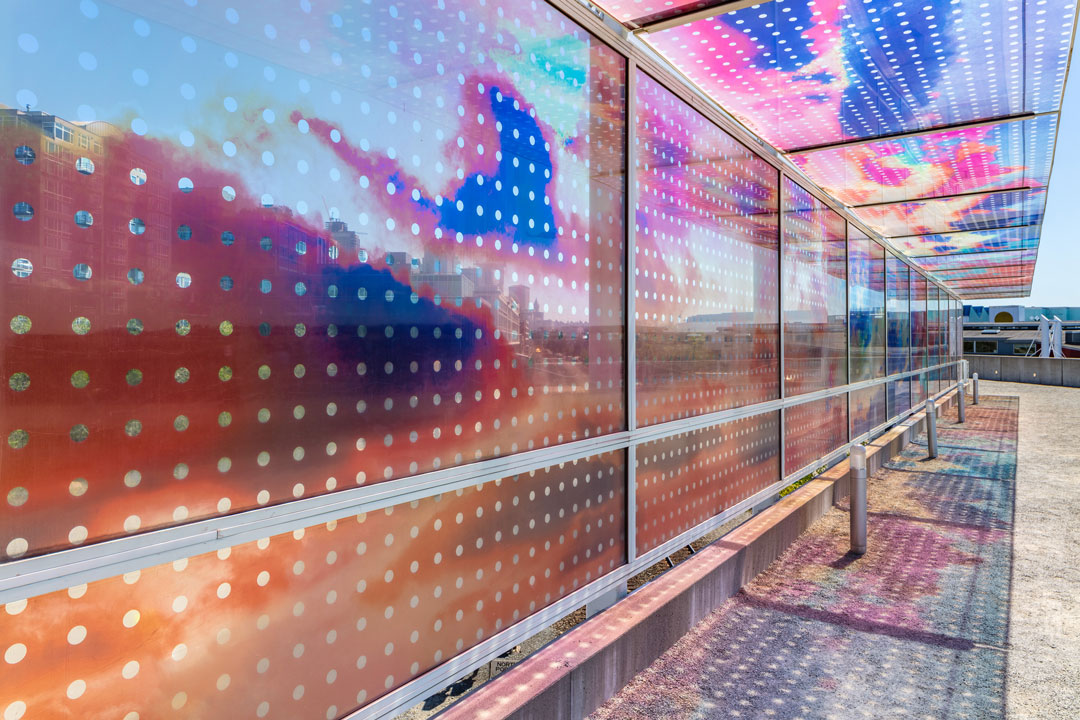 For over a month, Seattle's public spaces, like those in cities around the world, have experienced a marked transformation. Bustling downtowns are eerily empty, with freeways, bike lanes, and sidewalks much quieter. Our parks, however, have remained (when open) as vital as ever to the collective life of the city and the publics they serve.
For landscape architect Frederick Law Olmsted (1822-1902), who with his brother designed Volunteer Park, home to the Asian Art Museum, parks should be socially valuable—"gregarious" (inclusive) rather than "neighbourly" (exclusive) spaces that bring people together, no matter where they live or who they are.[1] This may seem like a given today, but in the 19th century it was a radical notion. Another beloved public park with a SAM connection is, of course, the Olympic Sculpture Park. In keeping with Olmsted's vision for inclusive, truly public spaces, the park's nine acres have multiple entrances, an abundance of native plants, zigzagging pathways, over 20 artworks, and is free and open to the public. Like Volunteer Park, it is a place meant for physical, mental, and spiritual relaxation.
Throughout this pandemic, I have found myself reflecting on the role that such public spaces hold and the value they bring, especially when the very nature of "a public" has been recast. I keep returning to one artwork in particular at the Olympic Sculpture Park: Seattle Cloud Cover by Teresita Fernández.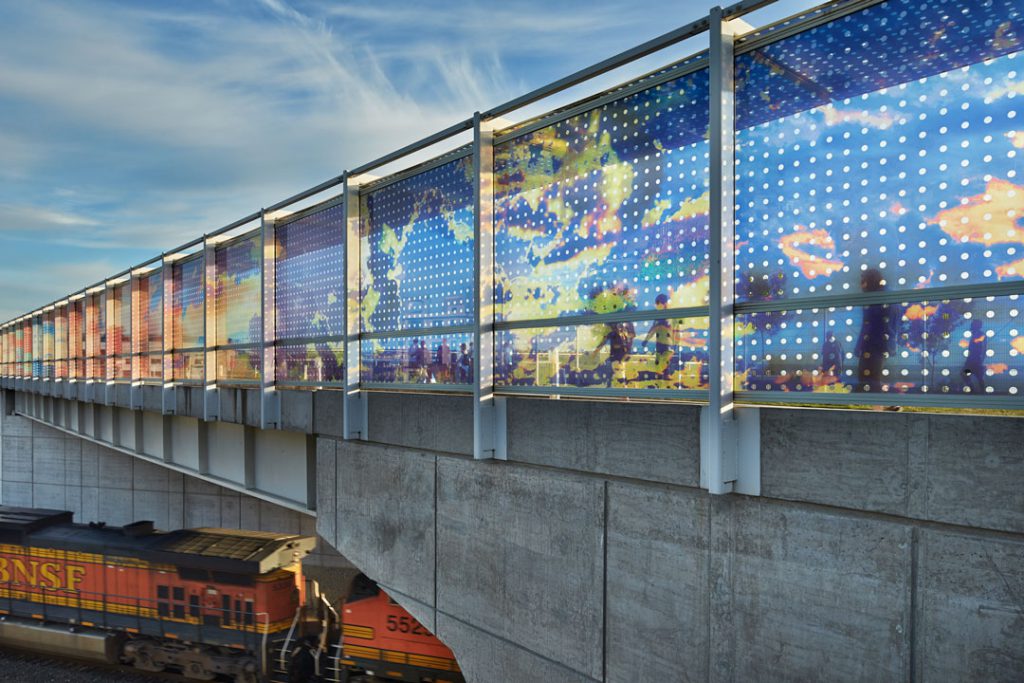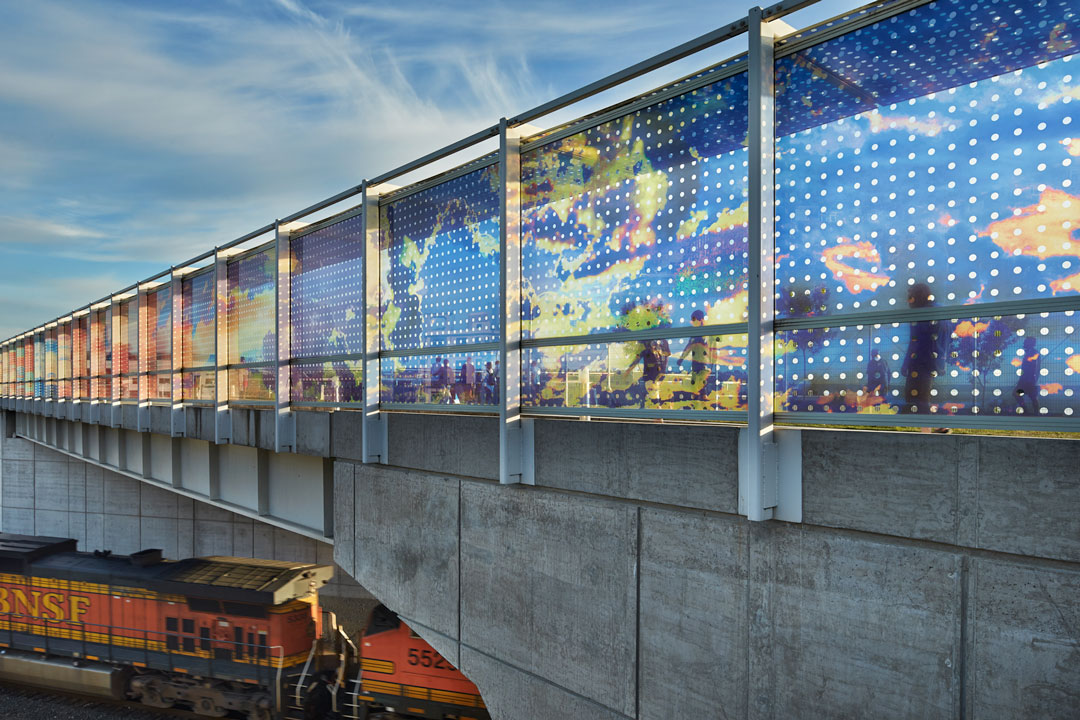 A glass bridge above a working railroad, Seattle Cloud Cover features images of a changing sky whose cloud formations are high-keyed and highly saturated. Appearing at consistent intervals throughout the image are small apertures, or holes, through which visitors can catch glimpses of downtown Seattle and their environs. Demonstrating Fernández's interest in light and vision—specifically the relationship between seeing and not seeing—this visual layering of the built and natural environment encourages us to more deeply consider our surroundings, and our place within them. For Fernández, a landscape is not only that which is seen, but inhabited.
Celebrated for such installations that interrogate notions of landscape and place, Fernández has demonstrated, in her words, a "20-year interest in landscape, perception, and the viewer as someone who is constantly moving, walking, and shifting in real time."[2] For Fernández, the activation of her work with a viewer—a public—is essential. Seattle Cloud Cover mediates our surroundings, allowing us to both move through the work and see beyond it, all the while drenched in its colorful shadows. The passageway augments our relationship to the world around us, and hopefully prompts us to reflect on the value of public spaces—mutable and fluid as they currently are—and our place within them.
– Elisabeth Smith, SAM Collections & Provenance Associate
We are humbled by the generosity of our donors during this unique time. Your financial support powers SAM Blog and also sustains us until we can come together as a community and enjoy art in the galleries again. Thanks to a generous group of SAM trustees, all membership and gifts to SAM Fund will be matched up to $500,000 through June 30!
Images: Seattle Cloud Cover, design approved 2004; fabrication completed 2006, Teresita Fernández, laminated glass with photographic design interlayer, approx. 9 ft. 6 in. x 200 ft. x 6 ft. 3 in., Olympic Sculpture Park Art Acquisition Fund, in honor of the 75th Anniversary of the Seattle Art Museum, 2006.140, © Teresita Fernández.
1 Richard Sennett, Building and Dwelling: Ethics for the City (New York: Farrar, Straus and Giroux), 45.
2 Teresita Fernández, "Artist's Statement," in Fata Morgana (New York: Madison Square Art, 2015), 16.