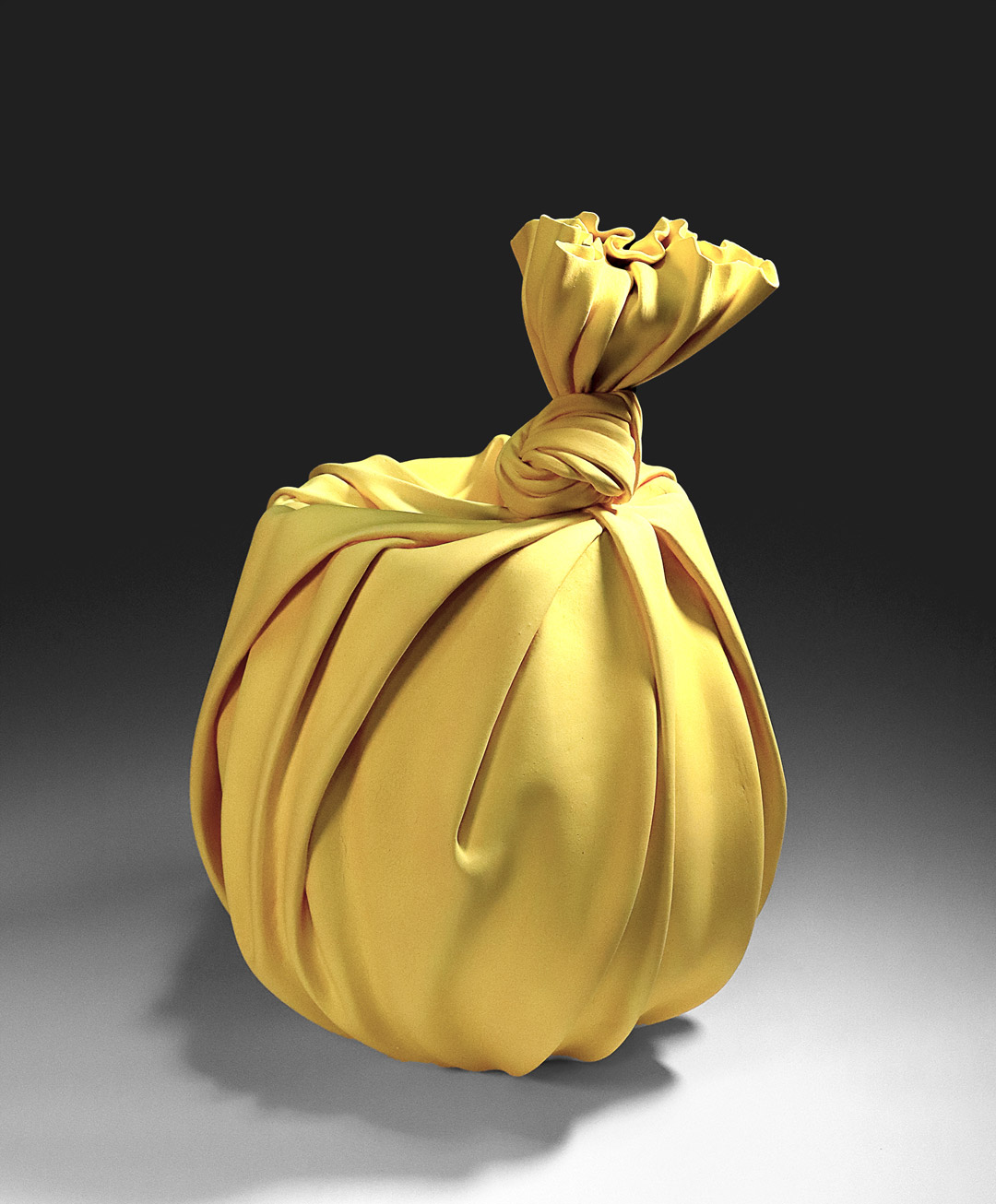 Don't imitate me;

it's as boring

as the two halves of a melon.

– Basho, translated by Robert Hass
They say that imitation is the sincerest form of flattery. Indeed, Tanaka Yu's ceramic sculptures convincingly appear as vessels wrapped in knotted furoshiki (wrapping cloth). And still, even after we are made aware of the work's materiality, it is difficult to see the object as anything other than a textile whose woven structure conceals an object underneath. Here, imitation serves another purpose.
For Yu, who studied oil painting before working in ceramics, this effect of concealment allows her to invoke that which is hidden, prompting her viewers to consider the sculpture's purpose, and ideas of functionality versus non-functionality. Within the context of Japan's centuries-long history and tradition of ceramics, too – firmly rooted in the functionality of the object –Yu's conceptual sculptures turn utility on its head.
However, for all its conceptual rigor, Yu's Bundle series evidences a mastery of clay as well. Though the pieces appear to be slab-built, they are in fact coil-built. The artist, using Shigaraki-blended clay, deftly transforms the earthen material, exploiting its inherent and renowned plasticity, into a lightweight cloth. The distinctive yellow color, whose pigment is applied in thin layers by brush, further accents the newfound drapes and folds of the sculpture. The choice of color also refers to the type of yellow cloth often used to wrap a ceramic vessel within its storage box.
Yu's Bundle, recently acquired by SAM, is a seductive work, and one that benefits from close looking, consideration, and reflection. The artist shows us that imitation, in this case, is far from boring, and can raise important questions about the use-value of objects and the functions they serve.
– Elisabeth Smith, SAM Collections and Provenance Associate
1Shigaraki is considered one of the "Six Ancient Kilns" in Japan. The clay found in the Shigaraki area is rich in iron and feldspar, among other compounds, that informs its unique texture and color once fired.
Images: Bundle, 2019, Tanaka Yu, Matte-glazed stoneware, 24 3/8 x 16 1/2 x 16 1/2 in., Gift of Gordon Brodfuehrer in honor of the Monsen family, 2020.21.3 ©️ Artist or Artist's Estate Image courtesy of Joan B Mirviss LTD, photo: Kani Hazuki.