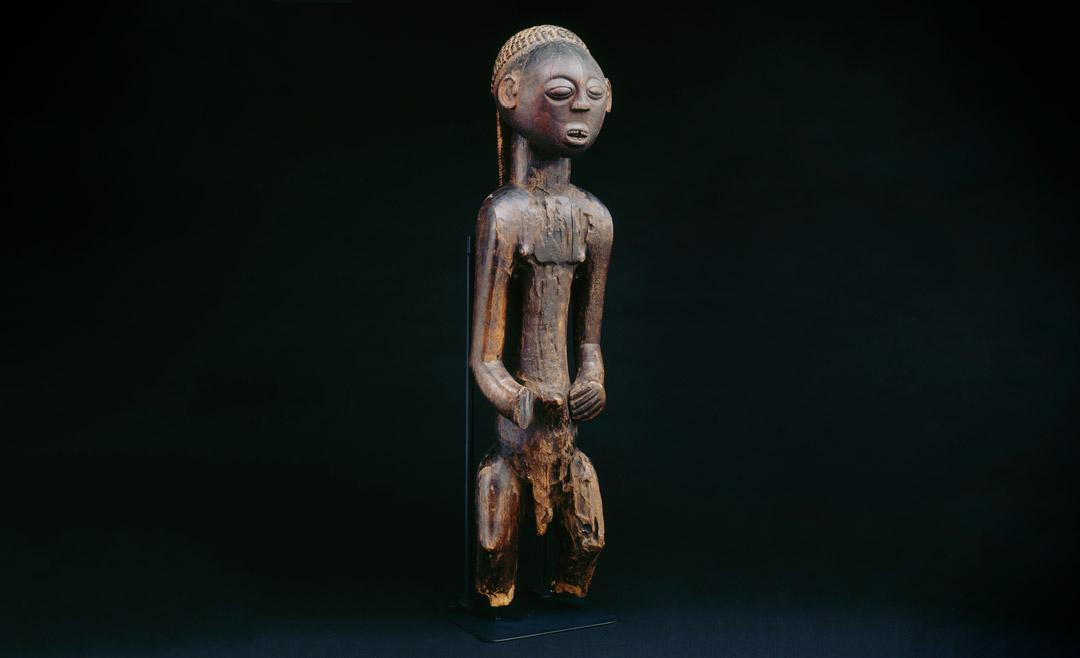 With the night sky subsuming our ever-shortening days, darkness takes on new meaning. Some might embrace these early evenings and winter constellations, while others surely count the days until the spring. No matter where we land on the spectrum, I think we can all agree that it is increasingly difficult to appreciate darkness as a larger force in our lives, especially with all the technology helping us override our circadian rhythms.
At the risk of sounding like a horoscope, a new moon begins tomorrow evening, November 18, and our night sky will be even darker than usual. While we might not be as in tune with the lunar calendar as preceding generations (or, if we are, we likely use an app), for the Tabwa people in the Democratic Republic of the Congo, the moon—and its absence—is certainly worth noting.
Though hard to make out, this figurative male Tabwa sculpture features traditional iconography called balamwezi, triangular patterns that reference the rising of the new moon and lunar phases. Balamwezi roughly translates to "the rising of a new moon," and is a metaphor that contains both darkness and light. A moment of transition and rebirth, the new moon brings complete darkness while also holding the promise of illumination. To quote the scholar Allen F. Roberts, "balamwezi patterning was a visual proverb insofar as it conveyed its sense of uncertainty, transformation, and . . . the courage to persevere, even in the darkest hours."1
In Tabwa culture, darkness—representing obscurity, ignorance, danger, and destruction—is balanced by more positive attributes such as light, wisdom, safety, and hope.2 Ultimately, forging a nuanced connection between darkness and light makes inextricable their disparate attributes and associations. Perhaps this way of thinking can change our own behaviors and attitudes toward darkness, and what better time than during the onset of tomorrow's new moon!
– Elisabeth Smith, Collections Coordinator
1 Allen F. Roberts, A Dance of Assassins: Performing Early Colonial Hegemony in the Congo Page (Bloomington: Indiana University Press, 2013), 87.
2 Rosalind Hackett, Art and Religion in Africa (New York: Cassell, 1996), 126.
Image: Male figure with balamwezi (the rising of the new moon) pattern, Tabwa, wood, 34 x 7 3/4 x 8 in., Gift of Katherine White and the Boeing Company, 81.17.790.