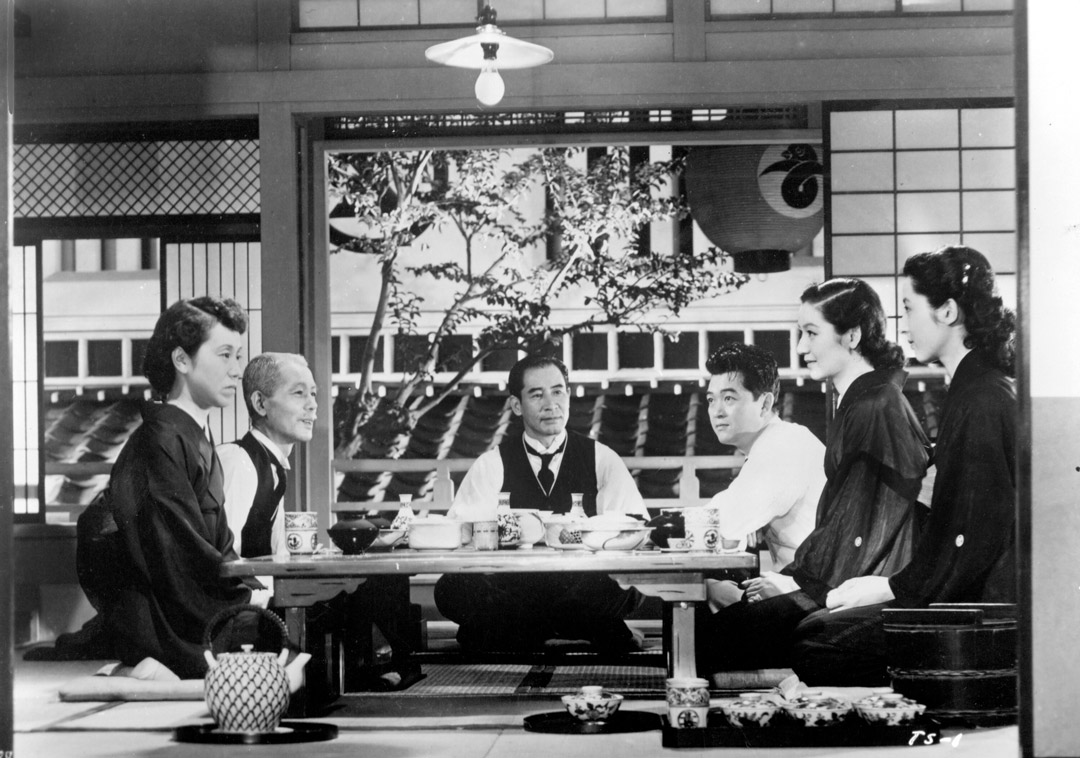 Family Circle: The Films of Yasujiro Ozu
The British Film Institute calls Yasujiro Ozu "one of the greatest artists of the twentieth century, in any medium or any country." Critic David Thomson says that "the Western moviegoer won't be able to resist Ozu, for he is a treasury of humane intelligence and feeling."
He was also an unruly rascal. Born in Tokyo (1903) to a stern merchant father and a pampering mother, at age 10 he was sent to school at his ancestral hometown. Instead of attending classes, he earned a reputation for drinking and worshipping Hollywood actresses. Ozu developed a lifelong attitude of not submitting to authority unless it would help him do what he wanted to do. Returning to Tokyo, Ozu, against his father's wishes, became a filmmaker as a young man. In nine years he made 34 silent films, mostly mischievous "nonsense" comedies, before discovering his grand themes and expressing them in transcendent beauty.
Ozu lived in a conformist society, but he embodied the Zen spirit of harmonizing with nature and human nature, knowing that no dogmatic rules can explain the exquisite mystery of life. Being patient and restrained were of value, but so were impulsive, intuitive gestures. Ozu's impeccable framing reflects the Zen aesthetic of seemingly "empty" spaces being vibrant with feeling and eternal presence. One of Ozu's artistic signatures is the unique rhythm with which his images flow on the screen. In the editing process he would stand behind his editor and tap him on the shoulder when it "felt right" to cut to the next shot.
Mar 23: The Only Son (1936)
Among his many talents, Ozu creates characters who are unique human beings. His first talking film focuses on an impoverished provincial mother raising her son alone. She works hard and is able to send him to college in Tokyo. Hearing nothing from him for a long time, she uses up her savings to visit him. She's surprised to find him married, with a child. He tries to appear prosperous, borrowing money to entertain his mother, but secretly he's very poor and disillusioned with himself and life. Perhaps in silences and things unsaid, his mother can still teach him a valuable lesson. 87 min.
Mar 30: Late Spring (1949)
One of the films that Ozu himself most cherished, Late Spring shows the director further developing his unique ability to portray ordinary events in very moving ways. Ozu's favorite actors, Chishu Ryu and Setsuko Hara, play a widowed Kamakura father and his grown-up daughter, who's past the usual marrying age. She's happy following the childhood pattern of living with her father, but when she hears that he's thinking of taking a new wife, she begins to ponder her future. The father feels that it's wise to flow with the natural course of time, not fight against it, but he has a surprising way of showing it. Ozu's artistry makes us sense something momentous in mundane reality, and he begins each film with a short sequence of poetically simple "placing shots" that introduce the story: A railway station, the sound of a railway bell; a closer view, the steps, the daisies; a temple room; inside, the tea ceremony, the story begins. 108 min.
Apr 6: Early Summer (1951)
Ozu probably drank more than any major film director, since he saw alcohol as a source of artistic inspiration. Beginning with Late Spring, he wrote every film with his lifelong friend Kogo Noda. They would hole up in a country inn, Ozu would cook hamburgers and they would drink a lot of sake. "If the number of cups you drink be small, there can be no masterpiece." Of Early Summer, Ozu said, "I wanted to show a life cycle, to depict mutability and to leave the audience with a poignant aftertaste." Six members of three generations live in a Kamakura household, and five of them want Noriko (Setsuko Hara) to get married. They keep parading eligible suitors past her, but she's not interested. In postwar Japan young people are welcoming a Western influence of self-determination, and Noriko sees marriage as emotional and social serfdom. The nature of happiness is elusive in this family. A man says, "We have it better than most; we shouldn't want too much or there's no end to it." But his wife objects, "We were really happy." With the eloquence of a seasoned Ozu character, the man responds, "Mmmm." 135 min.
April 13: Tokyo Story (1953)
Ozu's tender and perceptive feeling for human shortcomings and generosity is fully realized in this internationally celebrated masterpiece. The director's focus is the decentralization of a family. The elderly mother and father (Chieko Higashiyama and Chishu Ryu), who live in a southern province, come to Tokyo to visit their two married children, a doctor and a beautician. Too engrossed in their own lives to entertain their parents, they ship them off to a noisy resort for young people. Weary of this, the old couple returns to Tokyo, where the widow (Setsuko Hara) of their soldier son is the one who shows them warmth and kindness. 134 min.
April 20: Early Spring (1956)
This film further shows Ozu's sensitivity to Japan's changing postwar society. Young adults are defining life for themselves, rather than through blood ties to family and traditional codes of behavior. Full of high hopes, a Tokyo man lands a coveted white-collar office job, works hard, and marries a sweet woman. But the dreary routines of life become boring, and he starts spending more time with friends and the office flirt, while his wife sits at home fanning herself. Is the big city a corrupting influence? Would accepting a job in the country allow the couple to rediscover the good in each other? 108 min.
April 27: Equinox Flower (1958)
Ozu's first color film is one of his most beautiful and affectionate. Two rebellious teenage girls make a solidarity pact to protect themselves from the well-intentioned marriage schemes of their traditional parents. One father (Shin Saburi) advises other people's children to find their own way in life, but then he learns that his own daughter (Ineko Arima) has chosen a man without consulting him. It is said that Ozu, like Jane Austen, perceives the cosmic in the domestic, and his cinematic cut from a satisfied mother sitting in her favorite chair to a brightly fluttering washing line has been called "a moment of truly exquisite transcendence." 118 min.
May 4: Good Morning (1959)
In his life and art Ozu has been a wise, charming rebel, and here he identifies with two stubborn boys. They pester their father (Chishu Ryu) to buy them a TV set, and when he tells them to shut up they vow to never say another word to him, not even "Good morning." As if to illustrate chaos theory, the boys' silence has an often funny, sometimes serious, effect on their entire suburban community. 97 min.
May 11: Late Autumn (1960)
An independent-minded marriage-age young woman (Yoko Tsukasa) enjoys living with her gracious widowed mother (Setsuko Hara) and socializing with her lively young friends. Tsukasa has had opportunities to marry, but she's just not interested. Hara wants her daughter to move forward into adult life so she enlists the matchmaking help of her late husband's businessmen friends (Shin Saburi, Ryuji Kita, Nobuo Nakamura). Are these three well-intentioned, befuddled drinking buddies up to the task? Setsuko Hara, known as "the Japanese Garbo," was Ozu's favorite actress. Ozu, who knows that feelings can't be fully expressed in words, shows us that nothing is more eloquent than Hara's half-smile. 115 min.
May 18: An Autumn Afternoon (1962)
Ozu made six films with actress Setsuko Hara and twenty-two with Chishu Ryu, his favorite actor. The two men worked and aged together over three decades. Their first film was 1928's The Dreams of Youth, their last (and Ozu's final film) was this wry, gentle chronicle of the autumn of life. An aging, widowed company auditor (Ryu) likes to drink with his similarly aged male friends. One of them talks about how they're in the stage of their life when most fathers give up their beloved daughters in marriage, and Ryu starts to get ideas. For all his wisdom about intergenerational family relationships, Ozu never married and had children. His own dear mother died during the making of this film, and Ozu died a year later. Ozu has been called a Zen master of cinema, calmly watching the seasons, the storms of life and death come and go, noticing and awakening to the brightness of the day. He shows us the world of Buddhism's 10,000 things, the trees, the people, the traffic jams. He knows that these seemingly separate things are individual manifestations of an underlying oneness, a wholeness that encompasses all. In a Zen paradox, this everything is also the void.  Ozu's tombstone bears a single mark: the Japanese character for "nothingness."
—Greg Olson, Manager of SAM Films
All films will be shown in Japanese with English subtitles in 35 mm. Get your series pass to Family Circle: The Films of Yasujiro Ozu, on sale now.
Photos: © New Yorker Films/Photofest.