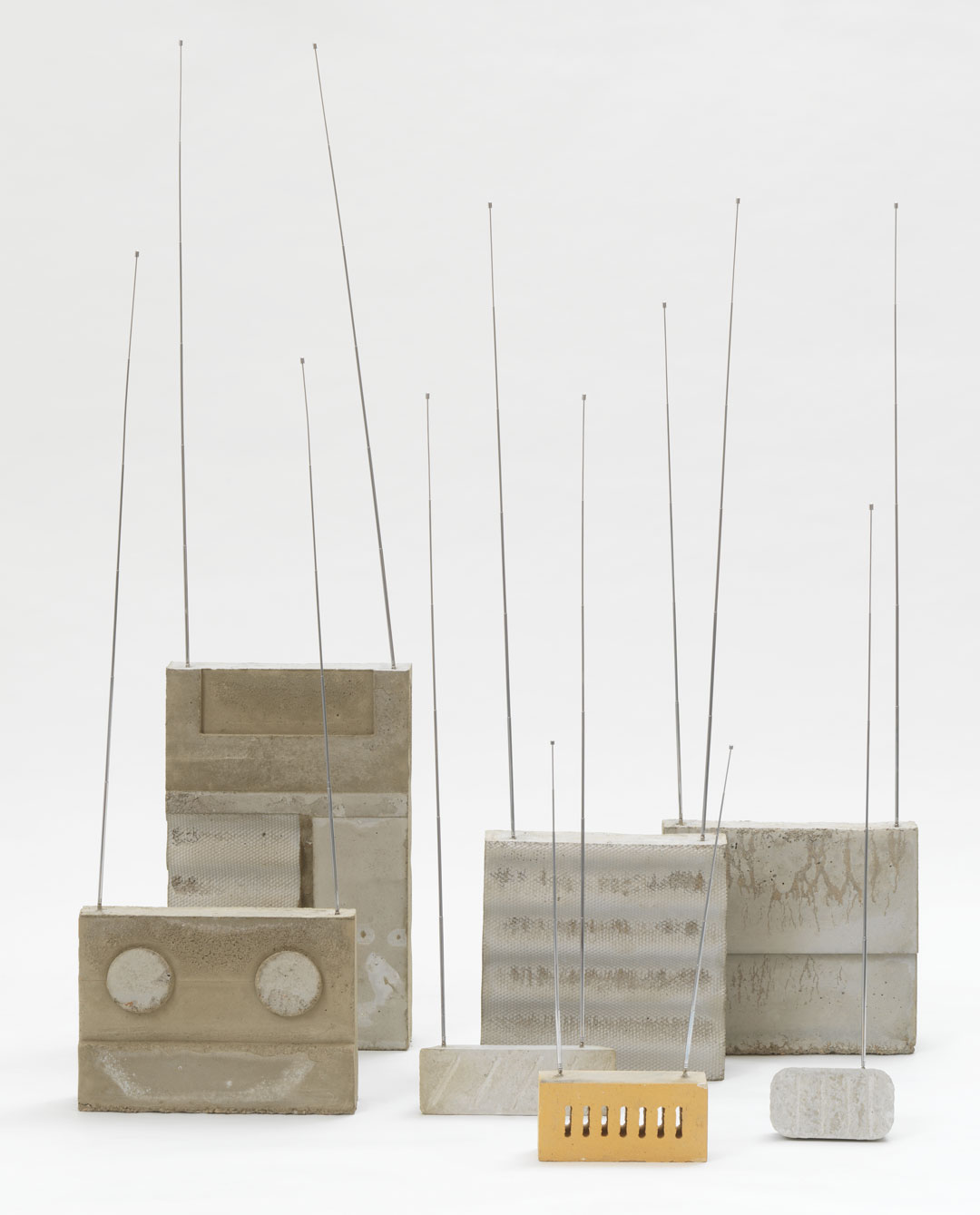 In honor of Women's History Month, Object of the Week will highlight works by celebrated women artists in SAM's permanent collection throughout the month of March.
"My antennas were also meant to be 'feelers,' things you stretch out to feel something, like the sound of the world and its many tones."[1]

– Isa Genzken
Metal antennae extend full-length from a series of seven objects resembling vintage shortwave radios. Heads tilt and ears pique while viewing Isa Genzken's Weltempfänger—translated literally as "world receivers"—expecting the cast concrete to make audible the signals they've received from unknown sources. Although silent, the antennae appear deliberately and mysteriously tuned at slight angles; they must be picking up something. Can't we hear it, or are we not listening––or looking––hard enough?
Isa Genzken (German, b. 1948) is regarded as one of the most influential contemporary artists of the last 40 years, working in sculpture and a variety of multidisciplinary media. In the late 1970s to early 80s, Genzken gained prominence for her series of floor-based sculptures in the complex and elegant shapes of Ellipsoids and Hyperbolos. Handcrafted in lacquered wood from computer designs created in collaboration with physicist Ralph Krotz, the elongated, colorful sculptures drew from the geometric forms of Minimalism, but offered more nuanced connections to industrial design, digital technology, and commercial production. During this same period in 1982, Genzken exhibited her only stand-alone readymade sculpture, a functional radio receiver entitled Weltempfänger (World Receiver), which solidified her continued interests in consumer culture, value, and material.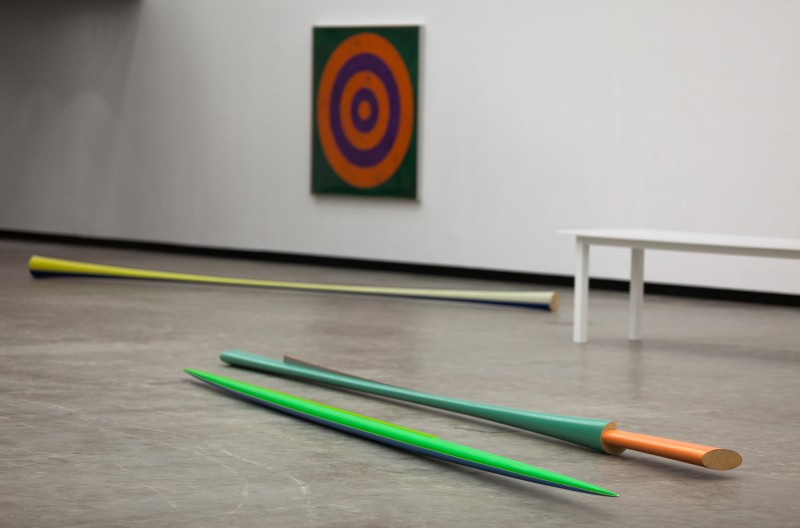 By the late 1980s, Genzken departed abruptly from the refined forms of her ellipsoids to rough-hewn sculptures made of concrete and plaster. She began an ongoing series, casting concrete weltempfängersof various sizes and groupings, where the receivers take on symbolic roles of relics or ruins rather than functional devices, such as the 1982 readymade. The simple forms are layered with meaning. Together, the radio, a medium of power or opposition, and concrete, a material of ruin or reconstruction, evoke connections to a postwar Germany that Genzken experienced firsthand. More broadly, the receivers ask us to consider how communication is transmitted and received, and how we decide what is made permanent or temporary.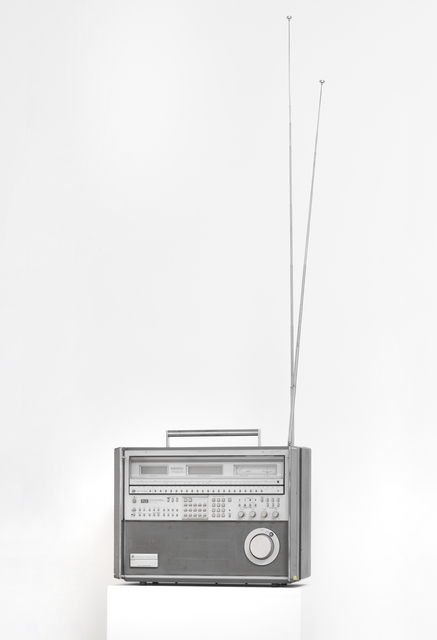 In this present moment, the receivers offer a resonance more immediate. Facing a public health crisis that compels us to connect more and more through technology, and to seek out news and facts in order to keep our communities safe, these world receivers provide a moment to "stretch out to feel something," and to contemplate how we look, listen, and decide what we value and make permanent for the future.
– Philip Nadasdy, SAM Associate Director of Public Engagement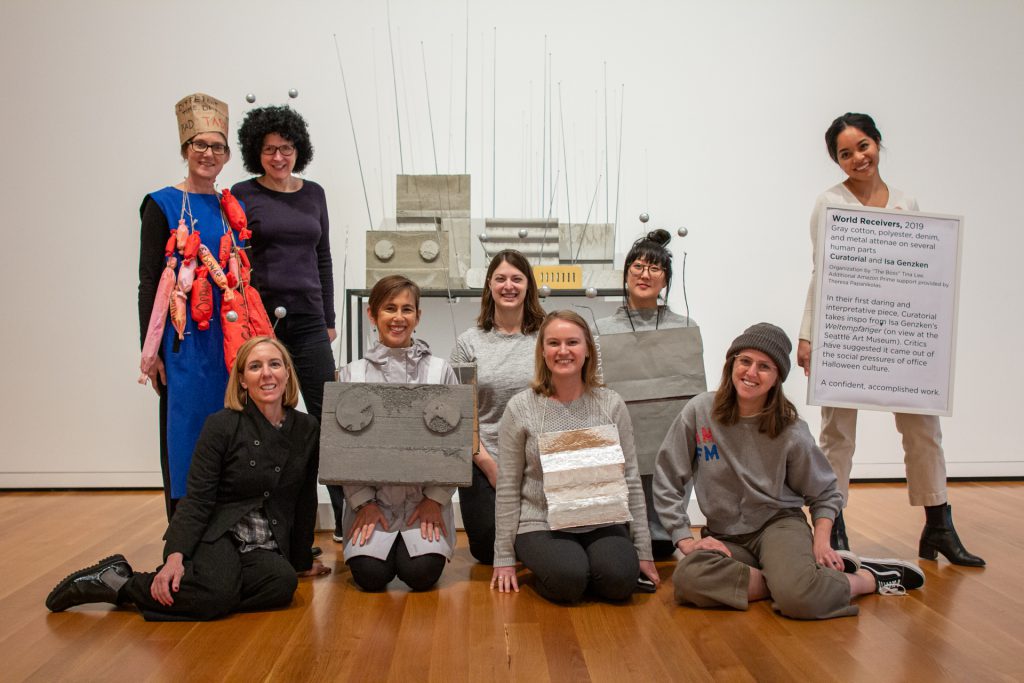 ---
Images: Weltempfänger, 2018, Isa Genzken, concrete, brick, and metal antennae in seven parts, overall: 62 x 54 x 20 in., Purchased with funds provided by Virginia Wright and the Contemporary Collectors Forum. Additional support provided by Jon and Kim Shirley, Ann and Bruce Blume, Lynn and Mikal Thomsen, and Carol Kipling and David Tseklenis., 2018.13 © Artist or Artist's Estate. Isa Genzken, Ellipsoids and Hyperbolos, Kunsthalle Wien, 2014. Weltempfänger (World Receiver), 1982, Isa Genzken, Multiband radio receiver. Photo: Natali Wiseman.
[1] Diedrich Diederichsen, "Diedrich Diederichsen in Conversation with Isa Genzken," in Alex Farquharson et al., Isa Genzken (London: Phaidon, 2006), 25; reprinted in Lisa Lee, ed., Isa Genzken (Cambridge, MA: MIT Press, 2015), 120.