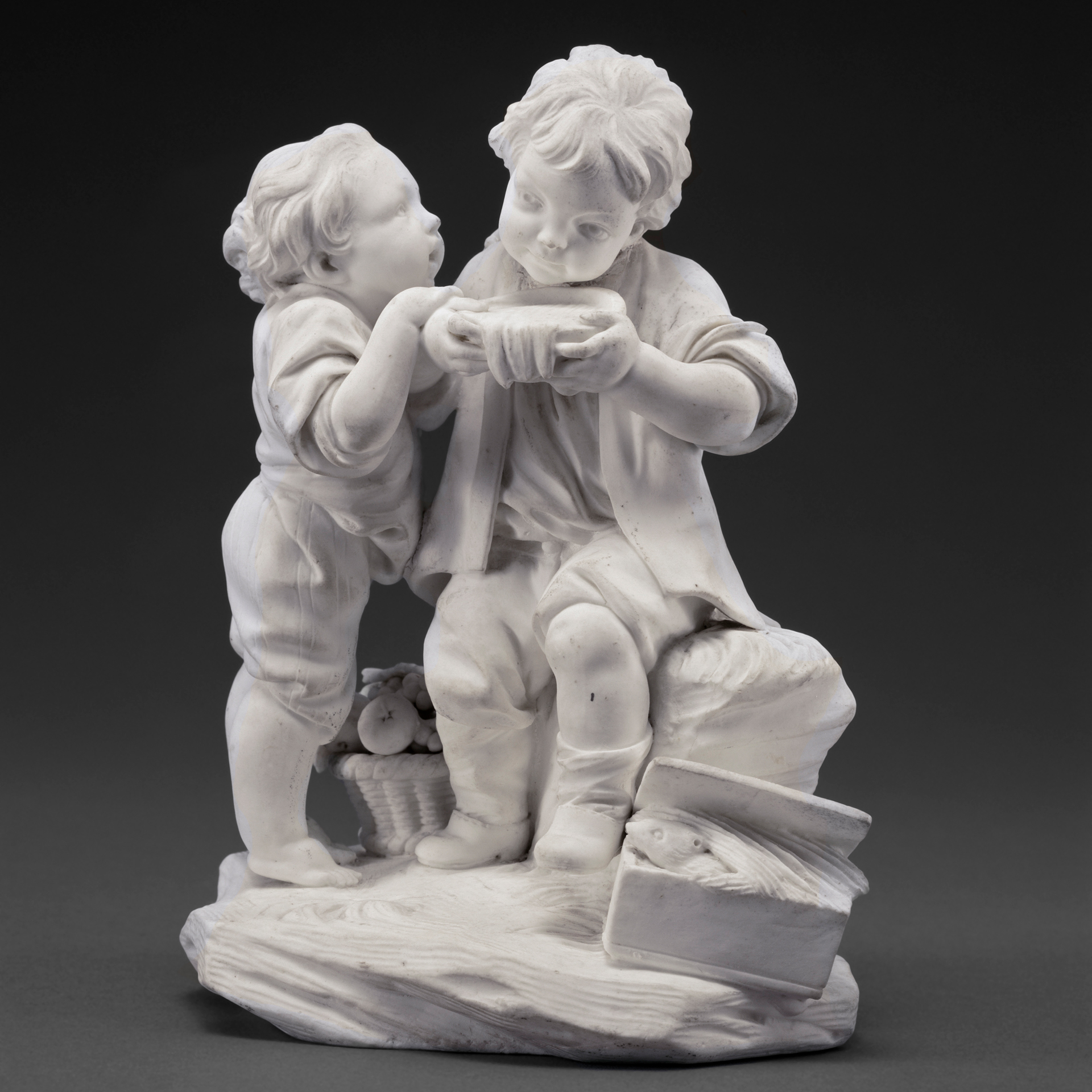 This small porcelain sculpture, which measures less than seven inches tall, is one of a thousand remarkable objects found in SAM's Wyckoff Porcelain Room. It's a reminder that every object here has a story. Through this work, Children Drinking Milk, we learn the story of European porcelain collecting in Seattle among a group of women with a strong desire for learning, who had the wherewithal to work with knowledgeable dealers, grow spectacular collections, and then share their objects with SAM and all of its visitors.
Children Drinking Milk, made at the Sèvres Manufactory between 1766 and 1773, is an example of unglazed biscuit porcelain.[1] This technique allowed for the modeler, Etienne-Maurice Falconet (French, 1716-1791), to create detailed designs which wouldn't be diminished by glazing. For Children Drinking Milk, the unglazed technique allowed Falconet to create details such as the older boy, enjoying the bowl of milk, looking cunningly out of the corner of his eye at a younger boy, who is anxiously waiting for his turn. [2] Falconet, a court sculptor and chief modeler in the Sèvres Manufactory, is one of the most well regarded modelers of biscuit porcelain. He was adept at translating the drawings and designs of artists, like François Boucher (French, 1703-1770), into detailed three-dimensional objects like this one. [3] Children Drinking Milk was considered one of the "Falconet children" representing characters familiar on the streets of eighteenth-century Paris.[4]
So how did Children Drinking Milk get here?
Eighteenth-century European porcelain collecting in Seattle really developed out of the interest of one woman, Blanche M. Harnan (American, ca.1888-1968). Harnan's interest originated as a result of a study group in which she was involved that focused on world geography and culture. Through her daughter's interest in teapots, she discovered that the study of ceramics provided a rewarding history of styles and taste in eighteenth-century Europe. Harnan acquired an extensive research library and began collecting European porcelain for study purposes. Her enthusiasm attracted other Seattle women and, under her leadership, the Seattle Ceramic Society was founded in the 1940s.[5]
In the 1950s and 1960s, the group established a relationship with New York porcelain dealer, William H. Lautz Antique Porcelains, one of the premier European porcelain dealers in the US. Because Lautz and the Seattle Ceramic Society were 3,000 miles apart, an interesting way of doing business arose between the two. Lautz would photograph items from his showroom and send them along, with corresponding descriptions and price lists, in binders to the Society. The members would make their selections and notify Lautz. Lautz would carefully pack the items in a crate and send them to Seattle. The crate would be unpacked, and then returned, empty, with a check in the bottom for payment. Lautz would refer to this as his "Seattle scheme."[6] We know from documentation that Children Drinking Milk came from Lautz. The Bullitt Library holds several of Lautz's binders sent to the Seattle Ceramic Society and the work appears several times. In a letter sent from Lautz—after the piece was donated to SAM—he reveals his own insights on the piece:
"The French name of the figure, or group rather, that I have called the soup or milk drinkers is 'Les Gourmands' or 'Enfant Buveurs de Lait.' We might even call them the greedy ones…"[7]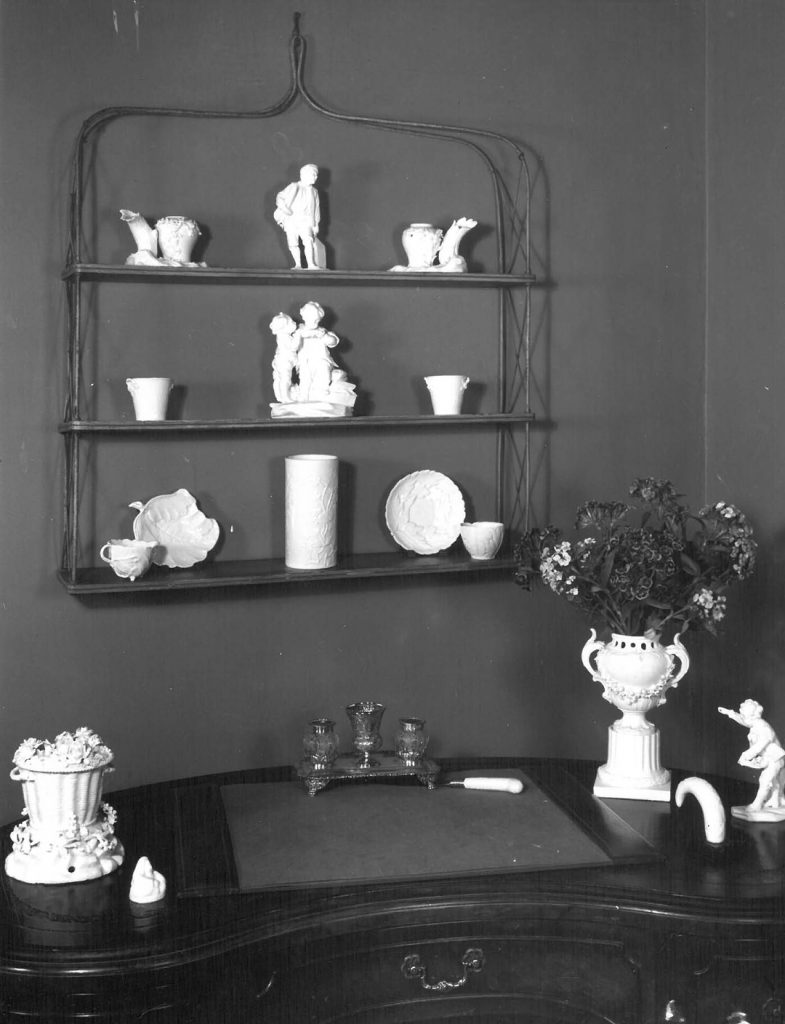 Blanche Harnan continued developing her own collection and leading the Seattle Ceramic Society, which would grow to three units and garner more than sixty members. She would also develop an important affiliation with the Seattle Art Museum. Harnan was appointed Honorary Curator of Porcelain in 1954, "in recognition of her knowledge in a specialized field and in appreciation of her service to the Museum."[8] At the time, the museum was beginning to build its European porcelain collection and welcomed exhibitions of the Society's collections, like the 1956 exhibition, 18th Century English Porcelain: A Special Exhibition. The exhibition was arranged and the catalogue written by Harnan and another important Seattle Ceramic Society member, Martha Isaacson (American, 1901-2000).
Since the days of those exhibitions, many of the Seattle Ceramic Society members have generously given objects in their collections to SAM. Many of those are currently on view in the Wyckoff Porcelain Room. Importantly, several significant pieces in SAM's European porcelain collection were donated to SAM by the Seattle Ceramic Society in honor of Blanche M. Harnan—note "Blanche M. Harnan Ceramic Collection, Gift of the Seattle Ceramic Society" on an object's credit line.
I wonder what we can learn from those other 999 objects?
– Traci Timmons, Librarian
Images: Children Drinking Milk, 1766-1773, Sevres Porcelain Manufactory, Model by Etienne-Maurice Falconet (French, 1716-1791). Soft paste porcelain, 6 5/8 x 5 3/8 x 3 7/8 in. (16.8 x 13.7 x 9.9 cm), Blanche M. Harnan Ceramic Collection, Gift of the Seattle Ceramic Society, Unit 2, 56.179. Photograph sent in binder to the Seattle Ceramic Society showing Children Drinking Milk in William H. Lautz Antique Porcelains, New York, 1950s.
[1] This is the name given to porcelain and other pottery after having undergone the first firing, and before being glazed, painted, or otherwise embellished. For more, see: Gordon Campbell. "Biscuit." Grove Art Online. Oxford Art Online. Oxford University Press, accessed September 20, 2017, http://www.oxfordartonline.com/subscriber/article/grove/art/T2070959.
[2] Emerson, Julie, Jennifer Chen, and Mimi Gardner Gates. Porcelain Stories, From China to Europe. Seattle: Seattle Art Museum, 2000, pg. 216
[3] Savill, Rosalind. "François Boucher and the Porcelains of Vincennes and Sèvres." Apollo 115, no, 241, pp. 162-170.
[4] "Eighteenth-Century Porcelain in Seattle." Antiques 85 (January 1964), p. 82.
[5] Emerson, Julie. The Collectors: Early European Ceramics and Silver. Seattle: Seattle Art Museum, 1982, pp. 6-7.
[6] Nelson, Christina H. and Letitia Roberts. A History of Eighteenth-Century German Porcelain: The Warda Stevens Stout Collection. Memphis: Dixon Gallery and Gardens; Easthampton, MA; New York: Hudson Hills Press, 2013, p. 20. Also see Kuhn, Sebastian. "Collecting Culture: The Taste for Eighteenth-Century German Porcelain," in Cassidy-Geiger, Maureen et al. The Arnhold Collection of Meissen Porcelain, 1710-50. New York, NY: Frick Collection in association with D. Giles London, 2008, p. 107-108.
[7] Letter to SAM Registrar's Office from William Lautz dated July 9th, 1965.
[8] Seattle Art Museum. Annual Report of the Seattle Art Museum: Forty-Ninth Year, 1954. Seattle Art Museum Libraries: Digital Collections, accessed September 21, 2017, http://samlibraries.omeka.net/items/show/29.