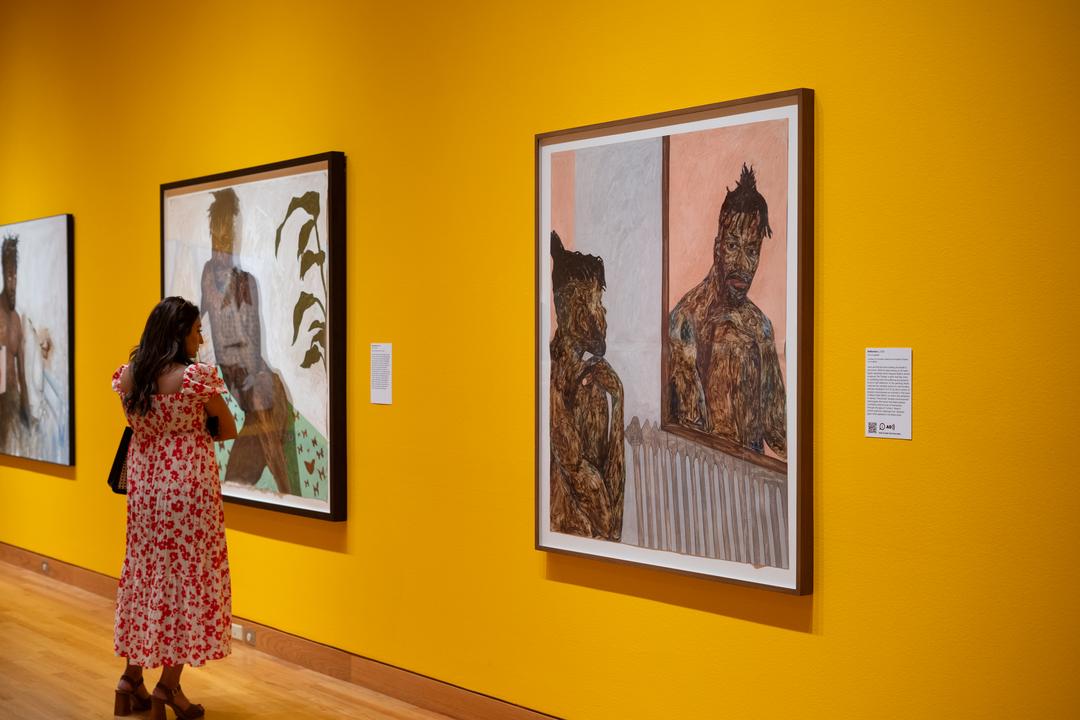 SAM News
Amoako Boafo: Soul of Black Folks, the Ghanaian artist's debut museum solo exhibition, is now on view at SAM! Marcus Harrison Green says the show "urges reflection on Black identity and the self" for the cover story of last week's Real Change (also reshared in South Seattle Emerald). 
"Bringing these paintings alive are the vivid colors he uses: marigold yellows, starch whites, olive oil greens and cherry reds that are all catnip to the eye. No matter the direness of what Boafo's subjects may have been through, brightness (i.e., joy) never abandons them. It all has the effect of making one muse over the origins of these not-so-make-believe characters."
The Stranger's Charles Mudede includes the exhibition in a recent "Stranger Suggests"; he has his own take on the exhibition's connection to W.E.B. Du Bois's idea of double-consciousness. 
As Soul of Black Folks tours the US, ARTnews' Gameli Hamelo reports on how the artist is "using his star power to support Ghana's art scene."
"Boafo's quest to show his work in Ghana attests to his dedication to his home country, which tends to get lost in discussions of his art, the prices for it, and his celebrity. Rather than coasting by on fame, Boafo is using his star power to support Ghana's art scene."
Also: The Seattle Times was among the outlets that announced major news from the museum last week. Amada Cruz will depart SAM for a director role at the Santa Barbara Museum of Art, a place where she has a personal and professional connection. Stay tuned for more on the institution's leadership transition plan.
Local News
"Free Seattle waterfront shuttle bus returns," reports the Seattle Times' Mike Lindblom. It offers a fun way to experience the downtown waterfront, including the Olympic Sculpture Park.
Junko Yamamoto and her "vibrating substances" are featured as the Stranger's "artist of the week."
Jas Keimig for Crosscut on the "slow-fashion" Seattle designer dan mcLean.
"'When it's a dan mcLean show, it's Fashion Week,' said one partygoer wearing a giant hat and shades."
Inter/National News
Via ARTnews' Francesca Aton: "Ancient Glass Workshop Discovered in Czech Republic May Have Hosted Sacred Rituals, Archaeologists Say."
Naomi Polonsky for Hyperallergic on Carrie Mae Weems's new show, now on view at London's Barbican Art Gallery.
Exciting headline via Zachary Small for the New York Times: "Jeffrey Gibson, Indigenous U.S. Artist, Is Selected for Venice Biennale." SAM is a big fan: Gibson's solo exhibition Like a Hammer was on view at SAM back in 2019; a work by the artist in SAM's collection is now on view in Reverberations. 
"'The last 15 years of my career have been about turning inward and trying to make something I really wanted to see in the world,' said Gibson, 51. 'Now I want to expand the way people think about Indigeneity.'"
And Finally
– Rachel Eggers, SAM Associate Director of Public Relations
Photo: Chloe Collyer.