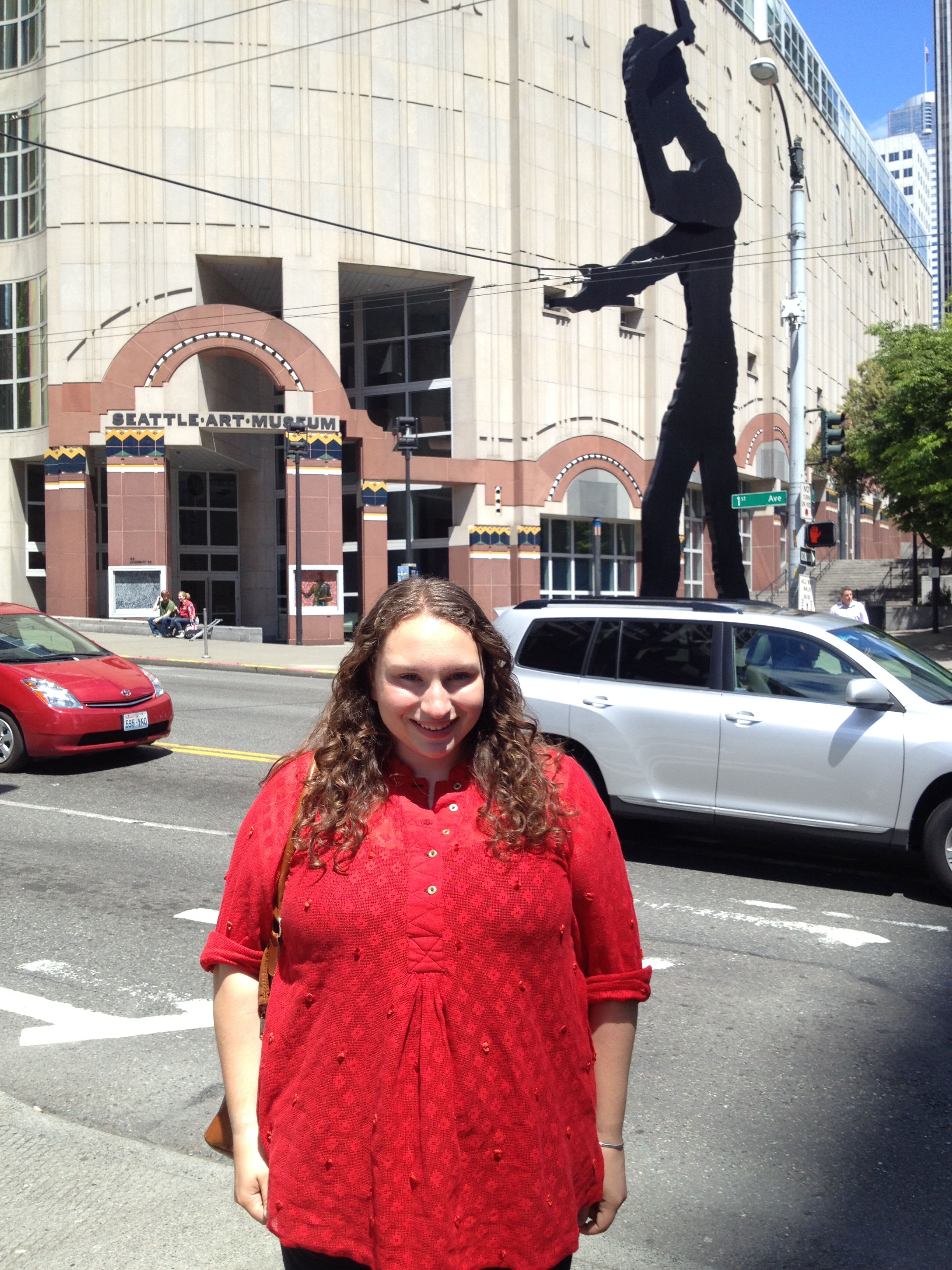 On my first day at the Seattle Art Museum (SAM), I was a nervous, fidgety high school senior from The Bush School who entered through the back door on Second Avenue. Fumbling with my purse I told the security guard, "Um…My name's Samantha Simon. I think I should have a badge up there." A shaky hand pointed to the wall filled with SAM IDs and sure enough, my face was among them. It was official: I belonged at SAM. Taking multiple wrong elevators, not realizing the museum is closed to the public on Mondays, I finally made it up to the correct 5th floor where I greeted my supervisor. Sarah Berman, Collections Coordinator and Research Associate at SAM, patiently showed me to my desk where four large coffee table books awaited me.
I smoothed my dress. "Pick a piece of art," she told me. After a year of art history, I still hadn't been exposed to anything past the Rococo, so when I scanned through a book labeled Contemporary Art, my mind went wild. I found a beastly wooden sculpture entitled Bovine by a local artist named Whiting Tennis. Showing Sarah, she told me that I was to write a biography on who owned that piece before it came to the museum; the technical term for this history of ownership is provenance.
For the next three days, I poured my caffeine-driven energy into finding out every piece of information I could about Greg Kucera, owner of the Greg Kucera Gallery in Pioneer Square, Seattle, and donor of Bovine. I worked in the shadows printing anything relating to Mr. Kucera, from graduation announcements to gallery reviews, and putting them in a growing pile on my desk. Finally, when I sat down to write, the words came naturally. By the end, I presented the man's life story thus far in two pages.  After writing about Greg Kucera, I was so excited about contemporary art. I moved on to Robert and Honey Dootson, Asian and contemporary art collectors who have now passed away. Quickly becoming an obsession, I combed through SAM catalogues from the '70s and used the SAM library to my fullest advantage. Seattle Times articles from the 1960s became my best friend as I researched for fifteen hours, and when it came time to write, four detailed pages magically appeared. Another life: captured.  Finally, still newly fascinated with contemporary art, I decided to write about Sidney and Anne Gerber, Native American and contemporary art collectors, who had also passed away. Five pages quickly emerged.  Soon, my biographies on Greg Kucera, the Dootsons, and the Gerbers will make their way into SAM's art database, and will be available to the public in the coming years. It's an amazing experience to know that, because of me, those people's stories will be heard.
Along with writing these biographies in the curatorial department, I was also given the opportunity to explore and volunteer in other departments. From conservation to registration to education, I explored SAM widely in my three weeks and learned about how a museum operates. Ducking in and out of ventilating systems, industrial elevators, and lighting rooms, I felt like a character in Narnia as I would turn a darkened corner and enter into a serene museum gallery surrounded by tourists. Like the siblings returning from Narnia, I wanted to tell the patrons about what they might be missing. I saw a room of art storage two stories high, a room behind the Porcelain Room with lighting panels to the ceiling where taped to them were practical jokes, and a conservation lab containing every chemical imaginable where a Jackson Pollock was being restored.  Of course, as a SAM patron, one may never know about any of this. The calm gallery floors are a stage and we, the staff and volunteers, the puppet-masters on the other side, have the privilege of sneaking around behind the scenes waiting for the curtain to rise, making sure the art receives the undistracted recognition it deserves.
This fall I will be leaving for college and as I will soon be finished at the museum (at least for this summer) I leave my own personal Narnia behind by exiting through the same door, but different from the way I came: More confident, independent, and ready to take my next step.