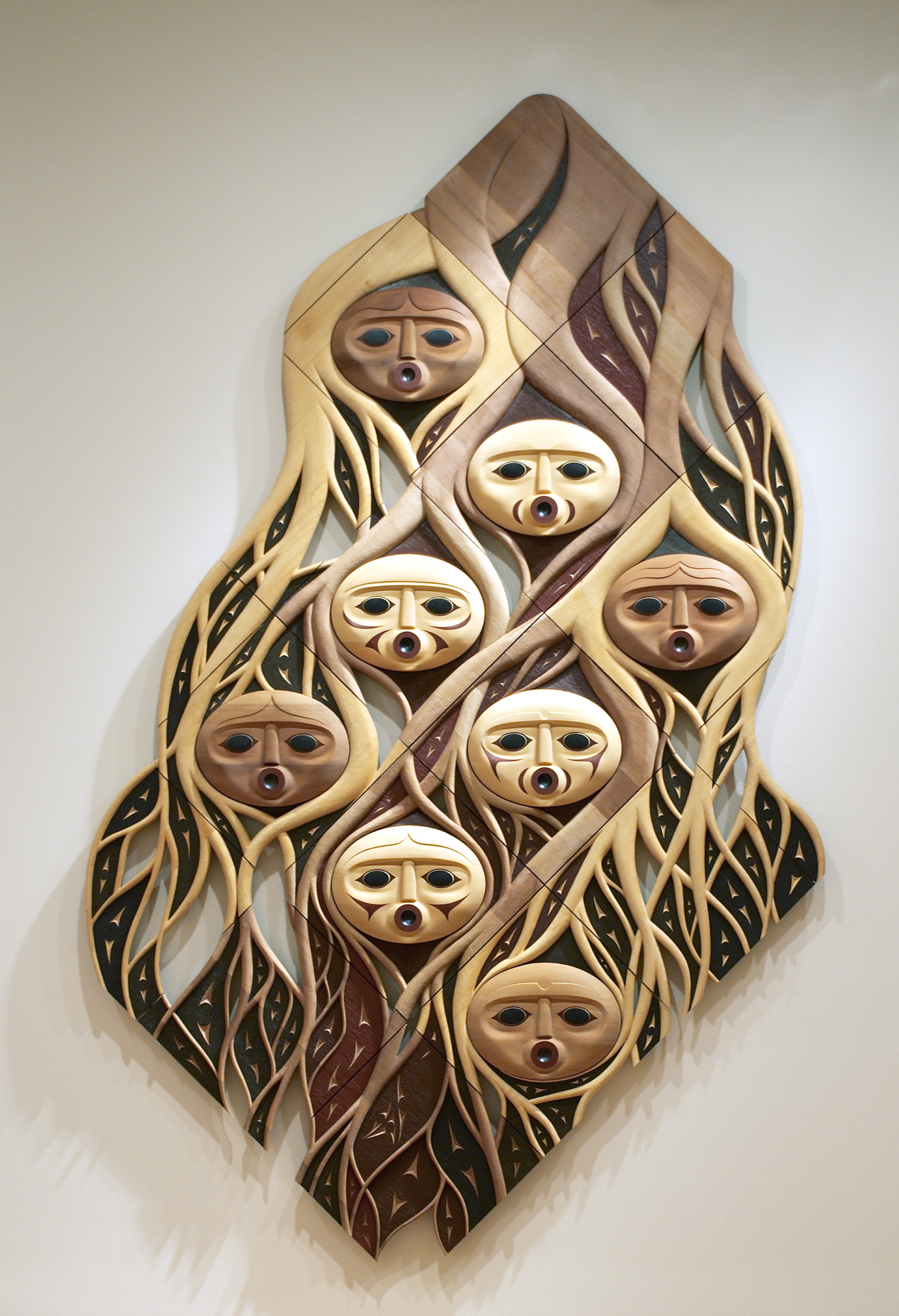 Honoring her Salish heritage, Musqueam artist Susan Point carved red and yellow cedar to create a sculpture that expresses her cultural ancestry and a devotional attitude towards nature. Red cedar has always been considered the "tree of life" for First Peoples, which is the title the artist has also given this work. Valued by the Salish peoples, every part of the cedar tree is utilized to create houses, storage bins, clothing, canoes, mats, baskets, masks, paint brushes, and floats for nets, among other uses. Here, Point carves eight faces connected by root-like forms or waterways that reference a family tree and the importance of inherited histories that unite the Salish people.
Because of her high stature and the demand for her work, Susan Point rarely executes large labor-intensive carvings any longer and has turned to work other media. This piece, created specifically for the museum, is a large-scale carved and painted panel that retains the ethos of ancient Coast Salish forms yet, in the hands of this accomplished artist those forms and the content they carry are vibrantly contemporary. Susan has emerged as one of the most successful and sought-after Northwest Coast Native artists and she has been credited with single-handedly reviving the unique Salish style that has lain dormant for nearly 100 years. She is among only a handful of Native female artists working in the media of woodcarving.
The First People, 2008, Susan Point (Canadian, Musqueam, born 1951), red and yellow cedar, 144 x 89 in., Margaret E. Fuller Purchase Fund, in honor of the 75th Anniversary of the Seattle Art Museum, 2008.31, © Susan Point, photo: Susan Cole. Currently on view in the Native American Art galleries, third floor, SAM downtown.