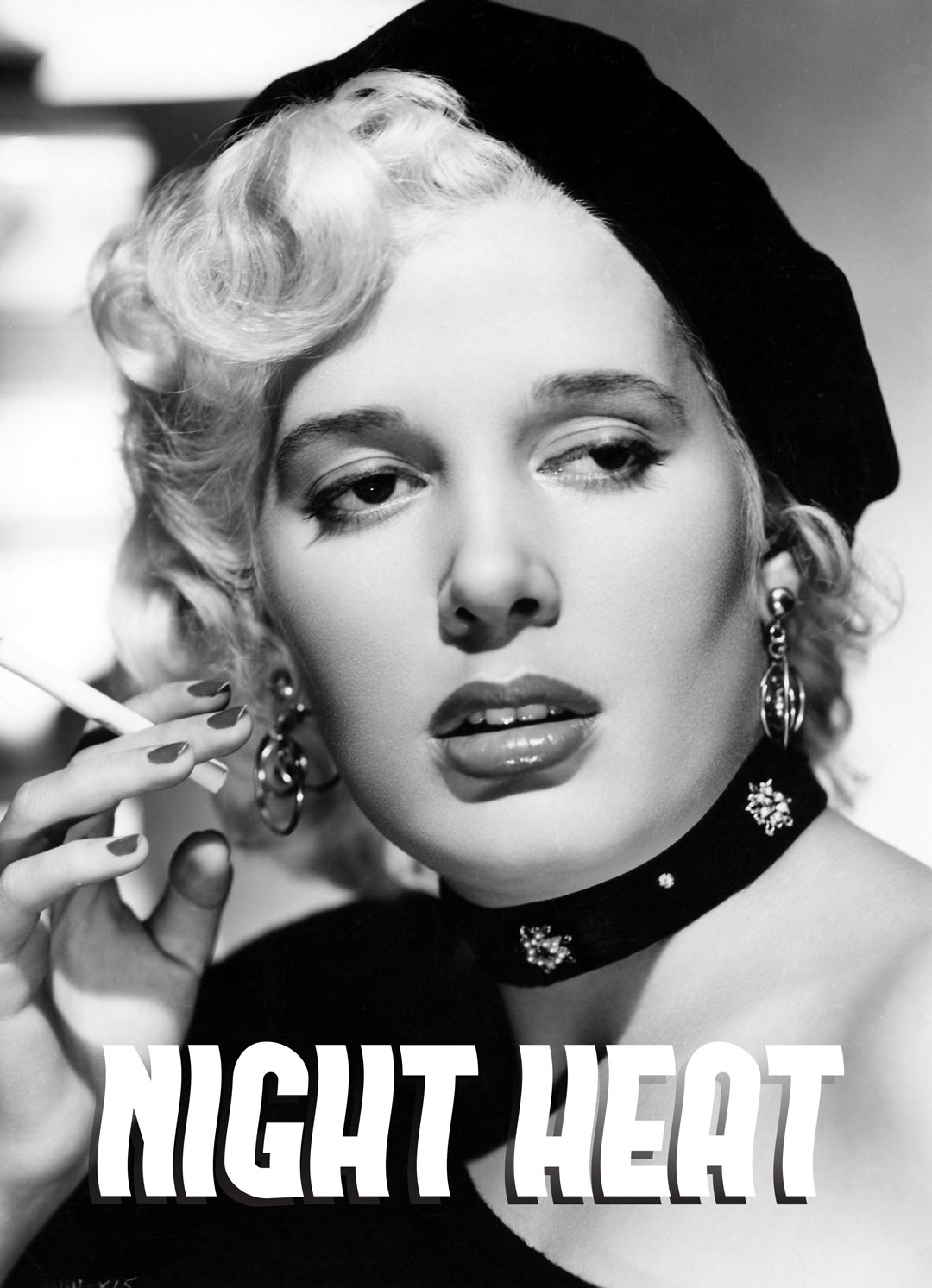 Who can sleep when the night is a fever of perfume and gun smoke, the wails of saxophones and police sirens, when acting on impulse is better than a dream? Called "the best series in Seattle film history" by Charles R. Cross, this is the world's longest-running film noir celebration. Get your series tickets online now or try your luck day of for standby tickets on a first-come, first-served basis.
September 27: White Heat
(Raoul Walsh, 1949)
A tense, wound-up gangster's (James Cagney) inner demons are always threatening to boil over. He's got a beautiful wife (Virginia Mayo), but his heart, his tormented emotions, are all tangled up with his mother (Margaret Wycherley). He sits in her lap while she soothes his pounding headaches. A robber and a killer, Cagney's sent to prison, where he doesn't know that his cellmate (Edmond O'Brien) is an undercover cop trying to ferret further incriminating information from him. On the outside, Mayo's falling in with Cagney's hunky rival (Steve Cochran). Behind bars, Cody's cut off from his consoling and advising mother, and he rages out of control in a famous mess hall scene. O'Brien's a simpatico cellmate, but Cagney's just got to crash out and become the man Ma wants him to be: grasping, destroying, making it to the top of the world. In 35mm, 114 min.
October 4: Leave Her to Heaven
(John M. Stahl, 1945)
The sensuous, saturated visuals of this film convinced everyone that a knockout film noir could be in Technicolor. It's novelist Cornell Wilde's lucky day. On the train he meets a stunningly beautiful woman (green-eyed Gene Tierney), who's reading, and enjoying, his latest book. Within a few days Wilde and this most romantic woman are deeply in love. In record time she scatters her beloved father's ashes to the winds, riding fast through the New Mexico desert, jilts her fiancé, (Vincent Price) and announces her coming betrothal to Wilde. Tierney's ardor for him is absolute, but it's a weaponized devotion. She wants to command his attention and affection, and sometimes she wishes that his typewriter, his crippled brother (Darryl Hickman), and her sweet sister (Jeanne Crain) would just go away. Luscious 1940s art direction gives us a Frank Lloyd Wright-inspired desert house, a Maine forest retreat and a comfy New England cottage. As Martin Scorsese says, "a lost paradise, its beauty ravished by the heroine's perverse nature." Critic-author David Thomson calls the film "a mad goddess creation; if you want a wild thrill one night, I know which way I'd go." In 35mm, 110 min.
October 11: Force of Evil
(Abraham Polonsky, 1948)
Director Polonsky and actor John Garfield, both Bronx-born, both scarred by the anti-Communist witch hunts, crafted this gritty blank-verse poem of the urban jungle, that conflates a soul's and a society's corruption. America is devoted to making money and strategizing to make more. Nothing new there, but there are gradations of commitment and devotion to the pursuit. Corporate racketeer Ray Roberts is all in, scheming to monopolize the symbiotic relationship between illegal betting and the banks that provide the winnings, and lawyer Garfield will make it happen. He arranges for the July fourth lucky number seven-seventy-six to win all over New York, so all the small-time betting banks will have to borrow money from Roberts to pay so many winners, and then he'll take them over. Garfield will make a cool million, but his conscience troubles him. His estranged brother Thomas Gomez is one of the little guys who'll get squeezed. Is it too late for Garfield to act on his better nature? Or is he too far on a path "going down and down, to the bottom of the world." Music by David Raksin ("Laura"). In 35mm, 87 min.
October 25: On Dangerous Ground (Nicholas Ray, 1951)
Nicholas Ray is the cinematic poet of human alienation, and the saving grace of connection. He studied architecture with Frank Lloyd Wright, and understands the shaping influence of the places we inhabit. Tough cop Robert Ryan is brutal with himself and others in New York's concrete labyrinth. His youthful sports trophies? Who cares? When he breaks the rules and savagely beats a suspect, he yells, "Why do you punks make me do this?" To keep from getting fired, he's sent from the dark city to pristine snow fields upstate. But human wildlife is everywhere, and he helps track a child-killer with a man (Ward Bond) bent on illegal vengeance. Is there any way Ryan can see a different way of being? The suspect's sister (Ida Lupino), herself isolated geographically and in her blindness, tells Ryan, who trusts no one, that she has to trust everyone. Music by Alfred Hitchcock's favorite composer Bernard Herrmann (Psycho). In 35mm, 82 min.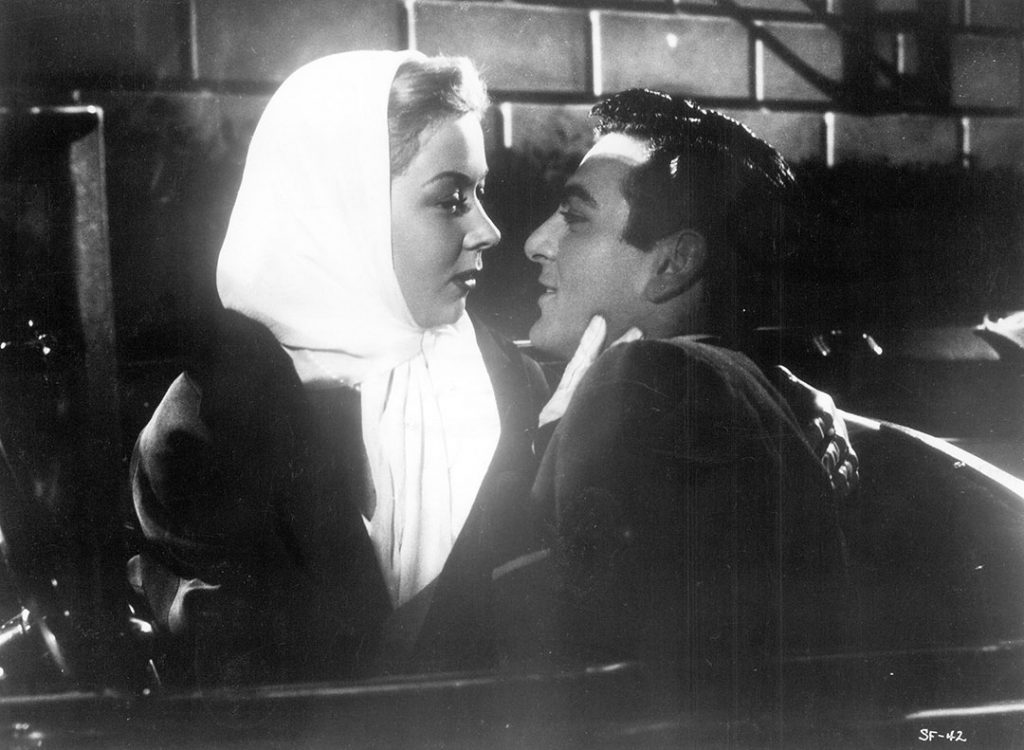 November 1: Sudden Fear
(David Miller, 1952)
Wealthy Broadway dramatist Joan Crawford rejects actor Jack Palance as the lead in her new play, but falls for him big-time on a train trip to San Francisco. They marry, and Crawford is deliriously happy: she's found her leading man for life. But Palance is secretly writing his own life script, which features a major part for his smoldering ex-flame Gloria Grahame, who's got her eyes on Crawford's substantial bank balance. Add some newfangled 1950s technology, and the elements for one of film noir's most suspenseful climaxes are firmly in place. In 35mm, 110 min.
November 8: Wicked Woman
(Russell Rouse, 1953)
This seedy, down-and-dirty gem features luscious B-movie siren Beverly Michaels as the new waitress at the bar where muscular Richard Egan mixes the drinks. She can't keep her hands off him, he responds in kind, and she concocts a scheme to have him sell the bar and carry her off to Mexico. But there are complications. Egan's alcoholic wife (Evelyn Scott) is the one who owns the bar. And toad-like little Percy Helton, who's always had lustful eyes for Michaels, can ruin everything. Maybe there's something she can do to keep her dream alive. In 35mm, 77 min.
November 15: The Night of the Hunter (Charles Laughton, 1955)
Film noir usually presents the shadow side of the human psyche in adult terms. But Laughton's masterpiece immerses us in a child's view of a grown-up world of greed, violence and twisted sexuality that's almost overwhelming, where adults loom like monsters and angels, and reality, fairy tale and nightmare merge. Via cinematographer Stanley Cortez's searing images, Laughton floats us into a world where playing kids find the molested body of a woman in a cellar, and a dead woman sits at the bottom of a river, her hair streaming in the current. Where a Bible-crazed preacher with a knife (Robert Mitchum) tries to get little Billy Chapin and Sally Jane Bruce to tell him where some money's hidden. They won't say, and they have to get away, floating on that river, watched by innocent animals. Laughton's aesthetic of power-through-simplicity was inspired by D.W. Griffith's seminal films, and Griffith's great heroine, Lilian Gish, provides a sanctuary for lost children. She's got a spine of steel, but Mitchum, worse than any boogey man, just keeps coming. With Shelley Winters, Peter Graves. Screenplay by James Agee and Laughton. In 35mm, 93 min.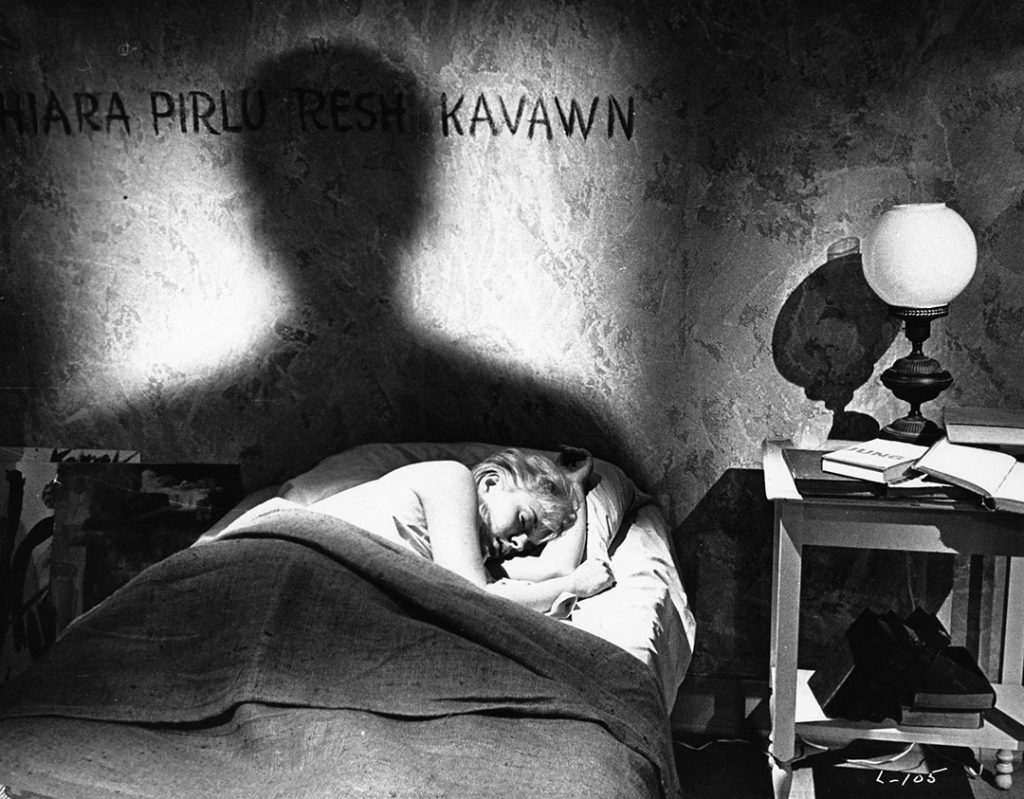 November 29: Lilith
(Robert Rossen, 1964)
In the Bible and the Talmud, Lilith is a female demon, a destroyer of men. In film noir, femme fatales can be brash and harsh, or as softly seductive as a spider web in a beautiful meadow. A young man (Warren Beatty) with a war-wounded soul returns to his home town. He needs to rediscover who he is and find a purpose in life. Working at a park-like mental hospital, he comes under the spell of Lilith (Jean Seberg), an artistic woman who wants to share her love with the world. But Seberg's golden aura casts shadows, ensnaring patient Peter Fonda, who touchingly speaks of the life he'll lead after he's released. Beatty goes home to sleep at night, but home is where the heart is. Great acting all around, with Beatty trying to gather, and find himself in his pauses and hesitations, and Gene Hackman tense and wonderful in his first film. But Seberg is the sun. With Kim Hunter. In 35mm, 114 min.
December 6: Heat
(Michael Mann, 1995)
Two men in L.A. Both hunters, both prey. One takes money that isn't his own, the other tries to stop him. A criminal, a cop. Robert de Niro and Al Pacino. Ice and fire, coming to a boil. Cool and controlled, De Niro and his pals (Val Kilmer, Jon Voight, Tom Sizemore) pull off big robberies with military precision. Steamed-up, swaggering Pacino uses intuition and manpower to track them down, with limited success. Master stylist Michael Mann gives this monumental crime saga irresistible forward momentum, but everything stops so two great American actors, De Niro and Pacino, can appear together for the first time and have coffee. The outlaw and the lawman are both doing what they're best at, and it's their nature to keep on with it. But for moments out of time they talk about the fullness and emptiness of their lives, person to person. This isn't a truce, there will be skirmishes, machine gun fire on downtown streets, people lying dead. They'll meet again at the airport at night, out in the field, where planes glide like souls, some coming in, some leaving, on the soft sultry air. With Diane Venora, Amy Brenneman, Ashley Judd, Natalie Portman. Digital Cinema, 172 min.
– Greg Olson, Manager of Film Programs
Photos: Courtesy of Photofest