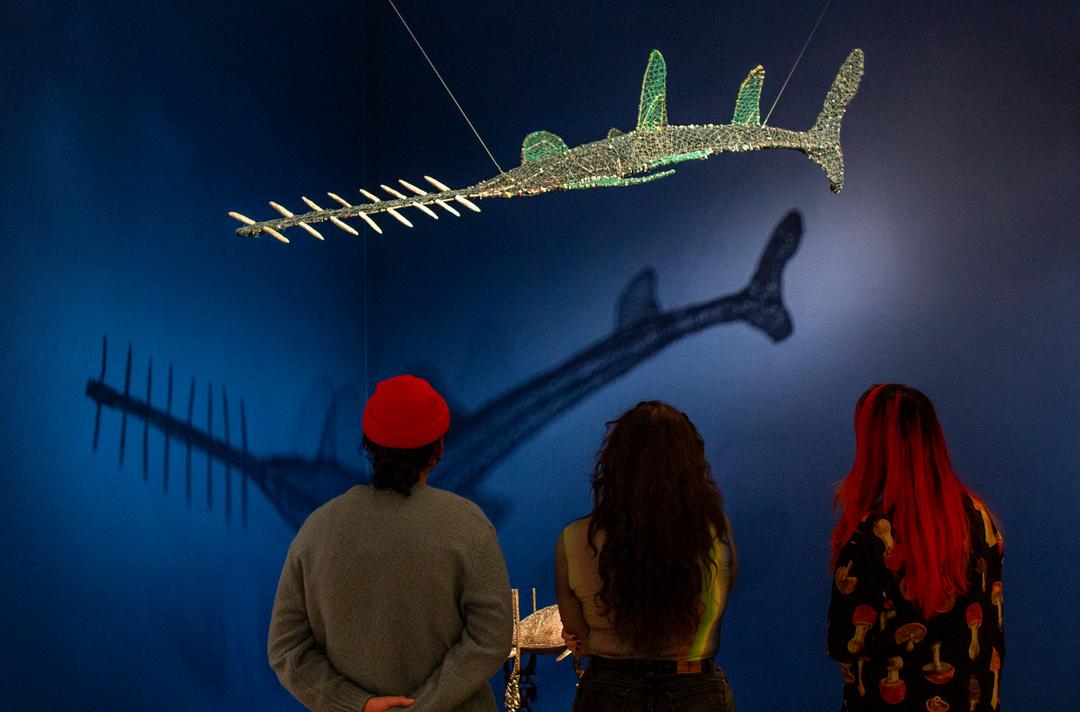 SAM News
"Speak them out loud and they form a poem to water": Art critic Susan Platt on the ten themes explored in Our Blue Planet: Global Visions of Water, now on view at SAM. And Seattle Met includes the exhibition on their list of things to do in Seattle right now.
"The exhibition…brings together different cultural expressions to demonstrate that water is our shared concern and necessary to our shared survival. In that way, the Indigenous voices are the most resonant in their respectful and deep understanding. But seeing their work and their voices placed among so many other cultures demonstrates the interconnectedness of everyone on the planet."
Matthew Kangas for PREVIEW Magazine reviews Embodied Change: South Asian Art Across Time. "Teaches us about what we inherit": Teen Tix writer Aamina Mughal also reviews the exhibition, now on view at the Seattle Asian Art Museum.
"This idea of dynamic identity and reclamation are echoed throughout Embodied Change and are told through the lens of the human body, specifically the female form. One thing that I believe unites these works is the burden of inheritance. There are certain things that we inherit through our heritage without us making the choice to do so. What we do choose, however, is how we carry this inheritance."
Curiocity has "12 romantic spring date ideas in and around Seattle" that (obvs) includes a stroll through the art-filled Olympic Sculpture Park—or SAM just a mile down the road, if it's raining!
Local News
"Only 262 films?" Seattle Times' Moira Macdonald interviews Seattle International Film Festival director Beth Barrett on what's different at this year's festival.
The Stranger's Jas Keimig on the launch of Seattle Restored, a series of pop-up storefront art installations from the City of Seattle.
Crosscut's Margo Vansynghel talks with artists Anastasia Babenko and Darya Husak about a solo show series featuring central and eastern European artists that took on even more relevance with the Russian invasion of Ukraine.
"We want to show the more soulful and heartful way of Ukraine. That it's not destruction, that it's not a ruin, that it's actually a very rich and deep history that gets passed on and carried on through generations."
Inter/National News
Via Artnet's Katie White: "Mr. Darcy's Puffy White Undershirt From That Unforgettable 'Pride and Prejudice' Lake Scene Goes on View at Jane Austen's House."
Angelica Villa for ARTnews on a dumpster-diving new gallery show in New York featuring the mostly forgotten artist Francis Hines.
"Extraordinary Monuments to the Mundane": The New York Times' T Magazine profiles sculptor Woody De Othello as he looks forward to his inclusion in the Whitney Biennial. As we've shared in the past, a sculpture by this rising art world star was recently acquired by SAM for its collection and will go on view later this year.
"As if the result of a solo game of exquisite corpse, these composite creatures are oddly proportioned and at turns alluring and unsettling. Thus, Othello highlights the thrum of spirituality he finds in everyday environments."
And Finally
A figure skater's gold medal-worthy first pitch. 
– Rachel Eggers, SAM Associate Director of Public Relations
Image: Natali Wiseman.