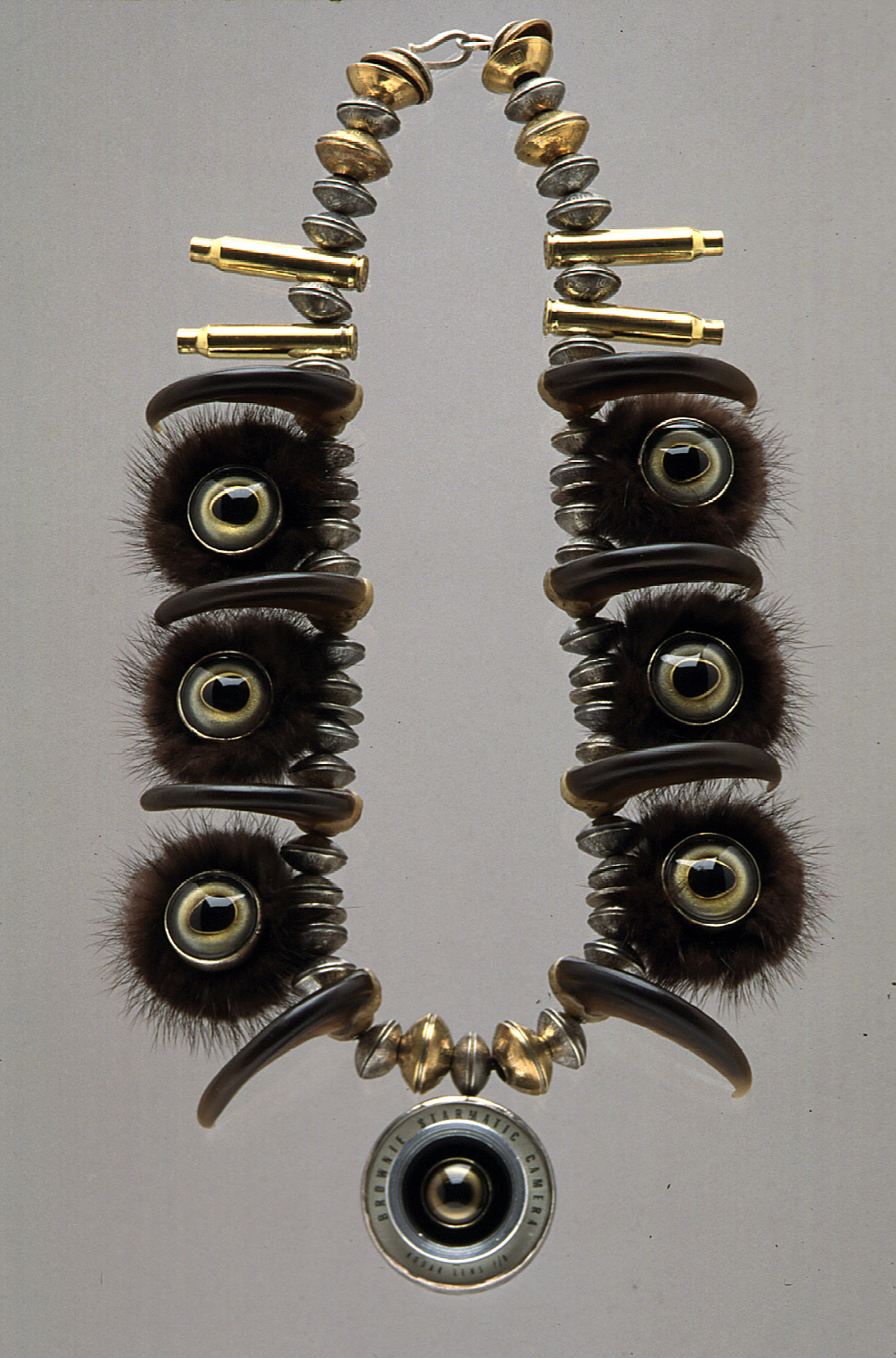 Nancy Worden made art that ignited conversations with narratives to be worn, inviting curiosity so as to bypass shyness. A necklace in the museum's collection illustrates her gifts, and emerged after she visited the Seattle Art Museum in 1993. There she saw what she calls a "very powerful and haunting piece"––a Mesquakie bear claw necklace from the Chandler-Pohrt collection in an exhibition entitled Art of the American Indian Frontier.[1]  Here's what she saw: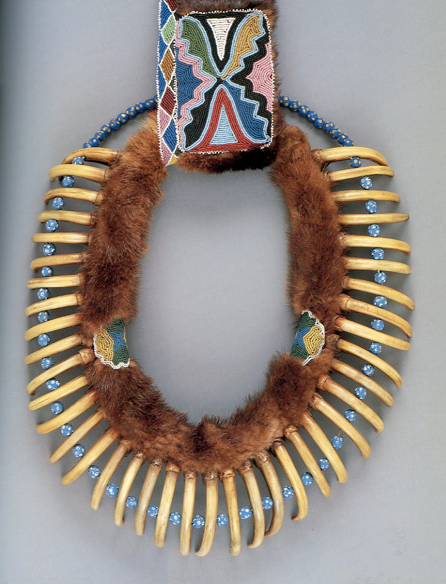 This Mesquakie necklace features 40 claws from several massive grizzly bears who hunted buffalo on the plains of the Midwest. It was once worn in reverence for bears and offered a link to the spiritual essence of their tremendous force. Struck by the visual strength of that necklace, Nancy sought out claws of resin, mink fur, quarters, buttons and other elements to create her own. For her, it brought up concerns about how hunting was enacted in Kittitas County, where she grew up. Her next inspiration came from the news. As she recounts, "While I was working on the necklace, Princess Diana was killed, fleeing from cameras that hunted her her whole adult life. So it seemed fitting to put her photo in the piece––set in a camera lens. The piece is about hunting and shooting, using a camera as a gun. 'Dead or Alive' is an old cliché from the movies and seemed an appropriate title for a piece about an obsession with capturing animals or a beautiful person. For some reason we have to have a piece of them to take home, whether they are dead or alive."
What is behind the camera lens at the bottom of the necklace is a portrait of Princess Diana, wearing a crown––a conventional sign of royalty. Meanwhile, she is surrounded by imitation bear claws and beads made out of quarters, mink, and camera parts. The assembly would not go unnoticed when worn, and would prompt a story that reflects on Nancy's desire for imaginary connections to be made.
Dead or Alive was featured in the SAM exhibition, A Bead Quiz, in 2010. Nancy once said, "You can pretty much look at everything as whether or not it's a potential bead." On the occasion of the exhibition, SAM filmed a trip to her studio to witness the vast array of beads she discovered or invented–– from oranges to typewriter balls to pennies with mirrors. Here is a trip back to that visit.
– Pam McClusky, SAM Curator of African and Oceanic Art
---
[1] This bear claw necklace is seen in: David W. Penney, Art of the American Indian Frontier: The Chandler-Pohrt Collection (Seattle and London: University of Washington Press, 1992). Cat. no. 45.
Images: Dead or Alive, 1997, Nancy Worden, silver, brass, mink, resin bear claws, coin, taxidermy eyes, military buttons, and found objects, 24 x 2 3/4 x 1 1/2 in., Anne Gould Hauberg Northwest Crafts Fund and Mark Tobey Estate Fund, 98.29 © Artist or Artist's Estate. Bear Claw Necklace, ca. 1835, Native American, Meskwaki ("Red Earth People") Nation, bear claws, otter fur, glass beads, ribbon, horsehair and cloth, 67 1/2 x 14 x 4 in., The Detroit Institute of Arts, Founders Society Purchase with Funds from the Flint Ink Corporation, 81.64. Photos: Pam McClusky. Video by and courtesy of Aaron Bourget, 2010.