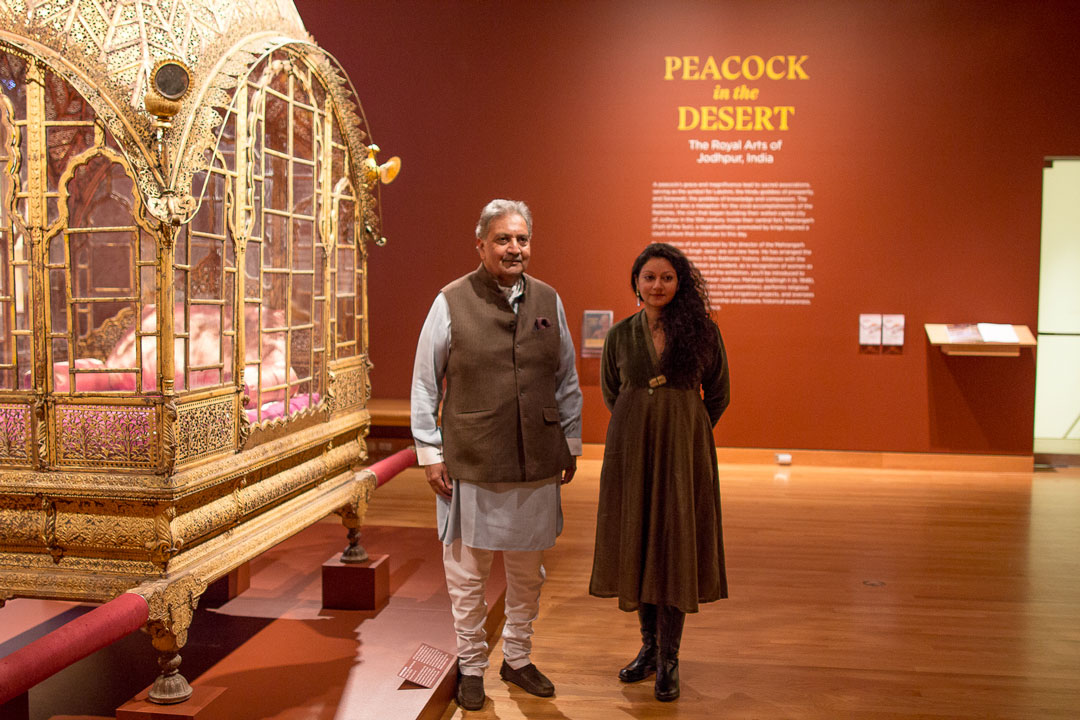 SAM News
Peacock in the Desert continues to strut:
The exhibition was included in The New York Times' overview of "Art to See This Fall," which says it's "the next best thing to visiting the clifftop Mehrangarh Fort Museum overlooking Jodhpur."
It was king of KING, with segments on the station's Evening Magazine and New Day NW—the latter featured an interview with His Highness Maharaja GajSingh II and his daughter Baijilal Shivranjani Rajye.
And reviews for the show ran in The International Examiner, Crosscut, The Daily, and The Spectator.
"Spanning five centuries, Peacock is an eye-popping look at a royal-family legacy. It uses video, audio and room-filling installations, along with dozens of fantastically detailed paintings (magnifying glasses are provided so you can study them closely), to immerse you in its world."  —Michael Upchurch, Crosscut
Also: You may have seen Amy Sherald's Saint Woman on the cover of this week's Real Change (cash or Venmo accepted!); reporter Lisa Edge reviews the SAM show In This Imperfect Present Moment for this week's centerpiece story.
"'It's like she's thinking about something else. She's in command of her own space. Her own time,' said curator Pam McClusky."
Seattle Magazine's annual list of the city's movers and shakers is out—and Priya Frank, SAM's Associate Director of Community Partnerships, is on it! She's named "one to watch"—we couldn't agree more. Congrats, Priya!
Local News
Very sad news: Yoko Ott, an artist and curator with connections to numerous Seattle organizations, died last week at the age of 47.
Tschabalala Self! That, and other offerings, are part of the exciting lineup coming up at the Frye Art Museum announced this week.
Sharon Salyer of The Everett Herald speaks with artist Romson Regarde Bustillo about his show on view at Edmonds Community College that asks, "what's in a name?"
"'Art is information as much as it is something inexplicable,' Bustillo said. 'When we look at it, we have an emotional and a visceral reaction, but it is not removed from the way we've been conditioned to process information.'"
Inter/National News
Oh, Canada. Smithsonian Magazine reports on the latest humane news from our northern neighbor: Doctors in Montreal will soon be able to prescribe museum visits to their patients.
And in Germany, museums are the subject of a TV show. It will feature noted creatives—like Vivienne Westwood and Karl Ove Knausgård—leading tours in inside eight historic European museums.
And come through, America (well, NYC)!: The just-released budget for the city features a record-breaking $198.4 million for cultural organizations.
And Finally
It's a Halloween tradition! To all you ghouls and goblins, I present: The Pumpkin Dance.
– Rachel Eggers, SAM Manager of Public Relations
Image: His Highness Maharaja GajSingh II of Marwar-Jodhpur and Baijilal Shivranjani Rajye of Marwar-Jodhpur in Peacock in the Desert: The Royal Arts of Jodhpur, India at Seattle Art Museum, 2018, photo: Stephanie Fink.